Creation of the Anti-Black Racism Action Plan
The development of the Toronto Action Plan to Confront Anti-Black Racism report is an example of effective community-government collaboration. Organizers, advocates and leaders within Toronto's Black communities worked with City staff to advance the removal of systemic barriers for Black Torontonians, following directives from the City's Executive Committee.
Roadmap
This roadmap highlights the Toronto Action Plan to Confront Anti-Black Racism process since March 2016.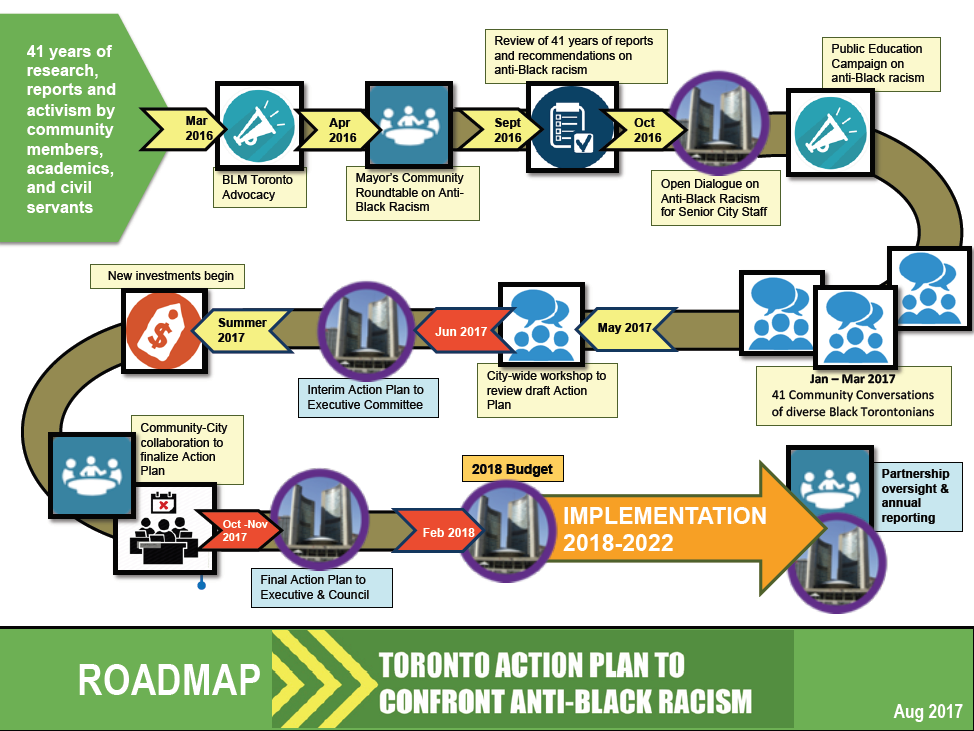 Description of Roadmap
(Last Updated August 2017)
In June 2017, the Interim Action Plan was approved by Executive Committee.
In the summer of 2017, new investments begin, along with Community-City collaboration to finalize the Action Plan.
Between October and November 2017, the Final Action Plan will be sent to Executive Committee and City Council for approval.
Following approval of the 2018 City budget in February 2018, implementation of the action plan will take place between 2018 and 2022. Implementation will include partnership oversight and annual reporting.
The roadmap begins by drawing on 41 years of research, reports and activism by community members, academics, and civil servants.
Black Lives Matters Toronto advocacy in March 2016 led into the Mayor's Community Roundtable on Anti-Black Racism in April 2016.
In September 2016, a review of 41 years of reports and recommendations on anti-Black racism was conducted.
In October 2016, an Open Dialogue on Anti-Black Racism for Senior City Staff was held, in addition to a public education campaign on anti-Black racism.
Between January and March 2017, 41 Community Conversations of diverse Black Torontonians were held.
In May 2017, a City-wide workshop to review the draft Action Plan was held.
Developing an Action Plan
In May 2017, Mayor John Tory hosted a city-wide workshop to share the draft Toronto Action Plan to Confront Anti-Black Racism. The Action Plan was compiled using ideas from 41 Community Conversations that were held in partnership with 11 community agencies serving Black Torontonians between January and March 2017.
Approximately 120 members of Toronto's Black communities attended the feedback workshop, building on the initial ideas of over 800 Black Torontonians during the Community Conversations.
Feedback from the workshop is was used to refine the five-year Action Plan.