Traveller Information
The City provides the public with convenient and reliable road information to allow travellers the opportunity to make informed decisions on the best timing, mode, and route of their trip.
Information about traffic conditions on the City's roadways is pulled from a variety of databases (e.g. traffic cameras, road restrictions database, Bluetooth devices) and are disseminated via variable message signs, social media and the City's website.
Variable Message Signs (VMS) are electronic signs used on the roadway to provide information to travellers in priority order. The City displays several types of messages on its VMS.
Missing child alert (AMBER alert)
Severe weather condition alerts (i.e. flooding and snow storm)
Real-time traffic congestion and/or the presence of queues.
Unscheduled lane/road closures due to collisions or other incidents.
Planned lane/road closures due to construction, maintenance or special events.
Safety messages in support of Police initiated education/enforcement programs.
Environmental messages
The operators at the City's Transportation Operations Centre (TOC) control the information that is being displayed on the Signs by verifying current road conditions through traffic cameras.
Four types of VMS: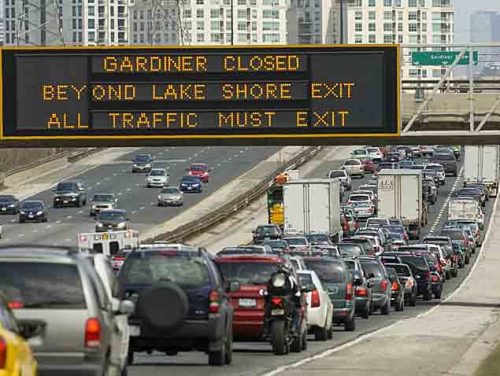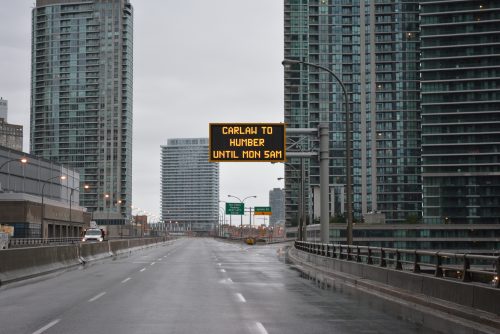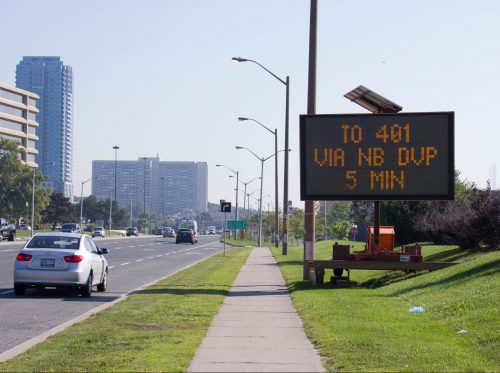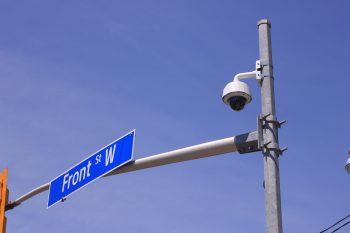 Traffic monitoring cameras are used to monitor roadways to detect collisions, to respond to incidents, monitor congestion, and to respond to emergencies. These cameras are not used for security, law enforcement or municipal licensing enforcement purposes. Expressway cameras are generally installed on 15 m poles. Arterial cameras are typically installed on the top of traffic signal posts or on mast arms. All cameras are monitored on a 24/7 basis by staff at the City's Transportation Operations Centre (TOC). Traffic cameras collect anonymous information on a transitory basis and do not store identifiable personal information or identifiable vehicle data.
Road Emergency Services Communication Unit (RESCU) operators have full control of the cameras for effective roadway monitoring. When the operators detect an incident or congestion, they will alert motorists by displaying advisory message on the City's Variable Message Signs (VMS) and, if necessary, they will inform Toronto Police Services (TPS) of an event that requires Emergency Services response. The operators have the capability to block the cameras from external subscribers when Emergency Services are responding to an incident or if there is a risk of compromising someone's privacy.
Recognising that the installation of cameras at signalised intersections could raise privacy concerns from the public, Transportation Services staff consulted with staff from the City's Information & Technology Division, Legal Services and the City Clerk's Office to develop a Traffic Monitoring Camera Policy that outlines the purpose and appropriate use of these traffic cameras. All camera video feeds are brought back to the TOC and displayed on its video wall monitors. Still images of Toronto's cameras are available on a map and on Open Data – these images are refreshed every two to three minutes.
The City only monitors cameras that are installed on City roads. Cameras on Highways 401, 427, 404 and Queen Elizabeth Way are owned and monitored by the Ontario Ministry of Transportation (MTO). Still images of the MTO cameras are available.
The City uses Twitter and E-Updates to keep subscribers apprised of traffic updates around Toronto. They can get notified immediately about unscheduled road or lane incident and closure information on the City's expressways and major arterials.
The public can subscribe to City E-Updates by going to the Toronto E-Updates website to receive emails about unscheduled road or lane incident and closure information for the City's expressways (e.g. Expressway, Don Valley Parkway, Allen Road) and major arterials (e.g. Lake Shore Boulevard). Typically, the number of emails sent to subscribers are unpredictable, but reflect current traffic conditions.
In addition, the public can follow the City's four Twitter feeds that is maintained by the Traffic Management Centre (TMC) to keep the public informed about traffic.
The City runs a winter maintenance program during the winter season (November to April) to keep roads and sidewalks safe for motorists, cyclists and pedestrians. Transportation Services staff patrol the expressways, arterial roads, and potential "trouble spots" like hills on collector or local roads, 24 hours per day, seven days per week to monitor winter travel conditions and activate the appropriate response to any given condition.
The City's Plow TO tracking map provides a time range to indicate when a salter or plow was last on the street and displays the real-time location of salters, plows and sidewalk plows.