Pride Award
2019 Award Recipient: Adam Lake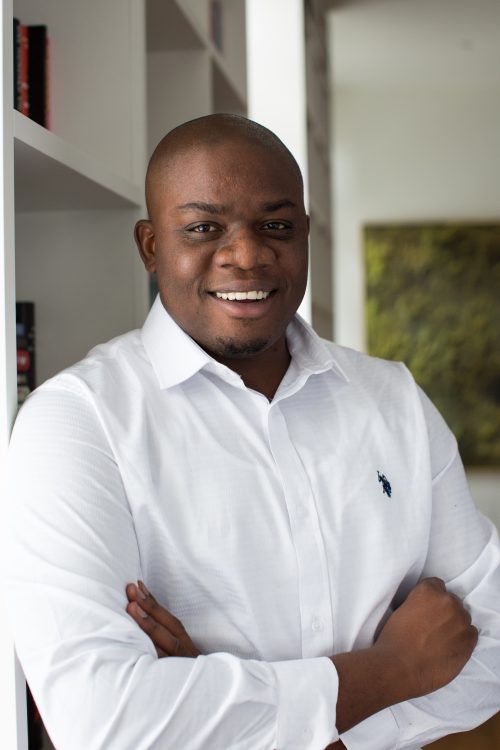 Adam Lake is a Toronto community activist who uses his voice as power for various forms of discrimination. Adam co-founded "Books Breaking Barriers" in 2016, providing LGBTQ2+ inmates knowledge and sense of empowerment through the experience of reading.
Adam has been involved in numerous organizations such as the LGBTQ Youth Hotline, BlaqueOUT, and Africans in Partnership Against AIDS (APAA).
He is a leader fighting against interchanging oppressions in relation to sexuality, gender, sexual orientation, poverty, mental health, and neocolonialism. Adam continues to bridge the gap between the Black Canadian community and the Queer community.
Award Contributions
Honours the contributions of person(s) or non-profit organizations of Toronto that have made a significant or ongoing contribution to the well-being, advancement and inclusion of lesbian, gay, bisexual, trans, and two-spirit communities in Toronto.
Past Award Recipients
2017 Award Recipient: BLOOM (LOFT Community Services)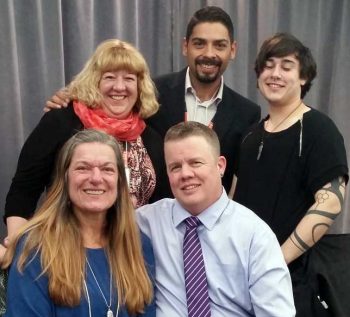 BLOOM is an innovative and ground-breaking transitional gender housing program and networking group for Trans people – statistically one of the most marginalized and oppressed populations.
BLOOM is run within LOFT Community Services, providing support for the Trans community through safe housing and support. After years of planning, a house within the LOFT organization has been designated to fulfill these goals for people 18 years and older, who are medically transitioning. The BLOOM house is a safe space where they can live and grow during what can be a very difficult and vulnerable time. Residents are provided with case management and partnership support using a holistic approach. Priority is given to those who are homeless, living in shelters, under-housed and/or dealing with substance use or mental health challenges.
Another important part of BLOOM is its Partnership Network, which includes primary health care, mental health care and support services for housing, legal, education and career placement. The BLOOM Network identifies resources available, gaps to be addressed and potential areas of growth.
BLOOM is unique to Toronto as a space to help those who are in great need navigate various systems and move forward with their lives. The program aims to continue to serve Trans people, reduce their need to be in the shelter system through programming and support, and help them to be self-sufficient.
2016 Award Recipient: Dr. Alex Abramovich
Dr. Alex Abramovich has been addressing the issue of LGBTQ2S youth homelessness for more than 10 years. He is an internationally recognized leader in the area and one of only a few Canadian researchers studying the phenomenon of queer and trans youth homelessness. Over the years, Alex has advocated continuously for policy and practice changes to improve the lives of LGBTQ2S youth.
Alex is an independent research scientist at the Institute for Mental Health Policy Research at the Centre for Addiction and Mental Health (CAMH). His program of research focuses on LGBTQ2S
youth homelessness, access to mental health services, the experiences of LGBTQ2S youth in shelters and housing programs and the ways broader policy issues serve to create oppressive contexts for LGBTQ2S youth.
His research has led to ground-breaking practice and policy reform, including the launch of Canada's first dedicated transitional housing program for LGBTQ2S youth – YMCA's Sprott House – and mandatory LGBTQ2S cultural competency training for all City of Toronto shelter staff. Alex has worked closely with municipal and provincial governments to develop strategies that address the needs of LGBTQ2S youth experiencing homelessness. Alex has also been invited to collaborate and consult on numerous international initiatives.
2015 Award Recipient: Award Recipient: Mark Smith
Mark has devoted much of his life to selfless service, fighting for universal values and freedoms and trying to make a positive change in the lives of all members of his and the greater community. He has a mission, to find ways for community members to have a place where their voice to be heard.
Over the past twenty years, Mark has officially logged more than 16,000 hours as a volunteer with Pride Toronto. He has served two terms as the Pride Toronto Entertainment Director. Under Marks guidance, the Arts and Culture presence at Pride Toronto helped the event to evolve into what has become an internationally recognized leader in the global Pride community. Mark established the 'festival format' which opened the door for Pride to qualify for essential Arts and Culture grants and funding; established 'Fringe' spaces to facilitate and encourage marginalized members of the community to participate more fully; and developed the 'AiternaQueer' component at Pride.In concert with CAMH, Mark developed "The Freezone" Substance Free space, now known as Clean Sober and Proud. He also worked to bring the first major international acts to Pride and liaised with the Disabilities Committee, City Bylaw Department and production companies to establish the 'Abilities Viewing' zones along the Parade Route and in beverage gardens.
Mark is a three-term board member of Pride Toronto, founding member of #EndHatelaws group and founding board member of the Church Wellesley Village B.I.A.
Mark also produced and directed the Kumbaya Festival for People Living with AIDS which remains the largest gathering of entertainment and political talent of its kind in Canada.Overall, Mark has been part of the development, planning and execution of events that have raised over 20 million dollars for charity.
Mark's life history and continued works indicate a noble and admirable dedication to fighting for the causes he believes in, causes with which we can all see the merit and value. Mark seeks to eliminate the oppression and actively and without thought to personal gain, strives to create a better environment and life conditions for all people.
2014 Award Recipient: Award Recipient: Keisha Williams
Keisha Williams is a Toronto-born community organizer who has been working diligently since 2005 around violence and intersecting oppressions as they relate to colonialism, poverty, incarceration, gender, global location/immigration status, sexuality and sexual/mental health (status). Her work over the past decade to unravel racism, homophobia, transphobia, incarceration and stigma has bridged Black/African/Caribbean, Indigenous, Queer, Racialized people over a wide array of issues.
In 2009, she completed an Honours degree in Public Affairs and Policy Management, with a specialization in Human Rights at Carleton University. That year she created a peer-centric harm reduction and sexual health outreach project for outdoor sex workers in Toronto. Since then she has worked with many NGOs including Black CAP, METRAC, MAGGIES, South Riverdale and Parkdale Community health centres. At the beginning of 2010, Keisha completed her first film: Red Lips [cages for black girls]. The filmexplores complex social justice issues within a unique artistic vision that sheds light on various issues that Black, Indigenous, Queer and Trans women face as they fight and survive on a daily basis.
Since 2010, through her work with the Prisoner's HIV/AIDS Support Action Network (PASAN), Keisha has actively supported incarcerated and criminalized women, many of whom are Queer and/or Trans. She provides HIV/AIDS education and sexual health resources, and facilitates harm reduction and support group sessions for some of Toronto's most marginalized community members.
Her work within these communities informs her consultations, policy and research work with many organizations. In 2012, she began working with Women's Health in Women's Hands, the Canadian HIV/AIDS Legal Network and Ryerson University to bridge research gaps and create policy, legislative and social change for criminalized women, including sex workers and HIV positive women.
Since 2009, Keisha has been a key organizer for Blockorama, a Pride Toronto supported stage and community block party that showcases Queer and Trans local and renowned performers of Black/Caribbean/African decent. Blockorama aims to create space for underrepresented communities, and to celebrate the resilience and talent of Black Queer and Trans community, while creating a platform for sexual health and HIV education in the community.
Keisha's capacity to contribute to many struggles is a clear indication of her multi-faceted skills, analyses, and lived experience. Her work on sex workers' rights and anti-Black racism in Queer communities has amplified important voices within these ongoing issues. Keisha's ability to connect a multitude of identities in order to foster social change is one of her major accomplishments.
2013 Award Recipient: Award Recipient: Sherbourne Health Centre
2012 marked a decade of Sherbourne Health Centre's pioneering work and its positive impact on community members' health and wellbeing.
Sherbourne Health Centre has Canada's largest health program serving the diverse lesbian, gay, bi, trans and queer (LGBT) communities of Toronto. Sherbourne improves the quality of life for LGBT people in Toronto through an accessible and dynamic mix of primary health services; health promotion and education; outreach and social support; mental health services; supporting and disseminating research; setting standards of care; and building capacity among professionals and the community itself. It strives to address the social determinants of health – the conditions in which we are born, grow, live, work and age. It reduces social, economic and systemic barriers to healthier lives and offers support to the LGBT people at every life-stage.
Sherbourne provides transformative health care, practical support, resources, referrals and wide-ranging programs in safe and welcoming spaces. Personal outcomes can include improved health and wellbeing, being linked up to suitable accommodation and increased vocational and life skills; they also often include improved self-esteem and a sense of empowerment, and a much-needed sense of belonging and strengthened identity.
On a community level, Sherbourne's collaborative work helps to develop stronger, more vibrant LGBT communities with increased capacity for self-support. With an emphasis on active partnerships and inclusivity, Sherbourne works with a range of community organizations to involve and engage LGBT community members in many impactful ways. They become mentors and ambassadors, support weekly groups and ad-hoc events and activities, fundraise for programs, and serve on Sherbourne's Board of Directors.
Sherbourne not only works with, and across the LGBT population, but across cultural and linguistic communities — LGBT clients and program participants come from over 70 countries around the world and speak at least 38 languages between them. Underpinning all of these initiatives is Sherbourne's respectful, client-centred, and innovative approach.
The impact of Sherbourne's work with LGBT communities is far-reaching. Around 4,000 LGBT clients and over 600 trans clients benefit from Sherbourne's primary care services and support groups; hundreds of parents, potential parents and their children attend LGBTQ Parenting Network courses and social activities each year; and around 250 queer and trans youth and dozens of adult volunteers participate in SOY (Supporting Our Youth) programs and activities each week. Community members are also engaged in special initiatives ranging from large-scale collaborative art projects to Sherbourne's strategic planning process. Cross-organizational initiatives including the pioneering 'Trans Health Protocols', and the Rainbow Health Ontario program's research, training and policy work, have helped to improve health care standards and to significantly increase the knowledge and capacity of other service-providers working with the LGBT communities across the city and beyond.