Investments
The City's Capital Markets Section  manages the working capital and investments for all of the City's divisions as well as most of its agencies, boards and commissions.
Exceptions are the Toronto Hydro Corporation, Toronto Community Housing Corporation and the Toronto Atmospheric Fund, which have different investment powers in their enabling legislation.
Investment Management
The City of Toronto Act, 2006 prescribes the eligible investments to be used by the City. These consist mainly of fixed income securities such as bonds and chartered bank deposits notes.
Management must incorporate both the legislative constraints and the risk profile of each portfolio. The City has investment policies which provide guidelines for each portfolio that are approved by Council annually.
Although specific policy limits with respect to issuer names and credit quality limits vary among the portfolios, the primary objectives for all City investment activities are to:
Ensure safety of principal
Maintain adequate liquidity to fund the City's cash needs
Maximize the rate of return while conforming to the first and second objectives
The Province recently approved amendments to Ontario Regulation 610/06, Financial Activities, under the City of Toronto Act 2006, to provide a framework for the City to invest according to the prudent investor standard. These amendments allow the City to add securities such as equities to its current holdings. This standard has been in place for a number of years in Ontario for pensions and endowments. This Regulation comes into force on January 1, 2018 and will provide the City greater flexibility in its investment powers.
As a result, Council recently approved the establishment of an Investment Board to manage and invest City funds which are not immediately required, pursuant to the Regulation.
Reports
Investment Portfolios
The City has mainly two fixed income investment portfolios, each of which has specific investment objectives and constraints.
General Group of Funds
Two individual portfolios that are managed interactively are the Bond and Money Market Portfolios. The Bond Fund is positioned towards funding the City's future reserve and reserve fund requirements and therefore takes a longer view of the market. The Money Market portfolio is primarily focused on ensuring that adequate liquidity is maintained to meet the City's daily cash flow requirements.
Current revenues can be held in short-term investments until such time as the movement to longer-dated securities proves more suitable. Likewise, longer-dated securities can be sold to meet short-term expenditures if the opportunity to realize capital gains presents itself. Traditionally the Bond Fund provides an opportunity to obtain higher investment yields.
Sinking Funds
When the City of Toronto issues debentures, the City of Toronto Act, 2006 requires that the principal repayment must be amortized over the term-to-maturity of the debenture or an annual amount be contributed to a sinking fund. Sinking funds are required and established to ensure that adequate financing is available at a debenture's maturity.
Sinking fund assets as at December 31, 2016 amounted to $1.8 billion. These assets represent amounts held to discharge sinking fund debenture debt of $5.6 billion (2015 – $5.4 billion) issued by the City and maturing in various years between 2017 and 2046 (please note that the Financial Statements include a Schedule of Projection of Debenture Maturities). Additional contributions will be received during the period 2017 to 2046 from the City for debentures issued for municipal purposes and from the Toronto District School Board for a debenture that was issued for education purposes.
Credit Risk Profile of Investment Portfolio
Another factor that impacts investor returns is the amount of risk that an investor is willing to bear. This is because borrowers will offer higher returns on instruments that carry a higher risk of default.
However, safety of principal is a primary City investment objective so overall risk exposure on the City's investment portfolios has been kept low.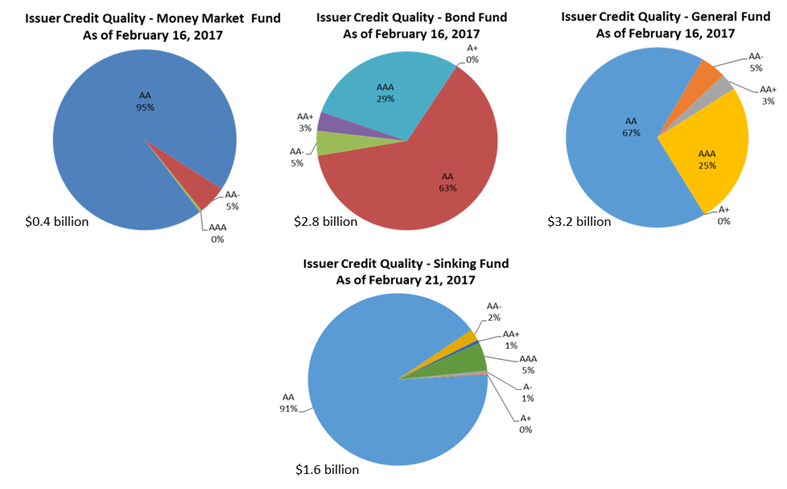 Market Activities
Capital Market Conditions – Comments
One of the principal factors affecting the performance of the City's investment portfolios is the general level of interest rates that can be earned on fixed income investments.These interest rates have remained unusually low for an extended period following the 2008 financial crisis.
Although 10-year Government of Canada bonds generated an average yield of 4.388% during the pre-crisis period in 2003-2007, these 10-year bonds only generated an average yield of 1.25% in 2016. Similarly, one-year treasury bills generated an average yield of 4.388% during the 2003-2007 pre-crisis periods while the average yield in 2016 was only 0.54%.
Portfolio Income
Investment Portfolio Income for 2016 ($millions)
The 2016 distribution of investment earnings and their respective annual investment return is summarized in the following table:
| Portfolio ($millions) | Year End Book Value | Earned Income | Annual Investment Return* |
| --- | --- | --- | --- |
| Bond Fund | 2,919.4 | 109.7 | 3.72% |
| Money Market | 1,731.2 | 19.9 | 0.94% |
| Total General Funds | 4,650.6 | 129.6 | 2.55% |
| Sinking Funds | 1,839.5 | 68.5 | 3.97% |
*Based on weighted average balance