Christie's Planning Study
In July 2019, City Council reached a settlement regarding a site-specific appeal to Official Plan Amendment 231 (OPA) for the former Mr. Christie's factory lands at Park Lawn Road and Lake Shore Boulevard West, which was subsequently approved by the Local Planning Appeal Tribunal in August 2019. In October 2019, City staff initiated a Planning Study with the goal of creating a comprehensive planning framework for the area and resumed work on the Park Lawn Lake Shore Transportation Master Plan.
Background
This study is the culmination of a site-specific appeal to economic health policies contained within OPA 231 which was submitted in 2013. At its July 17, 2019 meeting, City Council adopted a settlement with First Capital Realty to re-designate the majority of the lands from Employment Areas to General Employment Areas and Regeneration Areas within the Official Plan. The settlement secures a number of matters through an amended Site and Area Specific Policy (SASP No. 15), which directs the City to prepare a Secondary Plan for the study area. Years of negotiation and stakeholder involvement have shaped the key principles of SASP No. 15, and these form the basis for the project scope, outlined below. The settlement was approved by the Local Planning Appeal Tribunal (LPAT) on August 22, 2019.
Project Scope
Built Form and Land Use
Infrastructure, Energy & the Environment
Mobility and Transit
Community Services and Facilities
Parks and Open Space
Project Status
Together with the Secondary Plan process, City Council has directed staff to resume work on the Park Lawn Lake Shore Transportation Master Plan. The Secondary Plan study will be launched in October 2019. Upcoming work will include public consultation with public and local stakeholders; the development of a draft Secondary Plan; and coordination with the submission of First Capital Realty's OPA and pending Draft Plan of Subdivision for their development proposal.
Study Area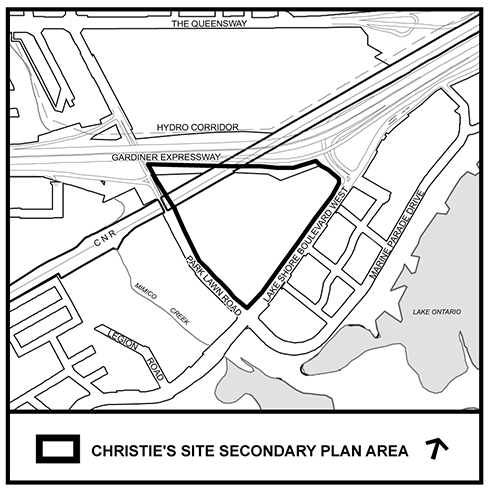 Formerly the site of the Mr. Christie factory, the current study area approximately 12.1 hectares (30 acres) is bounded by the Gardiner Expressway to the north; Lake Shore Boulevard West to the east and southeast; and, Park Lawn Road to the west and southwest. The lands are vacant, except for the existing water tower and a stand-alone BMO bank located at the intersection of Lake Shore Boulevard West and Park Lawn Road.
First Capital Realty owns 11.1 hectares (27 acres) of the study area and is finalizing an Official Plan Amendment (OPA) application to facilitate their development proposal for their portion of the study area.
Meetings & Events
As part of the Christie's Site Secondary Planning Process, a series of community consultation meetings will be held to:
Establish community priorities;
Examine transit and mobility options;
Receive feedback regarding public amenities, facilities and services; and,
Solicit feedback on the City's proposed planning framework, as well as First Capital Realty's development proposal.
Christie Public Open House #1 – Summary and Materials
The first public open house for the Christie's Planning Study was held Thursday, October 17, 2019 at Trident Banquet & Conference Centre (145 Evans Avenue, Unit 200, Etobicoke, ON M8Z 5X8):
Upcoming Events:
Tuesday, November 12, 2019
An Official Plan Amendment application (19 239170 WET 03 OZ) has been submitted by First Capital Realty for the lands municipally known as 2150 & 2194 Lake Shore Boulevard West and 23 Park Lawn Road.
A public open house for this application will be held on November 12th from 2:30 p.m. to 8:30 p.m. at Trident Banquet & Conference Centre (145 Evans Avenue, Unit 200, Etobicoke, ON M8Z 5X8).
Information will be available on both the application and the Christie's Planning Study at the open house.
Information & Reports
Background
Decision by the Local Planning Appeals Tribunal – Please contact the Planner for more information
Subscribe for E-Updates
Type (don't copy and paste) your email into the box below, check the box next to the e-update description and then click "Subscribe". You will receive an email with instructions to confirm your request.