News & Construction
News and Construction Updates
Construction Update 4 – March 19, 2018
Start Date: Week of March 19, 2018
End Date: Fall 2018
Construction has begun on Dunbloor Road to widen the roadway and construct various boulevard improvements including clearing, tree planting, and paving. This work is not expected to impact current pedestrian or vehicular access to or on Dunbloor Road.
Project Updates:
Emergency Night Work on Bloor Street: The emergency night work on the north side of Bloor Street east of Resurrection Road has been completed.
TTC Kipling Station, St Albans Passenger Pickup Lot Closure: In an effort to advance construction of 'Road A' (St Albans eastbound extension), and reduce the long term impacts to the area around the Toronto Transportation Commission's (TTC) Kipling subway station, there will be a full closure of the TTC St Albans Passenger Pickup Lot for the month of April. Access to the eastern entrance of the subway station will be maintained.
Construction Update 3 – December 18, 2017: Stage 1 construction continues to take place southeast of Bloor Street and Kipling Avenue (former Westwood Theatre lands), and locations along Bloor Street West, Kipling Avenue, Dundas Street West, as well as the Kipling to Bloor and St Albans to Kipling/Bloor ramps.
Kipling Avenue: Ongoing construction on the east side of Kipling Ave has moved to the western lanes effective, March 9

,

 2018. Work includes the installation of utilities crossing Kipling including new watermains, and storm water sewers at the new Dundas St and Kipling Ave intersection.This work is expected to be complete by June 2018.

Active traffic lanes have shifted to the east side of the roadway.
One lane of traffic in each direction will be maintained along Kipling Avenue at all times.
Current access to ramps to and from Kipling will be maintained.
Alternate route map below.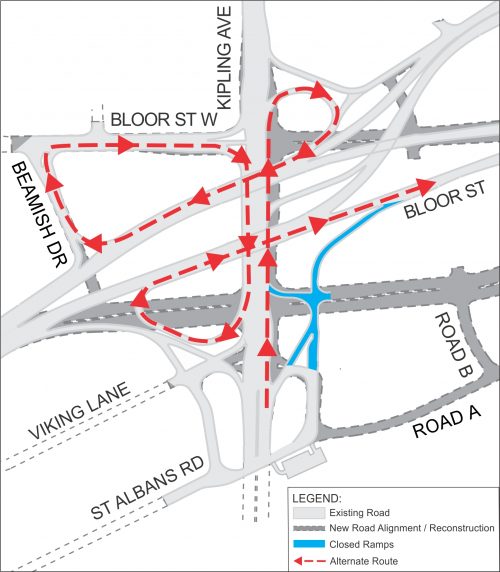 You may experience dust, noise and other inconveniences. The City will make efforts to reduce the impacts. We appreciate your patience.
Property owners should remove items located within City property limits (boulevard), such as landscaping and / or decorative objects. If you have a sprinkler system within the boulevard, please contact the Project Manager.
The City will not be responsible for damage to any privately owned items on City property.
Work Hours
Work will take place from 7 a.m. to 7 p.m., Monday to Friday, with work after hours and on weekends as required.
Road & Sidewalk Access
In order to complete the work in a safe manner, there will be road and sidewalk restrictions within the construction work zone. Access for emergency vehicles will be maintained at all times.
Driveway Access
The contractor will notify you of any temporary restrictions to your driveway access. If your property has two entrances, one entrance will be kept open at all times.
Traffic Management
Efforts have been made to manage traffic in the area for the safety of workers, road users and residents. Road users should expect delays and increased traffic on nearby main and side streets. Efforts have been made to manage traffic in the area for the safety of workers, road users and residents. Road users should continue to obey all posted traffic signage. *Please note that timelines are subject to weather and working conditions and may change.
Parking
Parking in the active work zone is not permitted due to space requirements for construction equipment and materials. If your parked vehicle affects the construction work, it will be re-located with no charge to the owner. If your vehicle is moved, please contact parking control for its location at 416-808-2222.
Garbage & Recycling
Please follow your normal routine. If required, the contractor will move bins to an appropriate location and return them. Please ensure that you label your bins with your address.
Restoration
The construction work area will be restored with sod and/or asphalt where required in future stages of the work. Updates will be provided.
Transit Service
This project will affect travel times of all TTC and MiWay Routes to and from Kipling Subway Station that travel along Dundas Street West.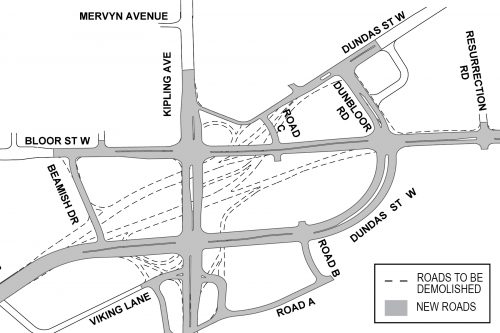 Download printable maps of Phase 2 Construction Stages 1-3
Phase 2: March 2017 – Spring 2020
Generally, construction includes:
removing the existing structures, roads, and facilities, as required
installing underground infrastructure (watermain, storm sewers, sanitary sewers, and utilities)
streetscaping (including landscaping, street lighting, and furniture)
road surfacing, intersection improvements, and curb installation
Demolition and reconstruction will take place in the following stages across the area:
Stage 1: Spring 2017 – Winter 2018
Stage 1A
Construct new Dundas Street alignment between Kipling and Bloor.
Construct Road A and Road B.
Construct an underground Hydro duct bank on Dundas Street West from Aukland Road to Jopling Avenue.
Stage 1B
Closure of Dundas/Bloor intersection to remove asphalt and place temporary ramps to Bloor.
Construction along Dundas Street, Road A, and Road B.
Start work on the bus ramp (Kipling to Street A) and opening temporary connections (Dundas, Road A, Road B).
Stage 1C
Reconstruct Bloor Street westbound lanes from Dunbloor Road to the projects eastern limit.
Construct the east-side of Kipling and bus ramp, south of Bloor.
Stage 1D
Construct the Bloor Street westbound lanes
Construct the Kipling/Dundas intersection
Stage 2: Spring 2018 – Summer 2019
Stage 2A
Reconstruct the Bloor Street West eastbound lanes.
Reconstruct Dunbloor Road.
Construct the remainder of Dundas Street West south side and the Kipling/Dundas intersection.
Construct new Viking Lane.
Stage 2B
Bloor Street realignment from Dundas to Kipling.
Construct Road C.
Reconstruct the existing Dundas Street East and Kipling/Dundas ramp.
Construct Dundas Street West from Jopling to Kipling.
Stage 3: Summer 2019 – Spring 2020
Stage 3A
Widen Kipling Avenue northbound lanes.
Remove the existing Dundas/Bloor bridge structures over Kipling.
Stage 3B
Widen and reconstruct Kipling Avenue southbound lanes.
Construct Bloor Street West from Kipling to Prennan Avenue.