Green Line Implementation Plan
Finding new parkland in the built-up downtown core is a challenge. The Hydro corridor that runs from Davenport and Macpherson Ave west and northwest towards Earlscourt Park presents a rare opportunity to create a linear open space amenity within a rapidly intensifying city.
The vision to make this provincially-owned infrastructure corridor also function as a publicly accessible green line has been a goal for many years.
Project Details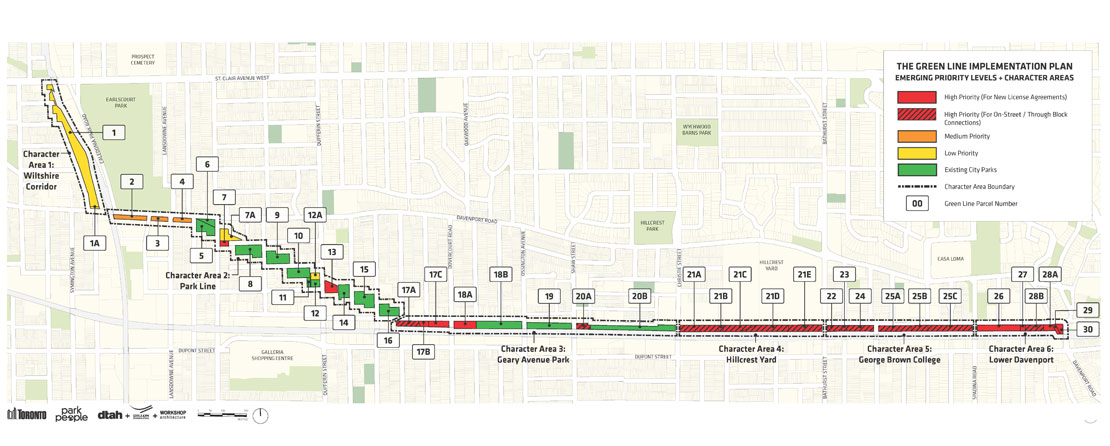 The City is leading the Green Line Implementation Plan, in partnership with Park People. The Implementation Plan will provide a plan for connecting the corridor into a public open space, using the following methods:
Improving existing licensed parkland parcels within the Green Line.
Licensing new Green Line parcels from the province and Hydro One and creating public spaces within them.
Making improvements to City rights-of-way between or adjacent to Green Line parcels.
Improving pedestrian connections at road crossings.
Phase 1
The focus of Phase 1 is inventory, analysis and consultation. The project team will complete a comprehensive inventory including reviewing existing planning policies, conducting environmental and archaeological assessments, preparing a safety and walkability audit, and consulting with stakeholders.
This phase will identify the distinct character areas along the Green Line. Phase 1 will conclude with a clear picture of the opportunities and constraints for the proposed Green Line and set the stage for conceptual design work in Phase 2.
Phase 2
In Phase 2, an overall conceptual master plan will be developed for the proposed Green Line, complete with design guidelines, design details and site-specific schematic designs for various public spaces proposed within the corridor.
It will also include the preparation of a priority and phasing plan and an implementation schedule with preliminary cost estimates. This work will provide a method for the City to realize the proposed conceptual master plan over time.
The Green Line Implementation Plan Report will propose a high quality public open space system with a recognizable visual identity that meets the needs of the community, invites people to a unique setting, and becomes a part of the lasting legacy and image of our city.
Get Involved
Past Consultations
April 23, 2018: Draft Conceptual Master Plan
City staff and the consultant team members presented the Phase 2 Draft Conceptual Master Plan, received input from the public, and discussed next steps.
Downloads from the meeting: