261 Queens Quay Avenue East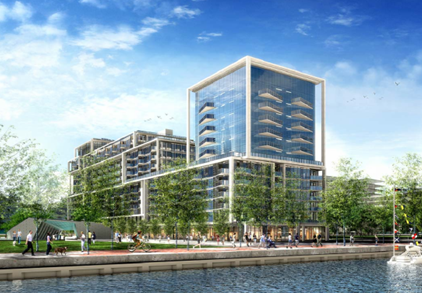 This condominium is part of the master-planned Bayside Toronto Community, with 363 luxury condominium suites ranging from studio to three bedroom and retail at grade. Featuring many innovative amenities targeted toward improving occupant livability and environmental sustainability, the development has successfully met the Toronto Green Standard Tier 2 requirements and is pursuing LEED® Platinum certification.
Project Details
Total Gross Area (Size) – 35,479 m2
Building Type – Mixed-use residential condominium and retail building
Building Location – 261 Queens Quay Avenue East
Website – Tridel- Aqualina
Energy Savings kWh – 6,223,333 kWh (48% cost saving vs. Model National Energy Code for Buildings)
Sustainable Design Strategies
Bike Storage
Over 300 bicycle parking spaces available indoors for residents.
Community Rooftop Garden
Located on the 11th floor of the development is a community urban garden, providing condominium residents with the opportunity to engage in a more environmentally conscious lifestyle while promoting enhanced community building among neighbours.
Electrical Vehicle Charging Infrastructure
Multiple charging stations provided for hybrid and electric vehicles, encouraging use of greener vehicular transportation methods.
Green Roof
Multiple green roof areas combined with high-albedo terrace pavers and roof help reduce heat island effect and manage stormwater onsite.
Optimized Location for Commute
High-density residential development in an excellent location for community connectivity and access to Union Station, encouraging reduced emissions from vehicular travel.
Water Efficient Fixtures and Fittings
Low-flow plumbing fixtures were selected for installation to reduce potable water consumption by 43%.
Energy Efficient Measures
Renewable Energy Generation
Solar PV cells installed on the roof are used for renewable energy generation, reducing overall energy requirement from external sources.
Energy Efficient Lighting
Development includes efficient LED fixtures which are five times more long-lasting and energy-efficient than conventional lighting fixtures
Energy Recovery Ventilation
Each suite is uniquely enhanced with a stand-alone Energy Recovery Ventilator (ERV) system, which delivers fresh outdoor air directly into each suite while recovering over half of the energy of the exhaust air leaving the suite. The ERV continuously exchanges the air in a unit by exhausting stale air from washrooms, laundry closets and kitchens, replenishing them with fresh air.
NetZero Energy Suite
Also referred to as the "NetZed Suite", this suite achieves "net zero" energy consumption, by generating enough energy to offset the energy it uses through dedicated solar PVs located on the building rooftop.
Project Team
Building Developer/Owner
Tridel
4800 Dufferin St.
Toronto, ON, M3H 5S9
Architect
Kirkor Architects & Planners
20 De Boers Dr. #400
Toronto, ON M3J 0H1
Sustainability Consultant
EQ Building Performance Inc.
20 Floral Parkway
Concord, ON L4K 4R1
Mechanical & Electrical Engineer
MCW Consultants Ltd.
207 Queens Quay West, Suite 615
Toronto, ON M5J 1A7