Anti-Black Racism
Why address anti-Black racism?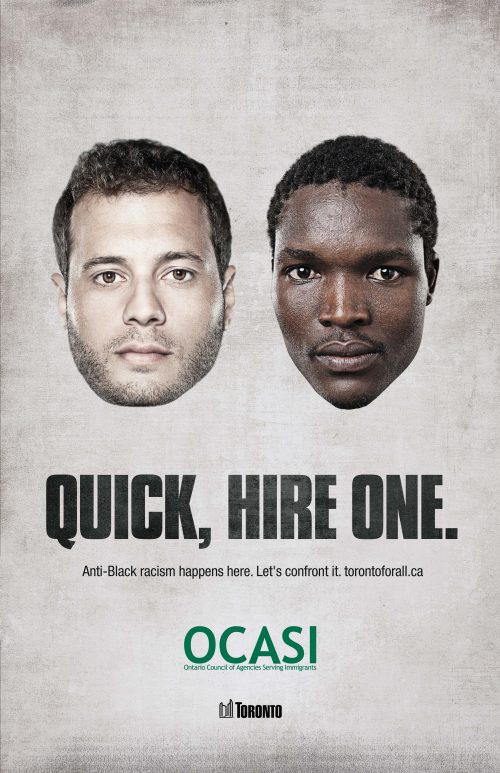 Anti-Black racism still exists in Toronto – especially in the biases we hold that inform the decisions and judgments we make every day. Working with our friends at the Ontario Council of Agencies Serving Immigrants (OCASI), we want to be leaders in helping people both confront their biases and learn how they can do to make our city an inclusive and prosperous place for everyone.
Download: Anti-Black Racism Poster #1 | Anti-Black Racism Poster #2
Check Your Bias
Harvard's Project Implicit is designed to uncover your subconscious attitudes to race. The test will tease out a racial bias you didn't know you might have had.
Moving Forward
From January to March 2017, more than 800 Black Torontonians participated in 41 Community Conversations across Toronto on how to best confront anti-Black racism in the city. Conversations were hosted by diverse partner organizations and facilitated by 15 young people who also represented the diversity of Black communities in Toronto.
The results of all the Community Conversations were compiled by City staff with help from community leaders to create the Toronto Action Plan to Confront Anti-Black Racism.
The Action Plan was unanimously approved by Council in December 2017.
Follow our progress in implementing the plan.
Community Guides
These materials helped to shape the Community Conversations as facilitated by our community partners. Other Torontonians opted to have conversations with family, friends and neighbours and provided the input to us via email, fax or via the online survey. Although we are no longer seeking input, these guides may still be of use to community leaders and educators who look to have thought-provoking discussions about Anti-Black Racism in Toronto.