Odario and Ofield Williams
A cast of characters will perform and recreate the feeling of a live set in the virtual realm.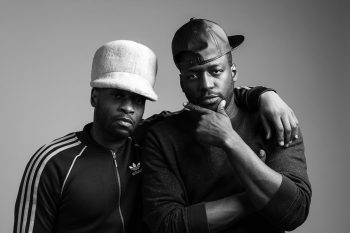 The Artists
DJ Ofield K will curate an array of beats and flavours fit for a late-night vibe… a late-night ride. Special guests include a mini live performance by popular Toronto emcee and storyteller Odario. Saxophonist Aubrey McGhee will splash his bluesy grit into the mix, and spoken-word artist Angelita SB will provide flow and consciousness. Odario will perform songs from his upcoming solo EP 'Good Morning Hunter'. Expect Ofield's DJ set to be a seamless mash-up of genres and musical art. Ofield, Odario, and Aubrey will take us back to late night underground parties found in Toronto's after-hour dive bars.
DJ Ofield K is a modern-day record collector, disc jockey and music producer coming out of Winnipeg's unique hip-hop and electronic music community. He's a master at striking the mood with his musical selections. Following in his father's footsteps, a local DJ in the 80s and 90s, Ofield K tends to travel through many retro landscapes, blending your favourite song with future classics. He has been regarded as the ultimate afterparty DJ, especially when on tour with his award-winning hip-hop band, Grand Analog. Shot at 'Coup de Tete' hat studios, a bespoke house located in downtown Toronto.