Food & Beverage
Toronto's food and beverage cluster is of great importance to the region, and along with Chicago, New York and Los Angeles, is one of the largest food and beverage clusters on the continent.
Toronto is a major decision-making centre for the food industry in Canada, with half of Canada's top ranked food and beverage manufacturers being headquartered in the city.
Food processing is a vital part of Toronto's economy:
Toronto CMA's food and beverage sector employs more than 51,000 people. About 46.7% of Ontario's food and beverage workers and 18.2% of Canada's food and beverage workers are in the Toronto CMA. (Labour Force Survey, 2013)
Toronto CMA's food and beverage cluster is one of the largest clusters amongst other metropolitan areas in the U.S., after Chicago, New York, and Los Angeles (see figure 3)
For every $1 of additional output from the food and beverage sector a further $1.83 is added to the provincial economy beyond direct production. (Source: Statistics Canada, input-output analysis)
Ontario's food and beverage processing sector had annual sales of $35.81 billion in 2011 – an increase of 1.6% from 2010 ($35.25 billion) (Ontario Ministry of Agriculture and Food. 2011) (Source: Ontario Ministry of Agriculture, Food and Rural Affairs)
The food and beverage processing sector is one of the largest manufacturing sectors in Ontario and in Canada (Source: Ontario Ministry of Agriculture and Food). Toronto is a major decision-making centre for the food industry in Canada, with half of Canada's top ranked food and beverage manufacturers being headquartered in the city.
The food and beverage cluster has long been a major component of Toronto CMA's economy. It is the second largest manufacturing sub-sector in the Toronto CMA. The 1,149 employment establishments located in the Toronto CMA employ more than 51,000 people (see figure 1). Employment in this sector has increased at a rate of 0.4% annually during 2003-2013. (Labour Force Survey 2013; Canadian Business Patterns, Dec. 2013).
Figure 1: Food and Beverage Sector Employment in the Toronto CMA, 1993-2013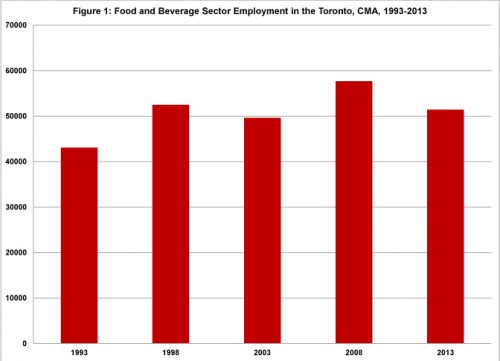 Food & Beverage Cluster Specialist
The Food and Beverage Sector Advisor deals with the various issues and needs facing this industry. The Sector Advisor develops partnerships with local businesses, governments and other stakeholders. Activities include:
Expediting municipal issues relating to the expansion or retention of food and beverage processors. Working on your behalf in the City of Toronto will ensure that your business gets the attention it deserves;
Consulting, education and intelligence services to companies and business associations in the food industry;
Building the capacity of business networks and associations such as the Golden Horseshoe Food and Farming Alliance in order to support its members and develop innovative programs;
Developing, implementing and/or supporting significant cluster-specific economic development projects such as the How to Start a Food Business Workshop series; and,
Providing access to international industry contacts.
The successful How to Start a Food Business Seminar series provides the information that individuals require before venturing into the food and beverage processing industry. Attendees build useful networks and access information that will help them as they navigate this exciting industry. The workshop is hosted quarterly by the City of Toronto's Economic Development and Culture Division. Schedules and locations for the workshops can be found here.
The City of Toronto, Economic Development & Culture Division launched the Toronto Food Business Incubator (TFBI) in 2007 to support new entrepreneurs by teaching best practices of food production and helping to ensure that new and innovative products are continually being introduced to local consumers. Support for labour force education and training will ensure that Toronto processors are producing safe, secure and affordable food products with the assistance of government funding.
TFBI is a non-profit organization run by an independent food industry board of directors that supports entrepreneurs interested in starting a new food company. In 2015, the Toronto Food Business Incubator expanded into a 20,000 sq. ft. shared-use facility and began operations under its new name Foodstarter. To find out more about the program and facility, and how to access this unique start-up opportunity in the Toronto food scene, go to www.foodstarter.ca.
The City of Toronto's Food and Beverage Sector Specialist runs Incoming Buyer's Missions for Toronto food processors. A number of times during the year food retailers and food service buyers from the U.S. and abroad are hosted in Toronto and one-on-one meetings are arranged for Toronto-based companies to show their products to potential clients.
In partnership with Toronto Water, a series of Energy Efficiency Workshops for the food and beverage sector have been created, resulting in the Toronto Water Industrial Water Rate Program that gives reduced water rates to companies that implement a water conservation program with Toronto Water.
Toronto food and beverage processing companies have access to a large number of grants and funding programs that enable them to grow their businesses at every stage of their development. The following provides a list of programs currently being offered by a number of supporting agencies and senior government branches.
Golden Horseshoe Food & Farming Alliance
The Golden Horseshoe Food and Farming Alliance (GHFFA) was created in 2011 to oversee implementation of the GHFFA Action Plan and to provide effective governance. The GHFFA includes representatives from each of the seven Golden Horseshoe municipalities, as well as primary producers, food processors, and research and education interests. Together, these partners represent over 5 million Ontario citizens. This partnership approach is unique and complementary to existing provincial, municipal and private sector initiatives.
Youth Into Food Processing Training & Certification
The food processing sector has long been a major employment and economic driver of the Province of Ontario and the City of Toronto. The industry has historically done a poor job of self-promotion to our youth and post secondary graduates as a career path and industry of potential employment. The Toronto District School Board (TDSB), the City of Toronto Economic Development and the Food Processing HR Council have banded together to create Youth Into Food Processing Training and Certification. Find out how you can get involved in this program both as an employee and an employer.
Ontario Food Terminal
The Ontario Food Terminal is a unique asset, not just in the Toronto region, but in Canada. It is the largest wholesale fruit, vegetable and flower market in Canada, and one of the five largest produce markets in North America. It plays a central role in the food industry and supports grocery stores, restaurants, caterers, and florists in eastern Canada and in some American states.
Food Innovation & Research Studio at George Brown College
The Food Innovation & Research Studio (FIRSt) at George Brown College guides its industry partners from concept to commercialization. Building on the College's extensive culinary experience and success through its training, applied research and development activities, FIRSt blends food science and culinary arts to help industry innovate. FIRSt is a Technology Access Centre funded by the Government of Canada.
Core food industry activities include food processing, warehousing and distribution, retailing and food services. The Toronto food industry has a multiplier effect that generates growth in related industries servicing the cluster. These include packaging, design, the production of food industry equipment, biotechnology and specialized storage and transportation (i.e. refrigerated).
Bakeries are the largest single type of food processing plant, and this has resulted in diverse, high quality products in this sub-sector. Meat processing is the next largest sub-sector, followed by beverages
Figure 2: Composition of the Toronto Food and Beverage Processing Industry by Sub-sector, 2011.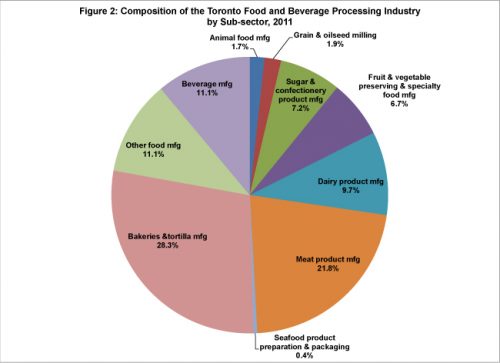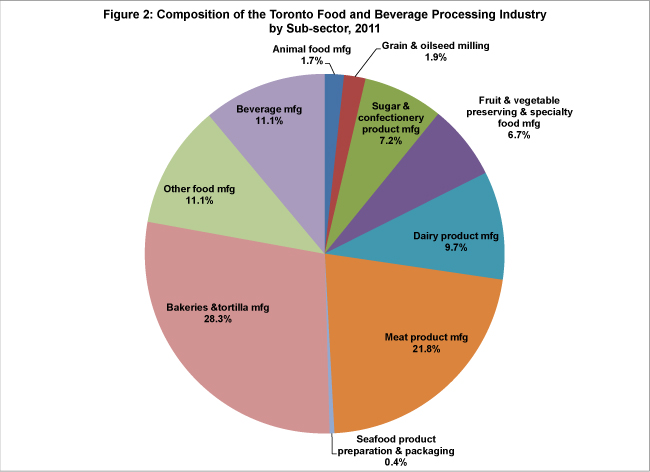 Specialty foods
One sub-sector of the food processing cluster that is growing in importance is specialty foods. Specialty food processors reflect Toronto's vibrant multi-ethnic community and its export connections abroad. About 25% of all food processing plants within Toronto are considered to be making specialty products. Specialty foods have grown about twice as fast as the average for the cluster.
Two-thirds of the total food processing companies in Toronto have annual sales of less than $5 million. These smaller firms are nearly all owner-operated businesses producing 'fresh product' or serving specialty markets within the city. Slightly more than a quarter of the food processing companies are in the $5 million to $50 million range. The small and medium-sized food establishments are experiencing the fastest growth and highest export potential of all companies in this cluster. The largest operations, with annual sales in excess of $50 million, are mainly multi-national subsidiaries, serving the markets well beyond the boundaries of Toronto and often outside the province. (WCM – Food Industry Outlook – A Study of Food Industry Growth Trends in Toronto, August 2002).
Figure 3: Food and Beverage Employment by Metropolitan Area in Canada and U.S., 2011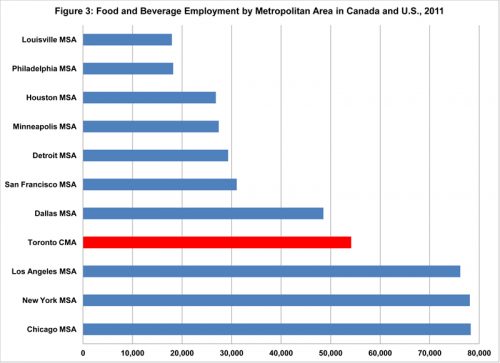 Since the Food Industry Outlook was published, a developing "new food economy" has emerged – characterized by new consumer demands such as that for local food, and by an increased prevalence of small and medium sized companies focusing on responding to such demands, particularly in Ontario and more specifically Toronto.
A number of academic researchers have found that the continued importance of Toronto's food cluster – which includes businesses involved in food processing, service (e.g. catering companies), distribution and retail – and the need to consider urban trends, markets, and businesses as central to the regional food economy. Increasingly, consumers are driving Toronto's food market, indicating rising preferences for new kinds of products.
A 2008 report by the Canadian federal government discussed such national trends as: the Buy/Eat Local movement, the proliferation of ethnic foods as immigration rises, the burgeoning demand for kosher and especially Halal foods, and the push for organic food and sustainable practices. Other consumption trends include increased preference for ready-made or ready-to-cook foods by working families and aging adults, and foods that meet dietary restrictions (e.g. dairy-free, nut-free and gluten-free). Food safety standards have tightened in recent years, making food safety an increasingly significant issue. Toronto's food processing industry is at the leading-edge of many new innovations with regards to these trends.
According to the 2010 KPMG Competitive Alternatives Study, Toronto has lower overall business costs in food processing than in most Canadian and U.S. cities. The average Toronto cost advantage is 3% in food processing. The province's commitment to lower corporate taxes will further distinguish Toronto from our major U.S. competitors.
With the U.S. and Canadian dollars at par, Toronto is still a low cost leader in the food processing industry.
Figure 4: Average Total Taxes – Manufacturing Industry ($000's US)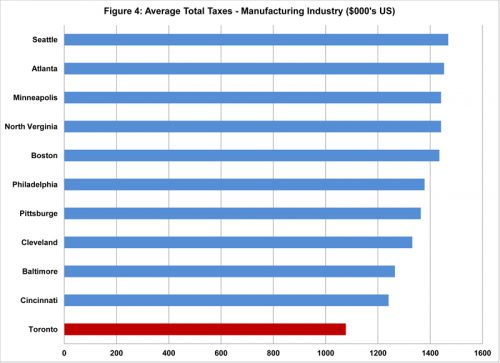 Note: Using the available information from the KPMG study, City of Toronto, Economic Development & Culture Division staff estimated the total average taxes for the top 55 international locations listed.
Toronto is also a major North American hub for trucking, rail and air. Toronto has access to a very large regional market of over 6 million people, which is matched in size and concentration by only three other urban centres in North America. This is an affluent and cosmopolitan market that is open to innovation. Its myriad of ethnic groups means that there is a ready market for specialty products made locally
Since Toronto is well served by road and rail, the city has excellent links across Canada and into the U.S. According to KPMG, Toronto is the most cost-effective location for road freight of the nine major metropolitan markets in Canada and U.S.
Figure 5: Average Total Business Costs – Food Processing Industry in Canada and U.S. ($000's US)