Education
Toronto is the largest centre of education, research and innovation in Canada. The breadth and depth of Toronto's world-renowned educational institutions and a highly educated population are integral to attracting the best businesses and the brightest minds.
Toronto is a leader in academia at all levels of learning, a progressive city with one of the most highly educated populations in the world.
The city is home to publicly funded four major universities and four community colleges, and nine satellite campuses of public universities and colleges which are located outside of the City and a number of trade and apprenticeship institutions including several specialized research centres.
In 2015, over 292,000 students were enrolled in Toronto's eight public universities and colleges.
There are 179 private career colleges that provide a variety of certificate and diploma level post-secondary courses to several thousands of students each year.
Toronto has a strong primary and secondary education system with 596 elementary and 187 secondary public schools and over 100 private schools.
Toronto is the world's premier language study destination to students with approximate 53 languages schools that deliver quality, accredited English and French programs both in the public and private sectors.
The Education Sector in the Toronto Census Metropolitan Area (CMA) employs 218,360 people which represent 7.26% of the CMA's total workforce. This sector directly contributes $11.15 billion to the economy.
Universities
Toronto is home to four publicly funded universities: OCAD University, Ryerson University, University of Toronto, and York University.
The universities create the most skilled members of Canada's workforce and engage in knowledge transfer through graduate students, scholarly research, innovations and collaborations.
In 2015, over 186,000 students were enrolled in Toronto's universities in a wide range of courses. The student enrolment in universities has increased at an annual average rate of 5.85% over the last decade (2000-2009).
OCAD University, located in the heart of downtown Toronto is home to 4,601 students and over 250 faculty. OCAD U is the largest centre of design, culture and business in Canada. The university delivers art and design education in a learning environment that integrates studio-based education with historical, critical and scientific enquiry.
Ryerson University, located in downtown Toronto is home to a vibrant community of 43,000 students and nearly 2,700 faculty and staff and has more than 140,000 alumni. It is a distinctly urban university with a focus on innovation and entrepreneurship.
University of Toronto (U of T) is Canada's leading research-intensive university with a diverse community of 20,658 faculty and staff, and 86,709 students across three distinctive campuses and partner sites. U of T's alumni number over 552,000. U of T was recognized as the best university in Canada and the 19th in the world (Times Higher Education World University Rankings 2015.
York University is one of the leading interdisciplinary research and teaching institutions in Canada. York offers a modern, academic experience at the undergraduate and graduate levels on two campuses in Toronto. As Canada's third-largest university, York is host to a dynamic academic community of 52,300 students, 7,000 faculty and staff and more than 295,000 alumni.
The Queens University, University of Waterloo, Wilfrid Laurier University, University of Guelph-Humber and Western University provide some of their academic programs through their satellite campuses located in Toronto.
Community Colleges and Collège d'enseignement général et professionnel (CEGEP)
Toronto is home to four publicly funded community colleges: Centennial College, George Brown College, Humber College and Seneca College, as well as a number of trade and apprenticeship institutions.
The colleges provide certificate, diploma and degree programs in numerous disciplines and provide training in a wide range of practical and technical skills. Programs are planned in co-operation with industry to provide maximum employment opportunities.
In 2015, over 106,000 full-time and thousands of part-time students were enrolled in Toronto's community colleges in various fields of study.
Centennial College is Ontario's first community college. It is also one of Canada's most culturally diverse post-secondary institutions with a student body representing almost 100 ethno-cultural groups. Having grown significantly in recent years the college is home to over 20,000 full-time students in its four campuses and eight schools.
George Brown College is one of Canada's most diversified colleges of applied arts and technology and offers its students a rich mix of degree, diploma, certificate and apprenticeship training programs. With over 28,900 full-time students, the George Brown College recently opened the doors to its third campus, a newly built Centre for Health Sciences overlooking lake Ontario.
Humber College provides its students with the skills they need to succeed in today's workforce. Humber's Business School for example, offers more areas of study and specialized choices than any other business school in Ontario. The college enrols almost 30,000 full-time students along a sizeable number of part-time students and provides many opportunities for continuous learning.
Seneca College, with 11 campuses dotted throughout the Toronto region provides its students (over 28,000 full-time) with numerous industry partnerships and opportunities for hands-on learning. Its finance, international business and marketing, 3-D animation and electronics engineering programs have received national and international acclaim.
Lambton College, College Boreal, Cambrian College and St. Clair College have their satellite campuses in Toronto to deliver some of their academic programs.
Toronto CMA is home to 128 research centres that focus on a wide range of research activities. Most research centres are fully affiliated with the University of Toronto, York University and Ryerson University.
Table 1: Research Centres in the Toronto CMA by area of focus
| Research Focus Area | Number of Research Centres |
| --- | --- |
| Behaviour & Social Sciences | 61 |
| Biology, Agriculture, Food & Veterinary Services | 2 |
| Business, Economics & Law | 7 |
| Engineering & Technology | 23 |
| Environment, Natural Resources & Earth Sciences | 4 |
| Humanities | 13 |
| Mathematics, Physics, Space & Astronomy | 6 |
| Medicine & Health | 12 |
| Total | 128 |
Source: Statistics Canada and RE$EARCH Infosource, 2009, via Innovation Atlas Canada
According to RE$EARCH Infosource's report "Canada's Top 50 Research Universities 2012", the University of Toronto ranked first out of 50 universities based on total sponsored research income in 2011 and was also ranked 1st in terms of the total number of publications in Canada.
There are over 179 provincially approved private career colleges with 211 locations in Toronto. These colleges represent over 42% of private career colleges registered in Ontario. These colleges offer certificate and diploma programs in fields such as business, health services, human resources, applied arts, information technology, electronics, trades and services. For more details on private career colleges visit ontario.ca/education-and-training/private-career-colleges.
The Government of Ontario requires that private career colleges be registered and offer provincially approved programs. Service Ontario's Private Career College Search Service provides a listing of all of the career colleges that have been registered with the province.
Toronto has an extensive system of public and private elementary and secondary schools. The publicly funded Ontario's schools are administered by district school boards and school authorities. Toronto's school boards and schools provide students with a variety of options to suit diverse skill sets, needs and interests. Parents can choose from one of the City's well-established public school boards or from a variety of private institutions. Toronto's public educational institutions are open to students of all nationalities and religions.
Toronto District School Board (TDSB) is the largest and one of the most diverse school boards in Canada. It serves approximately 246,000 students in 584 schools (430 elementary and 154 secondary) throughout Toronto, and more than 160,000 life-long learners in our Adult and Continuing Education programs. With over 40% of the graduates ranking as Ontario Scholars, more than 80% of our graduates go on to university or college.
Toronto Catholic District School Board (TCDSB) provides publicly funded Catholic education to more than 93,000 students. The TCDSB consists of 201 Catholic schools supported by over 2,800 support and academic staff.
The two French language public school boards operating in Toronto are the Conseil scolaire Viamonde and the Conseil scolaire de district catholique Centre-Sud.
Private schools: In addition to the publicly funded educational institutions, Toronto is also home to over 100 private schools offering both primary and secondary school programs. They include elementary, high schools, and preparatory schools, religious, cultural, vocational, career and specialty institutions. A non-publicly funded religious Centre for Jewish Educationcaters to the needs specific to the Jewish community in Toronto. There are other religious schools operating in Toronto including independently administered Christian and Islamic schools.
Ontario students generally perform well in the academic areas of reading, mathematics and science, according to recent Programme for International Student Assessment (PISA) studies. PISA measures the abilities of 15-year-olds from a range of countries or economies in the three academic areas. In 2015, 72 countries and economies participated, including 35 OECD countries. In reading, no jurisdictions had results statistically higher than Ontario's. In mathematics, Ontario students remained among the top 25 per cent of participating jurisdictions. In science, Ontario student achievement remained similar to what it was on the 2012, 2009 and 2006 assessments, matching the Canadian average.
The Ontario Secondary School Literacy Test (OSSLT) measures the fundamental reading and writing skills of Ontario students up to the end of grade 9 as set out in The Ontario Curriculum. In the 2011-2012 academic year, Toronto District School Board's success rate in the OSSLT was 81%; the Toronto Catholic District School Board's success rate was 82%. For the same academic year, the provincial average success rate was 82%.
According to Citizenship and Immigration Canada, there were 96,802 temporary foreign students in Ontario as of December 1, 2011. A majority of these students (57,847 or 59.76%) were located in Toronto; with over 30,000 of them enrolled at one of the Toronto region's universities and community colleges. In order to enhance the positive experience of international students while they study and live in Toronto, the City of Toronto, in partnership with the colleges and universities and with the support of the Government of Ontario organizes an International Students Airport Welcome Program and an At-Home-In-Toronto Program.
Airport Welcome Program
International students newly arriving at Toronto Pearson International Airport are encouraged to visit a staffed welcome booth, where they will receive a welcome package and any needed assistance.
At-Home-In-Toronto Program
The At-Home-In-Toronto program provides an opportunity for international students and domestic students from outside the Toronto region to discover the city with reduced rates on numerous Toronto cultural and tourist attractions.
In 2015, the educational services sector employed 222,800 people in Toronto CMA, of which 102,204 were working in the City of Toronto. This represented 45.9% of all educational services workers in Ontario.
The growth of employment in the educational services sector in Toronto CMA has been more than the average growth rate of all economic sectors combined (Table 2).
Table 2: Annual Average Growth Rate of the Education Sector and All Industries
| | 5 years (2007-2012) | 10 years (2002-2012) | 15 years (1997-2012) |
| --- | --- | --- | --- |
| Educational Services Sector | 2.2% | 4.4% | 3.1% |
| Elementary and Secondary Schools | 2.3% | 3.9% | 2.7% |
| Community Colleges and CEGEPs | 0.0% | 0.8% | 2.6% |
| Universities | 1.1% | 5.7% | 3.3% |
| Vocational Training & Support Service * | 4.4% | 7.4% | 4.8% |
| All industries | 1.2% | 1.5% | 2.0% |
* Business schools and computer management training; technical and trade schools; other schools and instruction; educational support services
Source: Statistics Canada, Labour Force Survey 2012
As the second-fastest growing sector, employment in the education sector grew at a rate of 4.4% annually during 2002-2012 (Figure 1)
Figure 1: Total Employment in the Education Sector, Toronto CMA, 1987-2012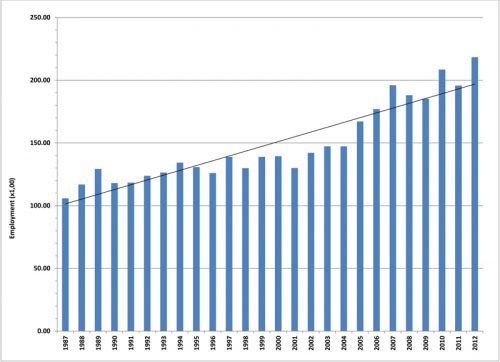 Canada, Labour Force (1987-2012), Employment by place of residence
About 61% (133,560) people were employed in elementary and secondary schools followed by universities (18% or 39,800), vocational training and support services (15% or 32,120) and community colleges and CEGEPs (6% or 12,880).
The annual growth of employment in the vocational training and support services has been more than the employment growth rate in other areas of the sector (Statistics Canada, Labour Force Survey)
The education sector was the 6th largest employer in Toronto CMA behind manufacturing (1st), retail trade (2nd), professional, scientific and technical services (3rd), health care and social services (4th), finance and insurance (5th) (Statistics Canada, Labour Force Survey, 2012).
Canada has the highest rate of tertiary education among the 34 OECD countries, with 51% of the population aged 25-64 years graduating from tertiary institutions (Education at a Glance 2012 OECD Indicators)
In Toronto CMA, over 32% of the population (age 15+) have a university degree and 25% have a post-secondary certificate or diploma (Statistics Canada, Labour Force Survey, 2012)
The education sector has the most educated workers (63.1% have a university degree) amongst the largest economic sectors (manufacturing, retail trade, finance and insurance, professional, scientific and technical services, and health care and social assistance) in the Toronto CMA (Source: Statistics Canada, Labour Force Survey, 2012)
Toronto residents are diverse, well-educated and highly skilled. Over 38% of the labour force has university degree in comparison to 26.3% for the country (see Figure 2).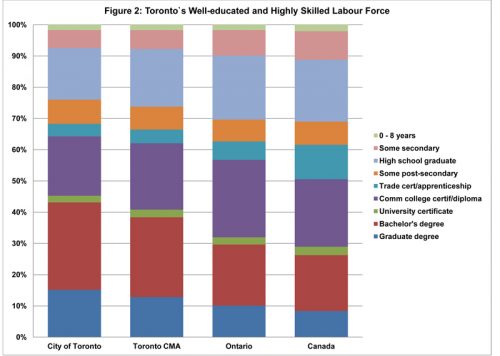 The educational services sector is a major economic engine in the Toronto CMA. The sector added directly $11.15 billion to the economy in 2012, accounting for 4.54% of region's GDP.
During 2002-2012, the sector's GDP grew at an annual growth rate of 3.2%; and the sector's share in total GDP increased from 3.92% to 4.54%.
The annual contribution of educational sector's GDP (3.2%) has grown more than the average of all economic sectors combined (1.7%) during the period 2002-2012 (City of Toronto, EDC, Toronto Econometric Model, version 8).