Education
The Education sector is one of the city's largest employers, with 1,400 educational establishments and related businesses and more than 100,000 employees. Total annual wages for the sector are $7.2B.
Distribution of Jobs in the Education Sector
Elementary & secondary schools – 50.8%
Universities – 25.5%
Other schools & instruction – 13%
Community colleges – 8.1%
Business schools & management training – 0.8%
Educational support services – 0.8%
[Sector data is derived from a number of sources including the Labour Force Survey, 2006 Census, 2011 National Household Survey, Canadian Business Counts, and the City of Toronto's Employment Survey. The methodology used to identify clusters and their sizes is based on methodology used by the Institute for Competitiveness and Prosperity in its 2017 Cluster Study.]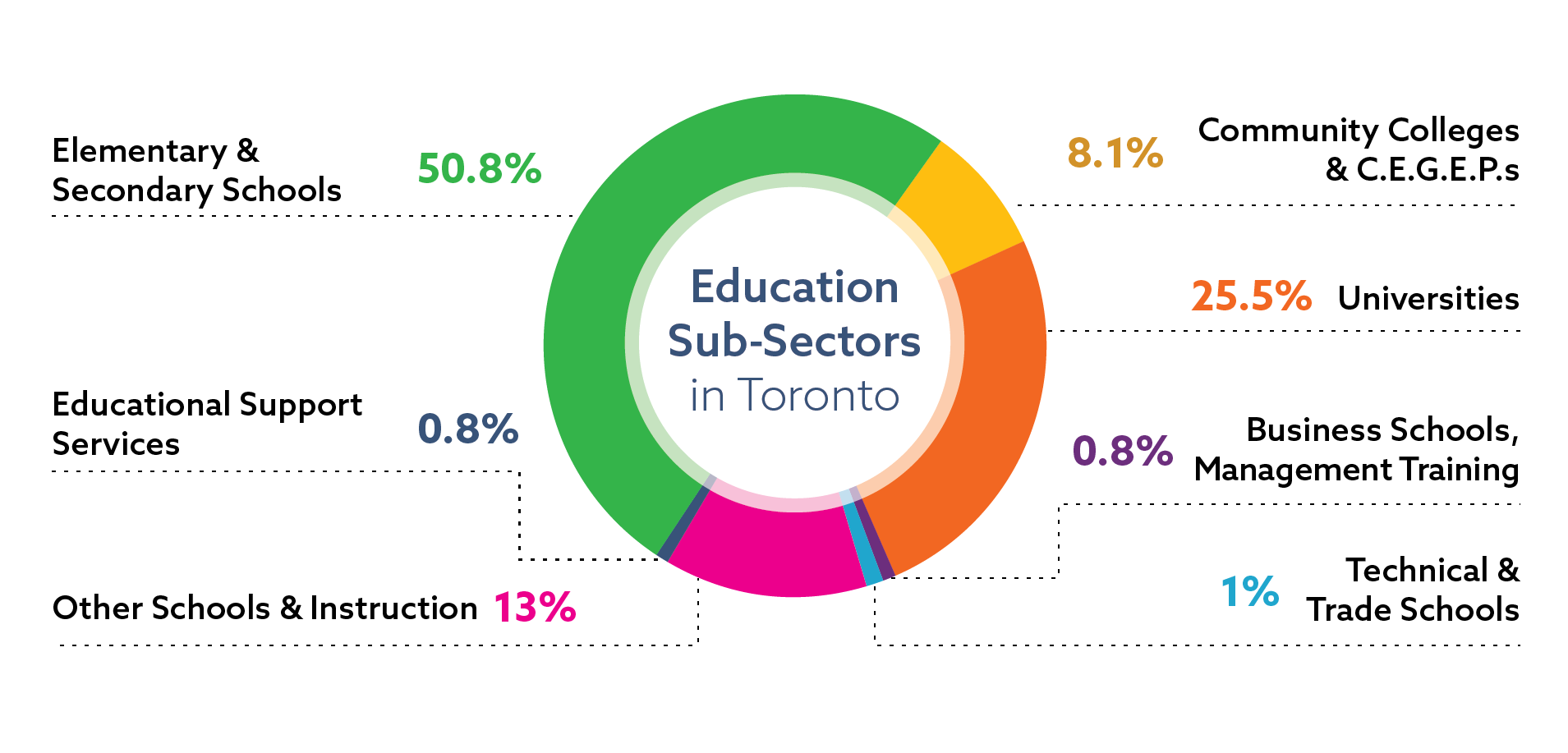 Key Sector Assets - Universities & Colleges
Universities
Toronto is home to four publicly-funded universities and one private university.
Public:
Private:
Northeastern University Toronto
This regional campus of the U.S.-based university offers Master of Science programs in project management, information assurance and cyber security, and regulatory affairs for drugs, biologics and medical devices
Colleges
Toronto is home to four publicly-funded community colleges:
Key Sector Assets - Elementary and Secondary Schools
Key Sector Assets - Private Career Colleges
Toronto has more than 140 private career colleges that offer certificate and diploma programs in fields such as business, health services, human resources, applied arts, information technology, electronics, trades and services.
The Government of Ontario requires that private career colleges be registered and offer provincially-approved programs, and maintains a searchable directory of approved colleges and programs.
Key Sector Assets - Language Schools
There are more than 55 language training schools and programs in Toronto, both private and publicly-funded. The majority of these schools provide English- and some French-language education targeted mostly to foreign students and professionals.