Tourism
We've Been Expecting You (WBEY) training program is now open for registration. The sessions will take place from 9:30 – 11:30 a.m. on May 19, July 9 and October 6 at the City Hall.
Welcoming over 43 million visitors annually, Toronto is the leading tourism destination in Canada. This bold, dynamic city offers superb attractions, music and events backed by the best convention and sports facilities in Canada.
Tourism Sector Information
Key Facts
Toronto is the leading tourism destination in Canada. In 2017, Toronto welcomed over 43.7 million visitors.
A record 15.5 million were overnight visitors
28.2 million same day visitors
$8.8 billion dollars spent by all visitors
International travellers to Toronto:

5.1 million overnight visitors came from international destinations
2.9 million overnight visitors came from the U.S.
$2 billion dollars were spent by overseas travellers
(Source: Tourism Toronto, 2017).
Tourism Labour Force
Toronto Census Metropolitan Area (CMA) has over 19,000 tourism-related businesses employing more than 329,000 people. (Canadian Business Patterns Dec. 2013; Labour Force Survey 2013)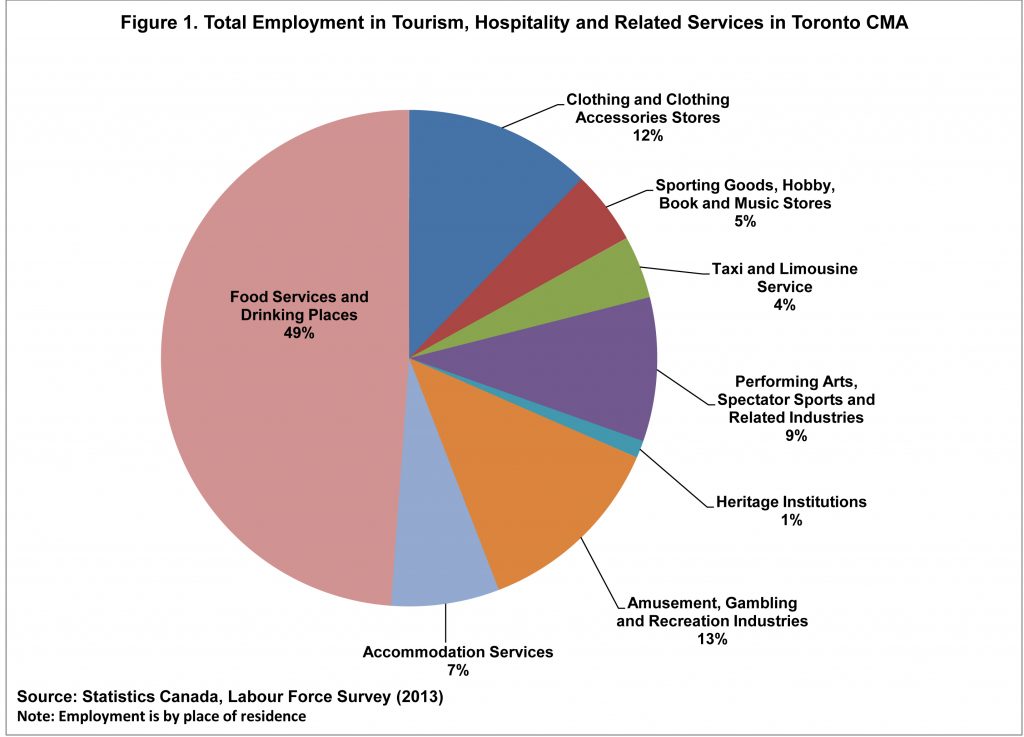 Business Establishments
There are over 50 large tourism and related services establishments (500+ employees) in the Toronto CMA. Thirty of these establishments are in the accommodation, foods, drink services and performing arts.
70% of all tourism and related services establishments are classified as accommodation, foods, drink services and performing arts.
Assets
Toronto offers a wide variety of tourism options:
Music, film, sports, cultural, entertainment, performing arts, festival and events, international cuisine, parks and recreation, first-rate accommodations, and shopping, including 7 professional sports teams, 8,000 restaurants, more than 500 live music venues, more than 50 tour operators and over 100 attractions.
Large-scale special events can be found every weekend of the year with a number of signature events in the city including, Nuit Blanche, Luminato, Pride, Toronto Caribbean Carnival, Canadian National Exhibition and the Toronto International Film Festival.
60+ multifunctional event venues, 35+meeting facilities and over 100 professional event and meeting planners in the city assist in making Toronto the choice for meetings and conventions.
Major convention centres offer a large amount of choice to the meetings and conventions market including Metro Toronto Convention Centre along with the Toronto Congress Centre and the Enercare Centre, 2 of the largest largest in North America.
Toronto is a City of Neighbourhoods, often represented by a vibrant Business Improvement Area.
Toronto is one of the world's most diverse cultural, culinary and entertainment communities, over 50% of the population is foreign born.
The city has the greatest selection of accommodation in Canada, including over 43,000 hotel rooms in the greater Toronto region – 40% are located in downtown Toronto. Downtown Toronto hotels consistently achieve occupancy rates of about 73% whereas the hotel occupancy rate in the GTA is about 67% (PKF Consulting Inc., 2012 Outlook Greater Toronto Hotel Association).
Toronto Pearson International Airport is Canada's primary air hub with 47 million passengers annually (GTAA).
Billy Bishop Toronto City Airport is right in the downtown welcoming more than 2.8 million passengers annually.
Tourist Investment
In 2015 the Toronto region hosted the Pan/Parapan American Games, a catalyst for major infrastructure developments across the region.
The revitalization of Union Station is an ongoing $640-million.
initiative that will revolutionize Canada's busiest transportation hub.
The Union Pearson Express launched in in 2015, and now provides fast, reliable and convenient service between downtown Toronto and Toronto Pearson International Airport.
Opened in 2014, the Aga Khan Museum is the first museum in North America devoted to Islamic art. The $300-million museum and cultural centre spans a seven-acre site.
Opened in 2013, Ripley's Aquarium of Canada, a $130 million investment, is one of the largest aquariums in North America featuring over 15,000 underwater animals of 450 diverse species.
Opened in 2012, Daniels Spectrum, formerly the Regent Park Arts & Cultural Centre, an estimated investment of $18 million, brings dance, theatre, visual arts and music groups together under one roof.
Newer Hotel investment includes the Delta Toronto Southcore Financial Centre, Trump International Hotel and Tower, Four Seasons Hotel Toronto, The Ritz-Carlton, and the Shangri-La Hotel Toronto.
City of Toronto Premier-Ranked Tourist Destination Project (2007)
The Premier Ranked Tourist Destination framework was developed by the Ontario Ministry of Tourism to provide a means for tourism destinations to define their competitive position within the tourism marketplace. Premier-ranked is not a formal tourism designation but, rather an internal tourism goal to help destinations become "better than the rest" by improving their viability and competitiveness as a place people want to visit.
Subscribe to the 'We've Been Expecting You (WBEY)' eNewsletter
Participate in 'We've Been Expecting You (WBEY)' Training
'We've Been Expecting You (WBEY)' is a unique hospitality excellence program that helps:
Further instill a culture of hospitality excellence throughout the city so that visitors feel welcomed, informed and well-treated while in Toronto
Unify the service industry by enhancing visitor's experience of Toronto and motivating return trips
Service industry staff become prepared, proactive, proud and positive so that they can create memorable experiences for visitors
Free training is offered to members of the hospitality, tourism and service industries, or anyone who works with visitors to the City.
WBEY is a joint project presented by the City of Toronto, the Province of Ontario and Tourism Toronto and is free to participants.
Training options
Various training options are available:
Public Classroom (City Hall) Sessions: 2020 training dates are now open for registration. All sessions will take place at City Hall from 9:30 – 11:30 a.m. on the following dates:
Tuesday, May 19
Thursday, July 9
Tuesday, October 6
Register for upcoming dates.
Online Training: Visit www.wbeytoronto.ca to access WBEY training online.
On-Site Training Sessions: For groups of twenty or more people at your organization, email wbey@toronto.ca to discuss available dates and logistics.
Training is offered for those who:
work directly with visitors to our city
work in a role where you might be asked about what there is to do and see in Toronto
would like to introduce customer service training to your organization
Program structure
Welcome to Toronto…We've Been Expecting You program is designed around four sets of behaviours and actions. When employed together, they create memorable experiences for visitors.
Prepared: Learn about Toronto, its neighbourhoods and all they have to offer.
Proactive: Look for opportunities to share your knowledge and experiences of Toronto and its neighbourhoods.
Proud: Talk about unique features of Toronto.
Positive: Project an optimistic attitude even when faced with a challenging situation.
Support for Tourism Businesses
Promotion
Promote events, attractions or tourism businesses distributing information and brochures through:
INFOTOGO: Mobile Visitor Information centres (seasonal) are located in high-traffic areas around the city and attend key events throughout the summer months.
Toronto Tourist Information Centre (TTIC): located in Union Station (part of the Ontario Travel Information Centre) and open year round. Toronto specialists help visitors plan their time in the city.
City Hall Information rack: located in the Rotunda of City Hall, brochures and maps are available for the public.
Email infotogo@toronto.ca for details.
Maps
Visitor Maps: Free, printed maps highlighting key attractions and neighbourhoods are available to distribute your guests and customers.
Beer Map: (In development – projected launch in 2019) a map to highlight Toronto's rich brewing culture.
Email visitorservices@toronto.ca for details.
Promotional opportunities are available on select Tourism Services programs and publications. Email visitorservices@toronto.ca for more information.
Promote Events, Exhibits and Festivals
Organizations and businesses can submit their event, exhibit and festival information to the Toronto Festival & Events Calendar for promotion to the public.
The most comprehensive list of things to do in Toronto.
The Festivals & Events Calendar was completely revamped in 2016.
The new format improves the ease of submitting festival, special event and exhibit information.
The Calendar provides a more user-friendly display for the public to view and filter event details – making it easier to find information on what's happening in the city.
Email spevcal@toronto.ca for more information.