Life Sciences
Toronto is one of the top cities in North America for the human health sciences, combining research, clinical and business expertise to deliver new diagnostics and therapies. The city's life sciences sector employs nearly 30,000 professional and contributes more than $2 billion to the local economy.
Distribution of Jobs in the Life Sciences Sector
Paid Researchers in Hospitals – 32.3%
Pharmaceuticals Manufacturing – 20.5%
Medical & Diagnostic Laboratories – 17.3%
Research & Development Services – 8.8%
Pharmaceuticals & Pharmacy Supply Wholesale – 7.9%
Medical Instruments Manufacturing – 6.8%
Medical Equipment & Supplies Manufacturing – 6.4%
[Sector data is derived from a number of sources including the Labour Force Survey, 2006 Census, 2011 National Household Survey, Canadian Business Counts, and the City of Toronto's Employment Survey. The methodology used to identify clusters and their sizes is based on methodology used by the Institute for Competitiveness and Prosperity in its 2017 Cluster Study.]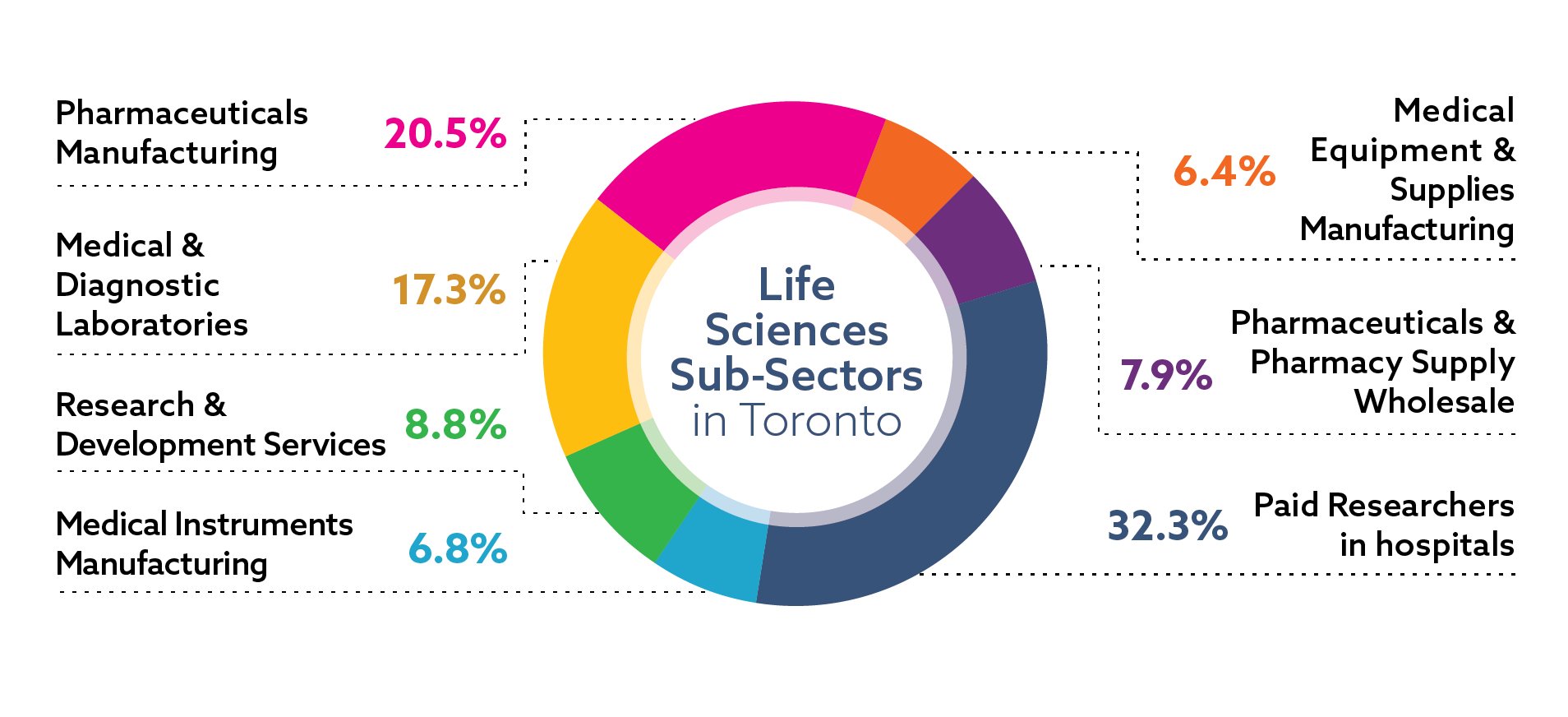 Life Sciences Companies in Toronto
[While not comprehensive, the above list provides a snapshot of Toronto's diverse Life Sciences sector and some of the companies located here.]
Key Sector Assets – Incubators & Accelerators
Biomedical Zone
Incubator that helps early-stage health technology companies iterate their technology, refine their business model, and demonstrate clinical value in a hospital setting.
Blueline Bioscience
Biotechnology incubator based in Toronto's MaRS Discovery District that works toward translating research discoveries into high impact therapeutics.
Creative Destruction Lab – Toronto
Provides startups with access to business development support from top business students at the Rotman School of Management (University of Toronto), funding from leading venture capital firms, and resources to scale their enterprise.
DMZ
A leading business incubator for tech startups in Canada, the DMZ help startups build their businesses by connecting them with customers, capital, experts and a community of entrepreneurs and influencers.
Québec-Ontario Life Sciences Corridor
Launched in 2011 as a joint initiative of Life Sciences Ontario and Biopolis Québec, the Québec-Ontario Life Sciences Corridor establishes the region as a major life sciences cluster in North America, supporting the advancement of life sciences discovery and related commercialization.
Discovery District
A 2.5-square kilometre (1.6-square mile) research park in the heart of Toronto's downtown core, the Discovery District is home to the University of Toronto, Ryerson University, the MaRS Centre and several hospitals. The concentration of research and clinical excellence in this area makes it an ideal place to grow a small company.
The Entrepreneurship Hatchery
An incubation program in the University of Toronto's Faculty of Engineering that provides resources and mentorship to help students turn their ideas into successful start-ups.
Health Innovation Hub
Located in the University of Toronto's Faculty of Medicine, the Health Innovation Hub facilitates the translation of discoveries and ideas into problem-solving designs that impact positively on health matters.
Humber Centre for Entrepreneurship
Located at Humber College, the Centre provides experiential learning opportunities including interactive workshops, networking events and startup competitions.
The Imagination Catalyst
Incubator that provides business development guidance and support for professional artists as well as maker-based, design-focused start-up entrepreneurs.
Impact Centre
Located within the University of Toronto, the Centre provides technical and early-stage guidance to help researchers and graduate students take their discoveries from the lab to the marketplace.
JLABS
A Johnson & Johnson business initiative that provides a platform for emerging companies to transform scientific discoveries into healthcare products.
LaunchYU 
Launched by Innovation York and the Lassonde School of Engineering, the entrepreneurship hub provides space for collaborative entrepreneurial endeavours and related events.
MaRS Innovation
Non-profit organization that acts on behalf of its members—five of Toronto's top universities, institutions and research institutes, plus the MaRS Discovery District—to bring promising research breakthroughs to market.
ONRamp
Connects entrepreneurs across University of Toronto entrepreneurship hubs with partner organizations to help them accelerate their businsses with access to space, events and networks.
startGBC
Operates a co-working space at George Brown College that connects students, alumni and the community with resources, programs and support to foster a culture of entrepreneurship.
Triphase Accelerator Corporation
Drug development accelerator that acquires and develops novel therapeutics
York Entrepreneurship Development Institute
Program that provides academic lectures, workshop-based training in entrepreneurship, and mentorship by key industry leaders.
UTEST
University of Toronto program that provides companies with investment capital, mentoring, business strategy and incubation space.
FACIT
A commercialization organization offering funding and support for cancer-related innovations in Ontario.
Key Sector Assets – Research Institutes