Financial Services
With nearly 210,000 workers, or three-quarters of the entire region's Financial Services workforce, Toronto is the largest financial centre in Canada. Toronto is also headquarters to the country's largest financial institutions, and is the banking and stock exchange centre of Canada.
Distribution of Jobs in the Financial Services Sector
Banking & Deposit Taking Institutions – 58.3%
Securities & Investments – 22.5%
Insurance Carriers & Related Activities – 17.7%
Funds & Other Financial Vehicles – 1.5%
[Sector data is derived from a number of sources including the Labour Force Survey, 2006 Census, 2011 National Household Survey, Canadian Business Counts, and the City of Toronto's Employment Survey. The methodology used to identify clusters and their sizes is based on methodology used by the Institute for Competitiveness and Prosperity in its 2017 Cluster Study.]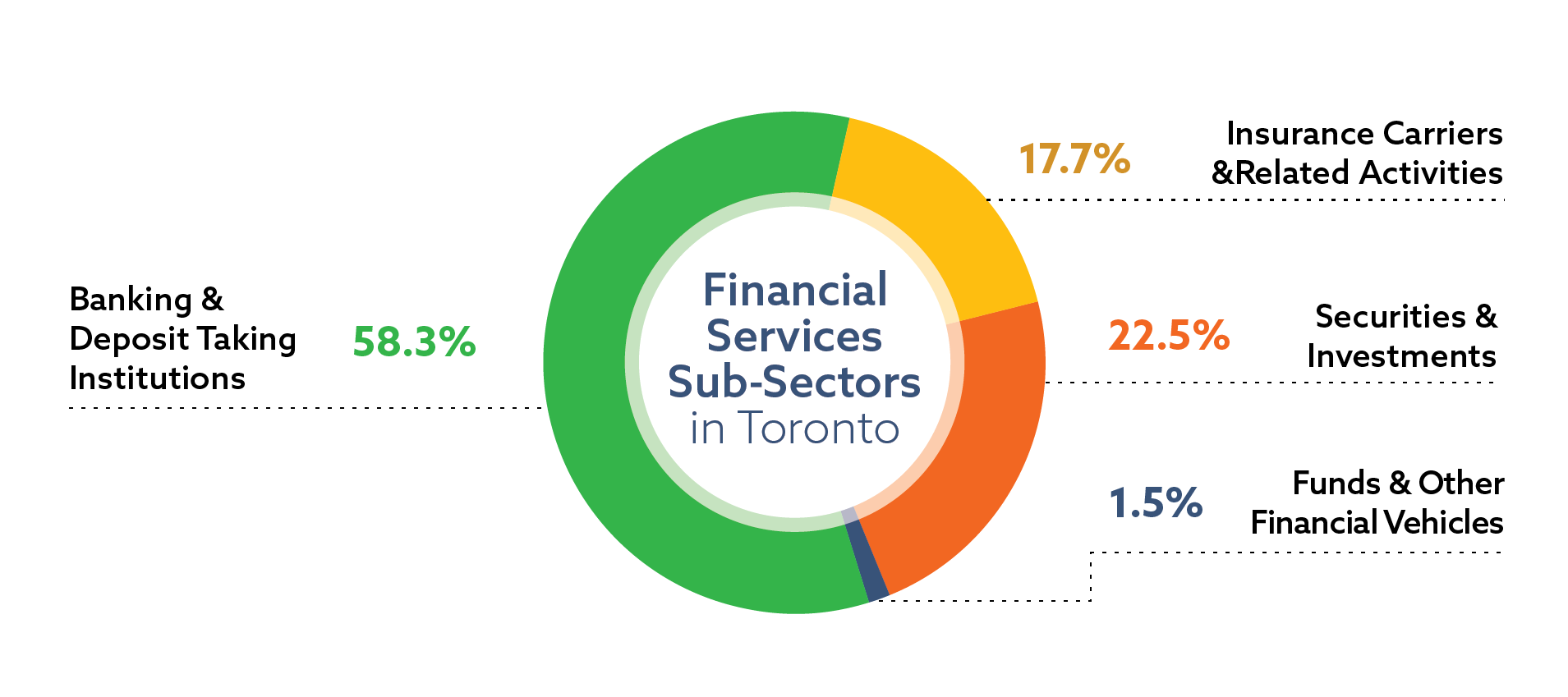 Financial Services Companies in Toronto
Banks
Canadian Imperial Bank of Commerce (CIBC)
Toronto-Dominion Bank (TD)
Royal Bank of Canada (RBC)
Bank of Nova Scotia (Scotiabank)
Bank of Montreal (BMO)
Insurance Companies
Manulife Financial
Intact Financial Corp.
Aviva Canada
Sun Life Financial
Dominion of Canada General Insurance
Franklin Templeton Investments Corp.
Foresters Canada
Zurich Canada
RSA Canada
Pension Funds
Ontario Teachers' Pension Plan
CPP Investment Board
OMERS Administration Corp.
Healthcare of Ontario Pension Plan
[While not comprehensive, the above list provides a snapshot of Toronto's diverse Financial Services sector and some of the companies located here.]
Key Sector Assets
Toronto Financial International
Toronto Finance International (TFI) is a public-private partnership created by the City of Toronto in 2001 to enhance and promote the competitiveness of Toronto as a premier global financial services centre, and serves as the main point of contact for the industry. TFI also helps to attract, upskill and retain next generation talent for the financial services sector through ASPIRE, a work-integrated learning initiative.
Toronto Stock Exchange (TSX)
The ninth-largest stock exchange in the world by market capitalization, the TSX has more mining and oil and gas companies listed than any other stock exchange.
Sector-specific Education – MBA Programs
Video: Canada's RMB Hub & Fintech in Toronto