120 Harrison Garden Boulevard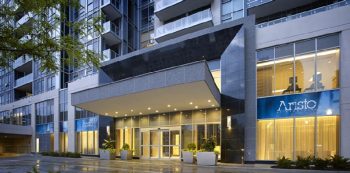 Aristo at Avonshire is located at 120 Harrison Garden Blvd just east of Yonge St, north of Hwy 401. The Aristo community was designed with energy and water efficiency in mind. The towers consist of 477 luxury condominium suites with interior and exterior amenity spaces. The building successfully achieved the Toronto Green Standard Tier 2 requirements as well as LEED® Gold certification in 2015.
Project Details
Total Gross Area TGA (Size) – 

40,727

m

2
Building Type –

 

High Rise Multi Unit Residential Building

Building location –

 120 Harrison Garden Boulevard (Yonge & 401)

Website –

 

www.tridel.com

  

Energy Savings KWH

 – 6,621,071 kWh (45% cost savings vs. Model National Energy Code for Buildings)

Energy efficiency performance

 – 27% more energy efficient than Ontario Building Code 2006
Sustainable Design Strategies
This Toronto Green Standard Tier 2 and LEED® Gold Canada Candidate building includes:
Bike Storage
A total of 429 bicycle storage spaces are provided throughout the underground garage with an additional 48 bicycle storage spaces available in storage rooms on the 3rd to 8th levels.
Electrical Vehicle Charging Infrastructure
17 parking spaces are equipped with electric vehicle charging stations. An additional 73 parking spaces are equipped with electrical plug rough-ins for future installation of charging stations.
Green Roof (67% Green Roof Area)
A total of 2,515m2 of green roof space is provided. This amount is equivalent to 67% total roof coverage! The green roofs add greenery to the property and act as an extra layer of insulation, helping keep the building cool in the summer and warm in winter.
High Efficiency Irrigation (88% water use savings for irrigation)
Rainwater is collected from multiple rooftop areas and directed to a cistern located in the garage. Captured rainwater is then distributed to the plants via a high-efficiency sprinkler system. This design feature contributes to an overall potable water use reduction of 88% for irrigation purposes.
Water Efficient Fixtures and Fittings (36% better than Ontario Building Code standards)
Low-flow plumbing fixtures were selected for installation to reduce potable water consumption by 36% compared to a building with conventional plumbing fixtures.
Construction Waste Diversion (89% Diverted)
The construction team successfully diverted 89% of all construction waste from landfill. A total of 2,345 metric tonnes of construction waste was recycled.
Sustainable Construction Materials
A total of 21% of all construction materials, by cost, contained recycled content.
Low Emitting Materials
Low-VOC adhesives, sealants, paints, coatings, and flooring products were applied inside the building to reduce off-gassing and provide residents with a healthier indoor air environment. MERV filters located in the suite fan coil units and building air handling units also provide enhanced air filtration.
Multi-Chute Recycling
Each floor is equipped with a sealed garbage chute room with a two-chute (bi-sorter) system, allowing residents to easily dispose of waste, recyclables, and organics.
Energy Efficient Measures
ERVs, Fan coils and Improved Air Quality
Energy Recovery Ventilators (ERVs) are integrated with the fan coil units in all suites. ERVs help promote better indoor air quality by continuously delivering fresh outdoor air directly into the suite while exhausting stale air. ERVs recover up to 60% of the energy of the exhaust air leaving the suite, which means less energy is needed to heat or cool incoming air.
Efficient Lighting
Energy efficient lights were installed throughout the building. Occupancy sensors control amenity area lighting as well as lights in the underground garage.
Efficient Mechanical Equipment
To optimize the building's energy performance, high-efficiency boilers and chillers were selected for installation for heating and cooling.
ENERGY STAR® Appliances
ENERGY STAR appliances are standard in every suite and include a stainless steel refrigerator, dishwasher and front-loading washing machine. ENERGY STAR qualified products consume 30% less energy than conventional appliances, which helps residents save money on electricity.
Sub-metering of Utilities
Each suite is equipped with three sub-meters. The meters measure thermal energy, electricity, and hot water consumption, which means residents are only billed for the energy they use.
Project Team
Building Developer/Owner
Tridel
4800 Dufferin Street
Toronto, ON M3H 5S9
Architect
Kirkor Architects & Planners
20 Martin Ross Avenue
Toronto, ON M3J 2K8
Sustainability Consultant
Provident Energy
100 Supertest Road
Toronto, ON M3J 2M2
Mechanical and Electrical Engineer
Nova Trend Engineering Group Ltd.
175 West Beaver Creek Road
Richmond Hill, ON L4B 3M1