120 Twenty Fourth Street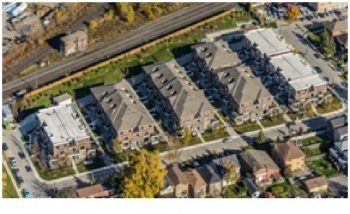 Minto Southshore is located in the heart of Etobicoke and nestled in a residential community with waterfront, lush parks, ample shopping and public schools. These 7 blocks of 148 stacked back-to-back townhouse units built by Minto Communities achieved Tier 2 of the Toronto Green Standard in June 2015. The project offers occupants innovative features that deliver healthier environments, more comfortable spaces, and utility cost savings.
Project Details
Total Gross Area TGA (Size) – 15,880 m2
Building Type – Stacked Back-to-back Townhomes
Building location – 120 Twenty Fourth Street (Kipling & Lakeshore Blvd W)
Website – www.minto.com
Energy Performance – 15% better than Ontario Building Code
Sustainable Design Strategies
This Toronto Green Standard Tier 2 and LEED® Gold Canada Candidate building includes:
Bike Storage
120 twenty fourth street bike storageDesignated bicycle storage areas included in the underground parking can store 71 bikes.
Rainwater Harvesting
An underground storage tank collects water on rainy days and stores it for future use. The landscaping at Minto Southshore includes drought tolerant plants and is watered using the collected rainwater.
Water Efficient Fixtures (35% less water required compared to Ontario Building Code)
Specially designed showerheads provide a comfortable shower while using 25% less water than a standard showerhead. Toilets provide best in class performance while using 35% less water – just 3 litres per flush.
Construction Waste Diversion
Minto Southshore reduced the amount of construction waste it sent to landfill by working with trades and waste haulers to divert 86% of construction waste.
Improved Air Quality
At Minto Southshore fresh outside air enters directly into the suite through a heat recovery ventilator (HRV). Approximately 65% of the energy from the exhaust air is captured and transferred to the incoming air. The fresh air is circulated throughout the suite for improved air quality and comfort.
Low Emitting Materials
Environmentally friendly carpets and underlay (Green Label Plus), hardwood, ceramic flooring and low-emitting paints in each suite significantly reduce volatile organic compounds (VOCs) in the air.
Urban Heat Island Reduction
Light coloured materials selected for 75% of all hard surface paving and for roof shingles. This helps to reduce the amount of heat stored in the built areas during summer months and contributes to a more comfortable outdoor environment.
Energy Efficient Measures
All-Off Switch & Green Plugs
The all-off switch, located at the entrance of the suite, provides simple convenient in-suite lighting and plug control. One flick turns off most fixed lighting and designated green plugs.
ENERGY STAR® Appliances
ENERGY STAR qualified appliances are standard in every suite and include a stainless steel refrigerator, dishwasher and front-loading washing machine. ENERGY STAR qualified products use approximately 30% less energy to do the same job as non qualified products, saving homeowners money while creating fewer greenhouse gas emissions.
Exterior Envelope
An extra inch of rigid insulation helps occupants stay comfortable in every season. This insulation wraps the entire home and reduces the effects of thermal bridging – a major cause of heat loss in the average home.
Individually Metered Utilities
Each suite's electricity, water and natural gas use are individually metered, ensuring that homeowners only pay for what they use.
Project Team
Building Developer/Owner
Minto Properties
500-90 Sheppard Ave. E
Toronto ON, M2N 3A1
Telephone: 416-977-0777
Architect
Guthrie Muscovitch Architects
770 Browns Line
Toronto ON, M8W 3W2
Telephone: 416-252-5679
Energy Modeller
Building Knowledge Canada Inc.
240 Holiday Inn Dr., Suite O
Cambridge ON, N3C 3X4
Telephone: 519-658-6232
Mechanical and Electrical Engineer
Novatrend Engineering Group Ltd.
175 Beaver Creek Rd., Unit 31
Richmond Hill ON, L4B 3M1
Telephone: 519-882-5445