1346 Danforth Road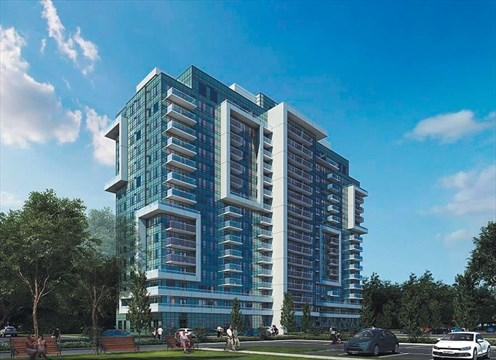 Located just north of Eglinton Avenue East and Brimely Road, this condominium overlooks a lush 33-acre park that includes walking trails, a basketball court and swimming pool, offering its residents an unparalleled living experience with nearby access to public transit options into the city. This residential condominium achieved Tier 2 certification under the Toronto Green Standard.
Project Details
Total Gross Area (Size) – 18,930 m2
Building Type – Residential building
Building Location – 1346 Danforth Road (Brimley & Danforth Road, Scarborough)
Website –Options for Homes Danforth Estates
Energy Savings kWH – 3,066,389 kWh (42.4% cost saving vs. Model National Energy Code for Buildings)
Sustainable Design Strategies
This Toronto Green Standard Tier 2 building includes:
Construction Waste Management
91.3% of construction waste diverted from landfill, reducing environmental impact of construction process.
Optimizing Urban Heat Island Performance
Using high-albedo surface materials to cover 75% of non-roof hardscape, the development greatly reduces its potential urban heat island effect, making its surrounding environment comfortably cooler.
Recycled Materials
Of the construction materials used for the development, over 20% was derived from post and pre-consumer recycled sources by cost, reducing environmental impact of resource production.
Water Efficient Fixtures and Fittings
42% reduction in potable water consumption achieved through installation of low-flow plumbing fixtures.
Energy Efficient Measures
Efficient Pumps
Variable-frequency drive circulation pumps used for the heating and cooling systems help to save related energy costs by over 70%.
Heating Systems
Use of a gas-fired modulating boiler reduced costs associated with domestic hot water heating and centralized heating by a combined 50%.
Lighting Sensors
Occupancy sensors are used in corridors and garbage rooms to save energy on lighting when the space is unoccupied.
Rooftop Lighting
Lighting on rooftop is directed downward to avoid wasted up-lighting and facilitate wayfinding on nearby pathways, designed to automatically turn off between typically inactive hours of 11 p.m.and 6 a.m. to save energy.
Project team
Developer
Options for Homes
468 Queen Street East Suite 310
Toronto, ON M5A 1T7
General Contractor
Deltera
4800 Dufferin Street
North York, ON M3H 5S9
Architect
Icke Brochu Architects
517 Wellington Street W
Toronto, ON M5V 1G1
Sustainability Consultant
EQ Building Performance Inc.
20 Floral Parkway
Concord, ON L4K 4R1
Mechanical Engineer
Nova Trend Engineering Group
54 West Beaver Creek Road #200
Richmond Hill, ON L4B 3M1
Electrical Engineer
Nemetz (S/A) & Associates Ltd.
214 King St. West
Toronto, ON M5H 3S6