35 Saranac Boulevard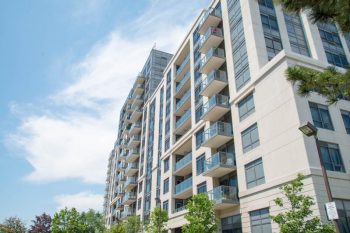 Located in Toronto's most established neighbourhoods at Lawrence Avenue West and Bathurst Street, Cranbrooke Village is an example of sustainable design in Toronto. The 12 storey condominium community by Options for Homes has been committed to energy saving innovation since its inception. This project goes beyond Toronto Green Standard Tier 2 and features offer comfort and savings to homeowners.
Project Details
Total Gross Area TGA (Size) – 25,800m2
Building Type – High Rise Multi Unit Residential Building
Building location – 35 Saranac Boulevard (Bathurst and Lawrence)
Website – www.optionsforhomes.ca
Energy Savings KWH – 3,979,555 kWh (39.3% vs. Model National Energy Code for Buildings)
Energy efficiency performance – 19.1% more energy efficient than Ontario Building Code 2006
Sustainable Design Strategies
This Toronto Green Standard Tier 2 and LEED® Gold Canada Candidate building includes:
Bike Storage
Designated bicycle storage areas.
Vehicle Infrastructure
Cranbrooke Village is providing less than the parking capacity required by the zoning bylaw in order to encourage the use of alternative forms of transportation such as transit or bicycles.
Green Roof (705m2 -60% of available roof area)
Combating the urban heat island effect, the green roof at Cranbrooke Village will also contribute to managing stormwater and increasing biodiversity in the area.
Rainwater Harvesting
A cistern is used to hold collected rainwater on the site. This allows 100% of irrigation needs to be met with rainwater.
Water Efficient Fixtures and Fittings (35.5% better than Ontario Building Code standards)
Low-flow toilets, showers, sinks and faucets used in each suite and amenity space are high-efficiency, which encourage reduced water usage and cost savings.
Construction Waste Diversion (93% Diverted)
Cranbrooke Village reduced the amount of construction waste it sent to landfill by implementing a construction waste management plan and working with waste haulers to divert more than 90% of waste construction materials.
HRVs, Fan coils and Improved Air Quality
Each suite is uniquely enhanced with a heat recovery ventilator (HRV). Suites at Cranbrooke Village bring fresh outside air directly into the suite through the HRV whereas typical condominiums receive corridor air from under the entry door. The HRV delivers fresh, filtered outdoor air to each suite and circulates that fresh air throughout the suites for improved ventilation and living comfort.
Solar Domestic Hot Water
A solar domestic hot water system is located on the roof of Cranbrooke Village. This system uses the sun to pre-heat water reducing energy use.
Tri-sorting System
At Cranbrooke Village, every floor is equipped with a sealed garbage chute room with a tri-sorter, providing three choices for disposal.
Energy Efficient Measures
Efficient Lighting
Each suite is equipped with compact fluorescent lights. These lights last up to 10 times longer and consume less than one-quarter of the energy compared to their incandescent counterparts.
ENERGY STAR® Appliances
ENERGY STAR appliances are standard in every suite and include dishwasher and range hood.  All refrigerators and washing machines purchased through the builder are ENERGY STAR rated. ENERGY STAR qualified products use 30% less energy to do the same job as non- ENERGY STAR qualified products, saving homeowners money while creating fewer greenhouse gas emissions.
Programmable Thermostat
The fully programmable thermostat enables control of the temperature and airflow in your suite. The thermostat allows homeowners to set the temperature to their comfort level when home and adjust for increased energy savings when out of the suite over a 7-day schedule.
Sub-metering Utilities
Each suite's electricity and hot and cold water are individually metered, ensuring that homeowners only pay for their in-suite consumption.
Project Team
Building Developer/Owner
Options for Homes
468 Queen Street East, Suite 310, P.O. Box 28
Toronto, ON, M5A 1T7
Telephone: 416-867-1501
Architect
Burka Architects
4800 Dufferin Street
North York, ON M3H 5S8
Telephone: 416-665-0722
Energy Modeller
Provident Energy Management Inc.
100 Supertest Road
North York, ON M3J 2M2
Telephone: 416-736-0630
Mechanical and Electrical Engineer
Novatrend Engineering Energy Lmt.
175 West Beaver Creek Road
Richmond Hill, ON L4B 3M1
Telephone: 905-882-5445
Electrical Engineer
Trace Engineering Lmt.
505 Consumers Road, Unit 904
Toronto, ON M2J 4V8
Telephone: 416-391-2633