5365 Dundas Street West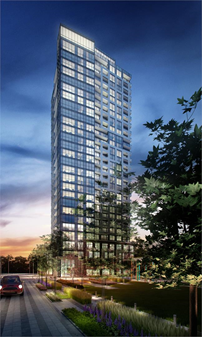 This condominium is the first phase of the Kip District and offers 283 rental units. Landscaped mews link five modern towers which encircle a lush park, the centerpiece of this contemporary, master-plan community. The building successfully achieved the Toronto Green Standard Tier 2 requirements.
Project Details
Total Gross Floor Area (Size) – 19,308m2
Building Type – High-rise multi-unit residential rental building
Building location – 5365 Dundas Street West
Web site – The Kip District
Energy Savings KWH – 3,955,555kWh
Energy efficiency performance – 46% more energy-efficient than Ontario Building Code 2006
Sustainable Design Strategies
This Toronto Green Standard Tier 2 building includes:
Bike Storage
Indoor and outdoor bicycle storage areas for residents and visitors.
High Efficiency Irrigation
80% water use savings for irrigation. High-efficiency irrigation technology was selected for installation to reduce the amount of potable water used for irrigation.
Water Efficient Fixtures and Fittings
40% better than Ontario Building Code standards. Suites are equipped with low-flow plumbing fixtures, which contribute to the building's overall water use reduction rate of 42%.
Construction Waste Diversion
85% Diverted. Reduced the amount of construction waste it sent to landfill by implementing a construction waste management plan and working with waste haulers to divert 85% of waste construction materials.
Energy Recovery
Each suite is uniquely enhanced with an Energy Recovery Ventilator (ERV) system. The ERV delivers fresh outdoor air directly into each suite while recovering up to 60% of the energy of the exhaust air leaving the suite, meaning less energy is needed to heat or cool the unit! The ERV continuously exchanges the air in the suite by exhausting stale air from washrooms, laundry closets, and kitchens and replenishes these spaces with fresh air. This continuous ventilation stream improves indoor air quality by removing pollutants from your home.
Low Emitting Materials
Environmentally friendly underlays, hardwood, ceramic flooring and low-toxicity paints in each suite significantly reduce volatile organic compounds (VOCs) from the air.
Multi-Chute Recycling
At 5365 Dundas Street West, every floor is equipped with a sealed garbage chute room with a tri-sorter, providing choices for proper disposal.
Energy Efficient Measure
Efficient Lighting
Each suite is equipped with high efficiency LED compact fluorescent lights. These lights last up to 10 times longer and consume less than one-quarter of the energy compared to their incandescent counterparts. Additionally, corridor and garage lights are controlled by occupancy sensors that turn lights off when areas are unoccupied.
ENERGY STAR® Appliances
ENERGY STAR appliances are standard in every suite and include a stainless steel refrigerator, dishwasher and front-loading washing machine. ENERGY STAR qualified products use 30% less energy to do the same job as non-ENERGY STAR qualified products, saving homeowners money while creating fewer greenhouse gas emissions.
Programmable Thermostat
The fully programmable thermostat enables control of the temperature and airflow in your suite. The thermostat allows homeowners to set the temperature to their comfort level when home and adjust for increased energy savings when you are out of the suite over a 7-day schedule.
Sub-metering Utilities
Each suite is equipped with three sub-meters. The meters measure thermal energy (heating and cooling), electricity, and hot water consumption, which means residents are only billed for their in-suite consumption.
Switched Outlets
Inclusion of switched outlets allows homeowners to fully shut off power to hard-wired lighting and other electronic devices. Easily accessible switches make switching off appliances and conserving energy a simple task.
Project Team
Building Developer/Owner
Concert Properties
20 Wellington Street East, Suite 200
Toronto, ON M5E 1C5
Architect
IBI Group
7th Floor – 55 St. Clair Avenue West
Toronto, ON M4V 2Y7
Sustainability Consultant
EQ Building Performance Inc.
20 Floral Parkway
Concord, ON L4K 4R1
Mechanical & Electrical Engineer
M.V. Shore Associates
1200 Eglinton Avenue East, Suite 402
Toronto, ON M3C 1H9