570 Bay Street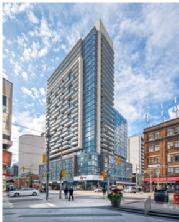 Motion is a sustainable mixed-use building developed by Concert Properties. Located in downtown Toronto at the corner of Bay and Dundas Streets, this 29-storey project is one of the first rental residential buildings to achieve the Tier 2 Toronto Green Standard certification.
Sustainable Design Strategies
This Toronto Green Standard Tier 2 and LEED® Gold Canada Candidate building includes:
Cycling Infrastructure
Designated bicycle storage areas have been provided for 471 bicycles, most of which are contained in secure resident bicycle rooms. At grade visitor bicycle parking is conveniently located at the courtyard pedestrian entrance.
Pedestrian Infrastructure
This project is ideally located at a TTC bus stop and is one block from the Yonge-Dundas subway station. It is also one block from top-tier public amenities like the Toronto Eaton Centre, Dundas Square and Nathan Phillips Square. Pedestrian friendly lighting and continuous canopies are provided along the street edges. Walkscore.com rates the site as a walker and transit rider's paradise.
Urban Heat Island Reduction – Green Roof (61% coverage, 999m²)
Large courtyards and terraces also provide intensive and extensive green roofs for reduced stormwater runoff, improved CO2 emissions and a reduced urban heat island effect.
Rainwater Harvesting (20.4m³ tank – holds 20,400 L)
100% of the landscaping at Motion is irrigated using harvested rainwater collected and stored in a cistern tank.
Water Efficiency (54% better than Ontario Building Code standards)
Specially designed showerheads and faucets use much less water than standard fixtures. Toilets in each suite are high-efficiency dual flush models, which encourage reduced water usage and cost savings.
Recycled Building Materials
Over 18% of building materials are recycled. Primary contributors are steel, gypsum and insulation.
Construction Waste Diversion
85% of the construction waste was diverted from landfill due to a comprehensive construction waste management action plan.
Improved Indoor Air Quality
Every suite is equipped with a heat recovery ventilator (HRV). The HRV improves ventilation, air quality and living comfort by delivering fresh, filtered outdoor air to each suite.  It also efficiently transfers heat from the air being exhausted to the incoming air.
Light Pollution Reduction
Motion provides low-level exterior lighting, fixture shields and dark-sky friendly signage to minimize the light spilling from the property.
Low VOC Emitting Materials
Environmentally friendly underlays, hardwood, ceramic flooring and low-toxicity paints in each suite significantly improves the indoor air quality by reducing the amount of volatile organic compounds (VOCs). Greater than 15% of materials used in One Park Place were recycled.
Innovative Recycling
Motion has taken recycling and organic waste disposal to a new level by introducing a modern Sorting Lounge. This large amenity room reinforces a culture of responsible recycling and organic waste disposal.
Energy Efficient Measures
All-Off Switch and Green Plugs
The "all-off switch", conveniently located at the entrance of the suite, provides simple in-suite lighting and plug control. One flick when leaving the suite turns off all fixed lighting and designated green plugs.
Efficient Lighting
Each suite is equipped with compact fluorescent lights. These lights last up to 10 times longer and consume less than one-quarter of the energy compared to their incandescent counterparts. Corridors, amenity areas and parking levels are also equipped with occupancy sensors.
ENERGY STAR® Appliances
ENERGY STAR appliances are standard in every suite and include stainless steel refrigerator, dishwasher and front-loading washing machine. ENERGY STAR qualified products use 30% less energy and perform equivalently to non- ENERGY STAR qualified products, reducing utility bills while creating fewer greenhouse gas emissions.
Programmable Thermostat
The seven-day, fully-programmable thermostat enables control of the temperature and airflow in suites for ultimate comfort with increased energy and cost savings.
Smart Sub-metering of Utilities
Each suite's electricity and water usage is individually metered thereby encouraging conservation by rewarding tenants with direct cost saving benefits.
Project Team
Architect
Young + Wright / IBI Group Architects
230 Richmond Street West, 5th Floor
Toronto, ON  M5V 1V6
Telephone: 416-968-3522
Energy Modeller
Provident Energy Management Inc.
100 Supertest Road
Toronto, ON  M3J 2M4
Telephone: 416-736-0630
Mechanical Engineer
M.V. Shore Associates Ltd.
1200 Eglinton Avenue East, Suite 402
Don Mills, ON  M3C 1H9
Telephone: 416-443-1995
Electrical Engineer
Trace Engineering Ltd.
85 Curlew Drive, Unit 111
Toronto, ON  M3A 2P8
Telephone: 416-391-2633