88 Scott Street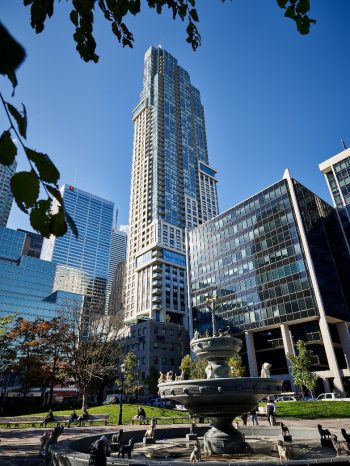 Bordering the Financial District and the St. Lawrence Market in the heart of Toronto, 88 Scott is a 58-storey mixed-use development by Concert Properties Ltd. The building tower is prominent in Toronto's skyline and rests on a 5-storey podium that reintegrated the original limestone façade built in 1951. The tower was architecturally designed to have energy efficient precast insulated panels in corners that experienced solar heat gain or loss. The development consists of 523 residential condominiums, approx. 5,300 m2 of office space on floors 2-5 and approx. 1,100 m2 of retail at grade. The building successfully achieved the Toronto Green Standard Tier 2 requirements as well as LEED Gold certification in 2019. The commercial component contains Concert's office on the second floor and is a LEED CI candidate. The building's sustainability elements promote energy efficiency, public transit, cycling and water use reduction.
Project Details
Total Gross Floor Area (Size) – 48,367m2
Building Type – High-Rise Multi Unit Residential Building
Building Location – 88 Scott Street/20 Wellington Street East, Toronto
Website – www.concertproperties.com
Annual Energy Savings kWh – 8,750,833 kWh (40% cost saving vs. Model National Energy Code for Buildings 1997)
Energy Efficiency Performance – 25% more energy efficient than Ontario Building Code 2006
Sustainable Design Strategies
This Toronto Green Standard Tier 2 and LEED® Gold Canada Certified building includes:
Bike Storage
There are 431 long-term bicycle parking spaces provided in secure rooms at the P1 level as well as 120 short-term bicycle parking spaces at several indoor and outdoor locations at grade.
Transit-Oriented Development
The site is conveniently located within 220m of a TTC Subway station (King Station) and 2 streetcar routes (King Street Eastbound and Westbound); and is located 600m from Union station which has access to TTC Subway, GO transit and UP Express.
Electrical Vehicle Charging Infrastructure
12 parking spaces (resident and visitor) are equipped with electric vehicle charging stations, and 34 spaces in addition are roughed in.
Car Share Spaces
3 carshare parking spaces have been provided within the underground parking area.
Green and Cool Roof
349 m2 of intensive and extensive green roof is available and features drought tolerant plant species which reduce the need for irrigation.  The remaining available roof space on top of the tower features a white roof with a Solar Reflective Index of above 74.
High Efficiency Irrigation (100% water use savings for irrigation)
Potable water use for irrigation has been reduced by 100% through stormwater reuse, high efficiency irrigation technology and drought tolerant plants.
Water Efficient Fixtures and Fittings (45% better than Ontario Building Code standards)
Using water efficient fixtures, water consumption has been reduced by over 45% compared to conventional fixtures.
Construction Waste Diversion (88% Diverted)
A construction waste management plan was implemented and over 88% of construction and demolition waste was diverted from landfill.
Low Emitting Materials
Low-VOC adhesives, sealants, paints, coatings, and flooring products were applied inside the building to reduce off-gassing and maintain occupant well-being.
Multi-Chute Recycling
Each floor features a bi-sorter and organics chute to separate organic, recyclable and landfill materials.
Rainwater Harvesting
100% of the landscaping is irrigated using rainwater collected and stored in a cistern tank.
Energy Efficient Measures
All-Off Switch and Green Plugs
The "all-off switch", conveniently located at the entrance of the suite, provides simple in-suite lighting and plug control. One flick when leaving the suite turns off all fixed lighting and designated green plugs.
Efficient Lighting
Corridors, amenity areas and parking levels are all equipped with LED lighting controlled by occupancy sensors to save energy when these spaces are not in use.
ENERGY STAR® Appliances
ENERGY STAR® appliances are standard in every suite and include a stainless steel refrigerator, dishwasher and front-loading washing machine. ENERGY STAR® qualified products consume 30% less energy than their conventional counterparts, which helps residents save money on electricity.
Programmable Thermostat
Residents have full control over their thermal comfort. Each suite is equipped with a programmable digital thermostat, which residents can use to control temperature and airflow in the suite. The thermostat allows homeowners to set the temperature to their comfort level when at home and adjust for increased energy savings when they are away.
Sub-metering of Utilities
Each suite's electricity and water usage are individually metered thereby encouraging conservation by rewarding tenants with direct cost saving benefits.
Project Team
Building Developer/Owner
Concert Properties Ltd.
20 Wellington Street East, Suite 200
Toronto, ON M5E 1C5
Architect
IBI Group
55 St. Clair Avenue West, 7th Floor
Toronto, ON M4V 2Y7
Sustainability Consultant
EQ Building Performance
25 Adelaide Street East
Toronto, ON M5C 3A1
Mechanical and Electrical Engineer
M.V. Shore Associates Ltd
250 Ferrand Drive, Suite 304
Toronto, ON M3C 3G8
Landscape Architect
Corban and Goode
366 Adelaide Street East, Suite 104
Toronto, ON M5A 3X9
Civil Engineer
R.J. Burnside & Associates Limited
6990 Creditview Road, Suite 2
Mississauga, ON L5N 8R9