88 Sheppard Avenue East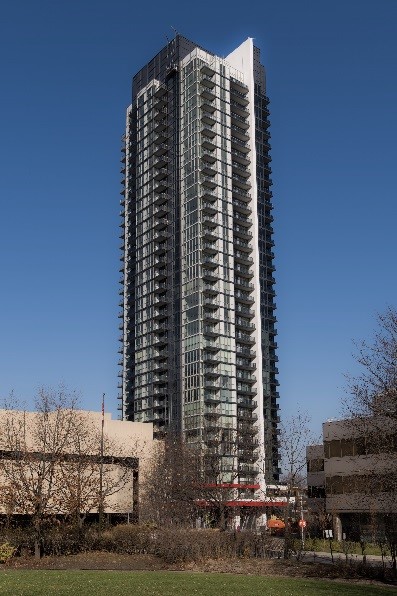 Nestled in the heart of North York, Minto Eighty8 is a 35-storey condominium developed by Minto Group Inc. that meets Toronto's sustainability standards. Minto Eighty8 offers sustainability features for health, comfort and savings for all residents.
Project Details
Total Gross Area (Size) – 59,132m2
Building Type – High Rise Multi Unit Residential Building
Building Location – 88 Sheppard Ave E (Yonge Street and Sheppard Avenue East)
Website– www.minto.com
Energy Savings kWH – 4,184,317 kWh (Approx. 42% vs. MNECB)
Energy Efficiency Performance – Approx. 23% more energy efficient than OBC 2012
Sustainable Design Strategies
This Toronto Green Standard Tier 2 and LEED® Gold Canada Candidate building includes:
Bike Storage
Designated storage for 382 bicycles.
Electrical Vehicle Charging Infrastructure
Capacity to support 30 charging stations.
Green Roof (Over 700m2)
The green roof contributes to managing stormwater, increasing biodiversity and combating the urban heat island effect.
Rain Water Harvesting (53.7m3 tank – holds 53,700L)
A cistern collects water on rainy days and stores the water for future use. Harvested rainwater contributes to watering the landscape.
Water Efficient Fixtures and Fittings (35% better than OBC standards)
High-performance fixtures and toilets achieve a 35% reduction in water consumption and promote cost savings.
Construction Waste Diversion (93% Diverted)
Construction waste sent to landfill was reduced by implementing a construction waste management plan and working with waste haulers to divert more than 93% of construction waste materials.
HRVs, Fan coils and Improved Air Quality
Each suite is uniquely enhanced with a heat recovery ventilator (HRV). Suites are equipped to bring fresh outside air directly into the suite through the HRV whereas typical condominiums receive corridor air from under the entry door. The HRV delivers fresh, filtered outdoor air to each suite and circulates that fresh air throughout the suites for improved ventilation and living comfort.
Low Emitting Materials
Environmentally friendly underlay, hardwood, ceramic flooring and low-toxicity paints in each suite significantly reduce volatile organic compounds (VOCs) from the air.
Multi-Chute Recycling
Every floor is equipped with a sealed garbage chute room with a bi-sorter plus a single chute, providing three choices for disposal.
Energy Efficient Measures
All-Off Switch and Green Plugs
The all-off switch, located at the entrance of the suite, provides simple convenient in-suite lighting and plug control. One flick turns off all fixed lighting and designated green plugs.
Efficient Lighting
Each suite is equipped with LED kitchen track lighting and CFLs throughout. These lights last up to 10 times longer and consume less than one-quarter of the energy compared to their incandescent counterparts.
ENERGY STAR® Appliances
ENERGY STAR appliances are standard in every suite and include stainless steel refrigerator, dishwasher and front-loading washing machine. ENERGY STAR qualified products use 30% less energy to do the same job as non-ENERGY STAR qualified products, saving homeowners money while creating fewer greenhouse gas emissions.
Sub-metering Utilities
Electricity, hot water and cold water are individually metered ensuring homeowners only pay for their in-suite consumption.
Project Team
Building Developer/Owner
Minto Communities Canada
500-90 Sheppard Ave E.
Toronto, ON, M2N 3A1
Telephone: 416-977-0777 
Architect
Rafael + Bigauskas Architects
1140 Sheppard Ave West, Unit 1
Toronto, ON, M3K 2A2
Telephone: 416-398-7500
Energy Modeller
Caneta Research Inc.
7145 West Credit Ave., Suite 102
Mississauga, ON, L5N 6J7
Telephone: 905-542-2890 x102 
Mechanical and Electrical Engineer
Nova Trend Engineering Group Ltd.
54 West Beaver Creek Rd, Unit 200
Richmond Hill, ON, L4B 1G5
Telephone: 905-882-5445