Automated Speed Enforcement
The installation of Automated Speed Enforcement systems has begun across the City in
community safety zones
, near schools.
Automated Speed Enforcement (ASE) is an automated system that uses a camera and a speed measurement device to detect and capture images of vehicles travelling in excess of the posted speed limit. It is designed to work in tandem with other methods and strategies, including engineering measures, education initiatives and traditional police enforcement. ASE is focused on altering driver behaviour to decrease speeding and increase safety.
The images are reviewed by Provincial Offence Officers and then tickets are issued to the owner of the vehicle regardless of who was driving. Upon conviction, the only penalty is a fine – no demerit points will be issued nor will the registered owners driving record be impacted.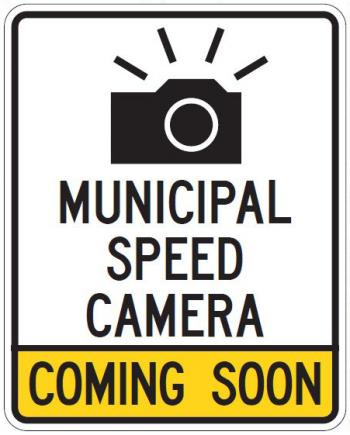 Locations are selected through a data-driven approach that considers speed and collision data. ASE systems will be placed in Community Safety Zones near schools.
50 ASE systems will be installed to ensure an even distribution of two systems per ward. These systems are mobile and it is anticipated they will rotate every three to six months within the ward. This provides an opportunity to address a greater number of areas with safety concerns and provide a wider-ranging deterrent effect.
The Province is requiring municipalities to establish a 90 day warning period in advance of all new ASE system deployments. "Coming Soon" advisory signs will be posted at the new deployment site.
See the map of ASE locations by district:
See the list of ASE locations by ward
Please note: An interactive map of all ASE locations will be available January 2020.
In selecting ASE sites, a two-staged process was used that was developed based on best practices and provincial guidelines.
Stage 1: First, an initial screening of all Community Safety Zones near schools were identified and prioritized based on the following data:
Collisions involving children
Collisions where a vulnerable road user was killed or seriously injured
Vehicle speed data
24-hour traffic volume
Percent of students within walking distance
Requests from Police and the public
Stage 2: Once the sites were prioritized, a manual review of the site was conducted which included the following considerations:
Necessary regulatory and advisory signage (Community Safety Zone, Speed Limit, and ASE);
No obstructions or impediments to the equipment;
Adequate boulevard space to accommodate the equipment;
No planned road work, as construction can conflict with the ASE system due to reduced space to accommodate the camera unit and potential lane reductions or realignments that will affect the system's operation;
No sharp curves or extreme grading changes which will reduce the range of operation for the speed measurement device;
No speed limit reductions planned in order to give motorists enough time to adjust to the change.
Adequate distance from speed limit transitions in order to give motorists enough time to adjust to the change; and
Cannot have the presence of a flashing 40km/h speed limit reduction sign, as the speed limit change is in affect only when the sign is flashing and the system is unable to see or detect whether the sign is flashing.
Once sites are assessed, operational considerations may result in minor adjustments to site prioritizations.
To submit a request for ASE, please fill in the online form.
Warning Letters
Warning letters will be issued to the registered owners of offending vehicles in lieu of an ASE ticket for the first three months of the program. This is part of the City's education campaign to inform residents about the new program and the implications of speeding. During this period, no fines will be issued. Responses to the warning letters will not be required.
---
Fines & Penalties
Following the educational campaign, if a vehicle is found exceeding the speed limit the registered owner of the vehicle receives a ticket, regardless of who was driving the vehicle. Set fines under the Provincial Offences Act can be found by visiting the Ontario Court of Justice. No demerit points will be issued nor will the registered owners driving record be impacted. A victim fine surcharge is applied to provincial fines and is credited to a special fund to assist victims of crime.
Information on paying your Provincial Offence or disputing your Provincial Offence may be found by visiting the City of Toronto's Court Services.
The Automated Speed Enforcement (ASE) pilot occurred between September and December of 2018.
During this four-month pilot program, ASE units were used to collect data to better understand the processing and administrative requirements of the enforcement program. Data was collected from school zones located on local, collector, and arterial roads at a total of 8 locations, with each location active for 1 month and included the collection of speed and volume data, 24 hours a day, 7 days a week.
The Automated Speed Enforcement pilot project did not involve the issuance of tickets or charges to vehicle owners as the regulations necessary from the Province of Ontario have not yet been enacted.
The following table provides a summary of the locations where the cameras were deployed and the data that was collected at each of the locations.
Location (speed limit)
Average Weekly Vehicles detected above the speed limit
Average Weekly Vehicles detected more than 10km/h above the speed limit
Average Weekly Volume
Max Detected Speed (km/h)
Gateway Blvd

(40km/h)

10,347
1,010
52,911
86.9
Don Mills Rd

(60km/h)

5,743
1,058
85,488
137.9
Queen St

(40km/h)

23,748
5,587
52,150
127.4
Renforth Ave

(40km/h)

25,511
7,370
37,091
202.3
Wilson Ave

(50km/h)

52,151
16,937
83,867
156.4
Dufferin St

(50km/h)

14,139
2,192
63,498
124.4
Rockcliffe Blvd

(30km/h)

49,608
32,571
56,230
102.8
Avenue Rd

(40km/h)

60,170
22,013
103,180
109.8