38 Cameron Street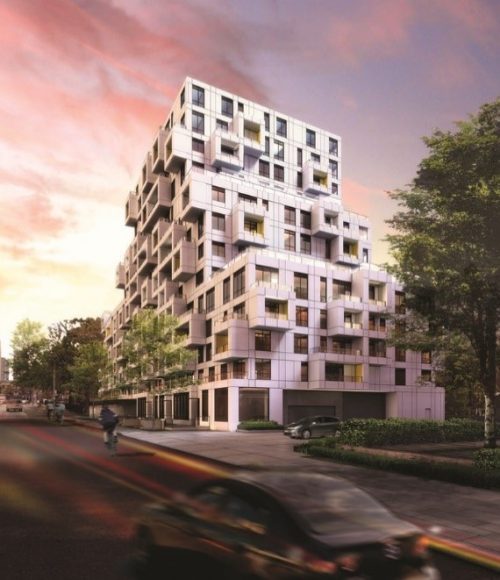 38 Cameron Street, also known as SQ, is a multi-storey residential building located at the intersection of Spadina Ave. and Queen Street West, in the heart of Toronto's Fashion and Financial Districts. The building is 14-storeys high with 241 residential units, and successfully achieved the Toronto Green Standard Tier 2 requirements as well as LEED® Gold certification in 2018. The building's sustainability elements promote occupant well-being and better energy and water performance.
Project Details
Total Gross Area TGA (Size) – 19,306 m2
Building Type – Mid-High Rise Multi Unit Residential Buildings
Building location – 38 Cameron Street (Queen Street West and Spadina Avenue)
Website – www.tridel.com/sq
Energy Savings KWH – 3,633,104 kWh (39% cost saving vs. MNECB)
Energy efficiency performance – 25% more energy efficient than OBC 2006
Sustainable Design Strategies
This Toronto Green Standard Tier 2 and LEED® Gold Canada building includes:
Bike Storage
A total of 193 bicycle storage spaces are provided at grade and inside the underground garage.
Electric Vehicle Charging Infrastructure
5 parking spaces are equipped with 120V receptacles for electric vehicle charging.
Green Roof
The green roof features native plant species, which help reduce the need for irrigation at its source, and promote biodiversity. Plants and green roof vegetation also help reduce stormwater runoff by capturing rainwater on site.
High Efficiency Irrigation (50% water use savings for irrigation)
High-efficiency irrigation technology was selected for installation to reduce the amount of potable water used for irrigation.
Water Efficient Fixtures and Fittings (41% better than OBC standards)
Low-flow plumbing fixtures were selected for installation to reduce potable water consumption by 41% compared to a building with conventional plumbing fixtures. This amounts to over 37 million litres of water saved annually.
Construction Waste Diversion
Tridel implemented a construction waste management plan which successfully diverted 89% of all construction waste from landfill. Most of the waste generated on site during construction was recycled.
ERVs, Fan coils and Improved Air Quality
Each suite is uniquely enhanced with an Energy Recovery Ventilator (ERV) system, which allows the delivery of fresh outdoor air directly into the suite through the vertical fan coil unit, while recovering 60% of the energy of outgoing air. Waste energy from stale air is used to warm up incoming air in winter and cool down incoming air in summer, while recovering energy from the departing airstream and ensuring better indoor air quality for residents.
Low Emitting Materials
Low-VOC adhesives, sealants, paints, coatings, and flooring products were applied inside the building to reduce off-gassing and maintain occupant well-being.
Multi-Chute Recycling
To minimize the amount of waste being disposed of in landfills, a tri-sorter chute system has been included in the building's design, which allows residents to dispose of waste, organics, and recyclables separately.
Energy Efficient Measures
Efficient Lighting and Windows
Corridor and garage lights are controlled by occupancy sensors that turn lights off when areas are unoccupied. Suites are equipped with energy-efficient LED lighting to maximize energy performance. Additionally, high-performance windows with double glazing and low-e coating are provided in all the suites.
ENERGY STAR® Appliances
ENERGY STAR appliances are standard in every suite and include a stainless steel refrigerator, dishwasher and front-loading washing machine. ENERGY STAR qualified products use 30% less energy to do the same job as non-ENERGY STAR qualified products, saving homeowners money while creating fewer greenhouse gas emissions.
Programmable Thermostat
The fully programmable thermostat enables control of the temperature and airflow in your suite. The thermostat allows homeowners to set the temperature to their comfort level when home and adjust for increased energy savings when you are out of the suite over a 7-day schedule.
Sub-metering Utilities
Each suite is equipped with three sub-meters. The meters measure thermal energy (heating and cooling), electricity, and hot water consumption, which means residents are only billed for the energy they consume.
Carbon Monoxide Sensors
Carbon monoxide sensors were installed throughout the garage area and are connected to the exhaust fans located in the garage. The exhaust fans operate on an as-needed basis instead of running continuously. This reduces the amount of energy used to operate the exhaust fans by 70%.
Project Team
Building Developer/Owner
Tridel
4800 Dufferin Street
Toronto, ON, M3H 5S9
Architect
Martin Baron
Teeple Architects Inc.
5 Camden Street
Toronto, ON, M5V 1V2
Energy Modeller
Craig McIntyre
EQ Building Performance
20 Floral Parkway
Concord, ON, L4K 4R1
Mechanical and Electrical Engineer
Eric Pun/ Stanley Tam
Novatrend Engineering Group Ltd.
54 West Beaver Creek Road #200
Richmond Hill, ON, L4B 3M1