Toronto Civic Honour Guard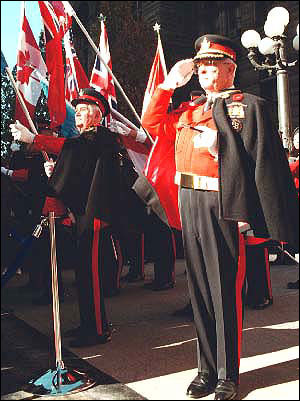 The Toronto Civic Honour Guard is the official Honour Guard of the City of Toronto. Originally formed in 1929, with three platoons of over 60 active guardsmen and officers, they were know as the Toronto Civic Employees War Veteran's Association (TCEWVA). They were formed to represent the City militarily, in parades and to be the receiving honour guard for visiting dignitaries.
Today, there is one platoon of approximately 20 members and they have been known as The Toronto Civic Honour Guard since 1957.
The Honour Guard continue to participate in parades, services and competitions across Canada and the United States, events like; Memorial Day, Veteran's Day, and Pearl Harbour services in the U.S., back at home they partake in various community parades, Flag Day, D-Day, Canada Day, Remembrance Day and many more. For Remembrance Day ceremonies, the Guard Commander is the parade marshal.
Groups of Honour Guard have traveled to Holland for the Commemoration of the Deliberation of Holland to accompany the Irish Regiment of Canada in 1995. They went to England for a marching show of massed bands in 1994. In 1997, they traveled from one end of Newfoundland to the other to escort the ship "The Matthew" from port to port.
In 2001, the Honour Guard received a third place trophy for "Outside Colour Party" at the 50th Annual International Goodwill Day Parade in Clayton, New York, on May 19, 2001 and a second place "Colour Guard" trophy at the Phelps Sauerkraut Festival in Phelps, New York, on August 4, 2001.
In 1999, they won three-first place awards for "Best Performing Colour Party". Two were won in Western New York and one in Ontario. These three awards add to the numerous awards they have won over the years since starting in 1929.
The scarlet uniforms were based on the Governor-General's Horse Guard uniforms. They are cavalry type complete with spurs. The Honour Guard carry a flag based on their coat of arms that was approved by the Queen of England because of the use of the lion insignia. They are brought in for any red carpet affairs to greet dignitaries like the Governor-General, French dignitaries, and Military officials.
The Toronto Civic Honour Guard is made up of veterans and volunteers who have committed a minimum of three years, hard work, discipline and service. To become a volunteer or to find out more information about the Honour Guard, contact the Guard Commander by email at ruddyj007@yahoo.ca.