Freedom of the City
Freedom of the City is granted to a military entity that has enjoyed a long and happy relationship with a municipality. It is one of the most important honours received by a military unit.
The honour entitles the unit, for all time, to march through the city with "drums beating, colours flying and bayonets fixed". The ceremony dates back to when cities had walls and gates that were barred to both friends and foe.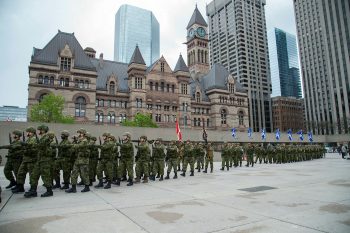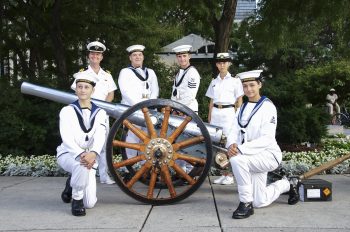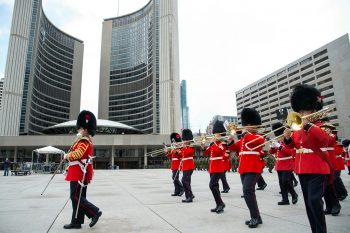 The Ceremony's History
The Ceremony represents a military tradition that began in England during the 15th century and is still an important part of the traditions of the Canadian Army today.
During the War of the Roses in England, cities were constantly endangered by invading military units from one side or the other. Before a city would admit a military unit inside its walls, the Chief Constable would demand to know the reason the soldiers wished to enter the city, then escort their commander to the chambers of the city council. If the city leaders felt the unit could be trusted, it was granted the privilege known as "The Freedom of the City". This entitled the unit to enter the city with drums beating, banners flying and weapons carried in a warlike manner. These traditional elements are represented to this day, including the role of the Chief of Police and the Mayor.
Units granted the Freedom of the City of Toronto
The following is a list of Freedoms of the City granted by the City of Toronto to units in the Canadian Armed Forces and its predecessor cities prior to amalgamation, as well as those occasions on which it was subsequently exercised.
| Regiment or Unit | Year(s) |
| --- | --- |
| 32 Signal Regiment, Royal Canadian Corps of Signals | 2017 |
| Royal Canadian Dragoons | 2000 |
| 32 Canadian Brigade Group | 1998 |
| HMCS York | 1983, 2010 |
| 400 (City of Toronto) Squadron | 1982 |
| Toronto Scottish Regiment | 1982 |
| 709 (Toronto) Communications Regiment Signals, Communications & Electronics Branch | 1978, 1987, 2003 |
| Queen's York Rangers | 1975 |
| Queen's Own Rifles | 1975 |
| Royal Regiment of Canadian Artillery | 1966 |
| 48th Highlanders of Canada | 1966, 2001 |
| 7th Toronto Regiment, Royal Regiment of Canadian Artillery | 1966, 2016 |
| Royal Regiment of Canada | 1962, 2016 |