Toronto Newcomer Strategy
Toronto is one of the most multicultural urban areas in the world. Each year tens of thousands of people from around the globe choose our city as their new home. Their diverse cultures and communities have helped create Toronto's identity as a vibrant global city.
The Toronto Newcomer Strategy is designed to improve newcomer settlement through shared leadership, stronger collaboration and a more seamless and well-coordinated service system.
The strategy is funded by Immigrant, Refugee and Citizenship Canada (IRCC) as part of the Local Immigration Partnership initiative.
Integrating Cities Charter
On December 18, 2014, the City of Toronto became the first municipality outside of Europe to sign the Integrating Cities Charter. The Charter was created and launched in 2010 by Eurocities, a network of major European cities. It is a formal commitment to provide equal opportunities for all residents, to integrate immigrants, and to embrace the diversity of all communities across the city.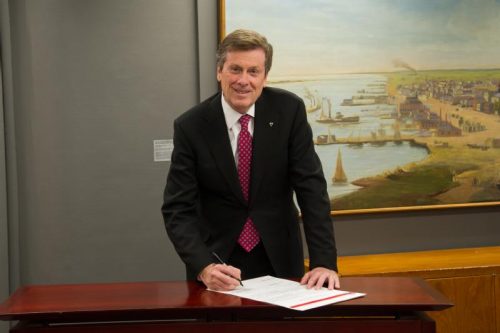 The Integrating Cities Charter was adopted by City Council as one facet of the Toronto Newcomer Strategy. The Charter requires the municipal government, as a policy maker, service provider, employer and buyer of goods and services, to provide equal opportunities for all residents, to integrate migrants, and to embrace the diversity of the local population.
Our commitment to integrating migrants and migrant communities in cities
As policy-makers we will:
Actively communicate our commitment to equal opportunities for everyone living in the city;
Ensure equal access and non-discrimination across all our policies;
Facilitate engagement from migrant communities in our policy-making processes and remove barriers to participation.
As service providers we will:
Support equal access for migrants to services to which they are entitled, particularly access to language learning, housing, employment, health, social care and education;
Ensure that migrants' needs are understood and met by service providers.
As employers we will:
Take steps where required to reflect our city's diversity in the composition of our workforce across all staffing levels;
Ensure that all staff, including staff with a migrant background, experience fair and equal treatment by their managers and colleagues;
Ensure that staff understand and respect diversity and equality issues.
As buyers of goods and services we will:
Apply principles of equality and diversity in procurement and tendering;
Promote principles of equality and diversity amongst our contractors;
Promote the development of a diverse supplier-base.
Date: 18/12/2014
[signed]
City of Toronto, Mayor John Tory
---
View the signed copy
Newcomer Leadership Table
The Newcomer Leadership Table (NLT) brings together leaders from all three orders of government, the community-based sector as well as institutions such as hospitals and school boards, to share information and take action on system-wide issues that affect newcomers and their successful settlement in Toronto.
Successful settlement and integration of newcomers cannot be achieved by one sector alone. The mandate of the NLT is to take action on a range of interconnected issues that affect newcomers and their successful integration. For example, securing good housing helps newcomers maintain their health, while accessing child care and transit are essential to attending training, job placements and language classes.
The NLT is co-chaired by the City of Toronto's Social Development, Finance & Administration Division, United Way Toronto & York Region and the Ontario Council of Agencies Serving Immigrants (OCASI).
List of Newcomer Leadership Table Members
Local Immigration Partnerships
Local Immigration Partnerships (LIPs) are funded by Citizenship and Immigration Canada to help facilitate coordination between the non-profit agencies, government and the for-profit sector to better meet newcomer needs and support their settlement process and access to the labour market. A LIP is a partnership table that is focused on planning; it is composed of representatives from the non-profit (community-based) agencies, private (for-profit) organizations and public (government) institutions.
In other Ontario municipalities, there is only one Local Immigration Partnership (LIP) table. Given the size and complexity of Toronto, 17 neighbourhood-based LIPs were originally established and subsequently merged to create 5 LIPs, 4 Quadrant-based LIPs based at local agencies and the City of Toronto's Newcomer Office based out of City Hall.