An Infectious Idea: East York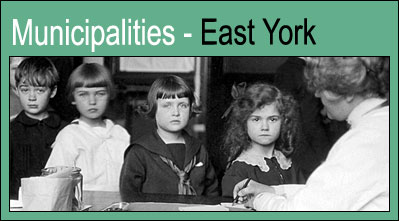 In 1924, the recently formed Township of East York appointed a Board of Health and a medical officer of health. The earliest records have not survived, but by 1942, the Board of Health had a school health program. It also had a substantial property inspection program. The board's minutes regularly include orders issued to property owners to fumigate houses, clear away garbage, remove chicken coops, and make connections to water mains and sewers. Perhaps because it was a small municipality, East York was able to deal with a wide range of complaints, including "pigeons annoying neighbours," lack of heat in apartments, "water too warm and cloudy," and barking dogs. The municipality also inspected and licensed restaurants, baby-boarding houses, and other commercial venues.
Beginning in 1939, in co-operation with the Rockefeller Foundation, the Ontario Department of Health, and the School of Hygiene at the University of Toronto, the East York Department of Health became a public health demonstration project. This allowed East York to double its staff and study more ways to improve the health of its residents. In 1947, its services were extended to neighbouring Leaside. Between the 1950s and 1997, East York public health staff carried out school immunizations, maternal and child care, mental health services, AIDS awareness, and anti-smoking campaigns, to name a few of its activities.
East York Medical Officers of Health (where known)
Dr. R.H. Fleming (1924-1933)
Dr. C.E. McLean (1930s; was in office in 1935)
Dr. William Mosley (ca. 1942-1960s)
Dr. James Bell (1970s-1983?)
Dr. Richard Schabas (1983-1987)
Dr. David McKeown (1988-1989)
Dr. Gerald Bonham (1990-1991)
Dr. Sheela Basrur (1991-1997)