An Infectious Idea: Environmental Health
Burning was considered a good method of getting rid of garbage since people believed fire would destroy disease-breeding matter. In 1888, City Council approved Toronto's first incinerator to burn garbage. It was was built on Eastern Avenue at the Don River, and was completed in 1890.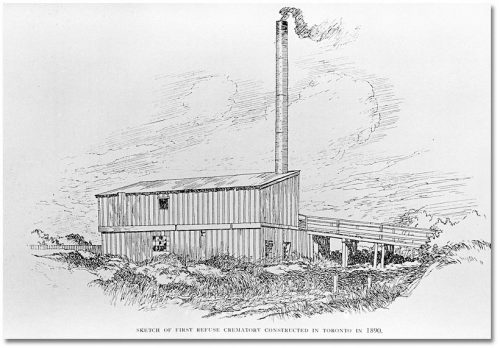 By the 1930s, Toronto had four incinerators in operation. The Commissioners Street incinerator, the last built by the City, was erected in the port area east of Cherry Street. It opened in 1955 with a capacity of 900 Imperial tons per day.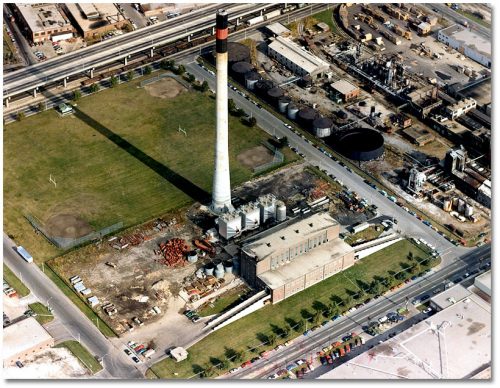 Of course, incinerators produce noxious smoke, and in 1967 when the Metropolitan Toronto government took over responsibility for garbage disposal, it closed most of the incinerators and established large landfills outside of Toronto's borders.
The Commissioners Street incinerator was closed in 1988, partly due to a Department of Public Health report on its generation of dioxin and other carcinogenic chemicals.
Health in the workplace was also a concern. "The inhalation of injurious dusts, fumes of chemicals, bad ventilation, poor light, excessively high temperatures, bad drains and plumbing," and lack of fire escapes were among the unpleasant and dangerous conditions inspectors found in Victorian factories. To combat this Dr. Canniff initiated factory inspections, "for the protection of the health and safety of the workers."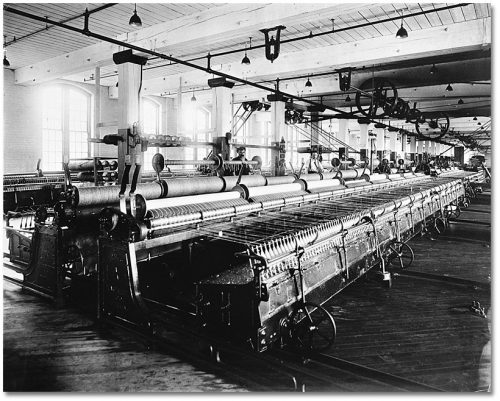 In more recent times, medical officers of health have turned their attention to chemical exposure, lead poisoning, and the effects of second-hand cigarette smoke.