An Infectious Idea: Services to School Children
The aims of the school health program were to control communicable diseases, identify and correct health problems, and teach children how to look after their own health.
The cornerstone of the program was a regular health examination of each student. The examinations included complete medical exams, dental checkups, and eye and hearing tests.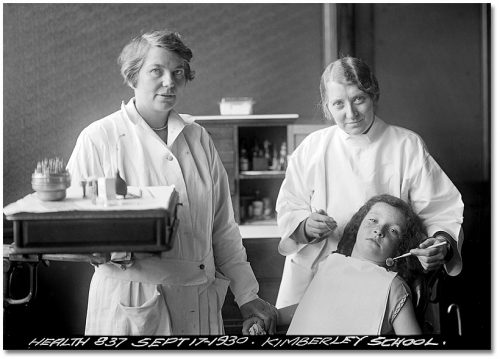 The department also worked with the Board of Education to accommodate children's special health needs in the schools. One such attempt was the outdoor forest school, where vulnerable or undernourished children could be exposed to fresh air, receive hot meals, and an education at the same time.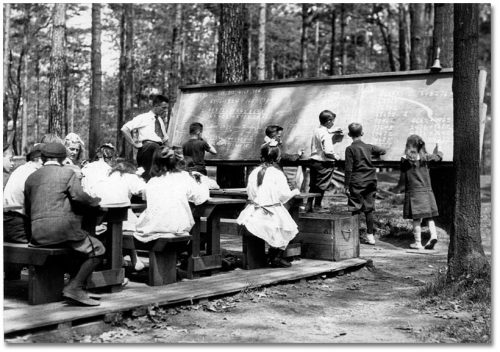 The idea for open-air "forest schools" came from the conviction that fresh air is essential for children, especially those exposed to tuberculosis. The schools started in 1913, and were run jointly by the Department of Public Health and the Board of Education. The classes were later used to boost the health of children who were "below par physically" because of "faulty nutrition, emotional upsets, or social aberrations."
The department was concerned that eye strain could cause vision problems, so "sight-saving" classes were introduced. The classes featured glare-free blackboards, proper lighting, restricted lengths of reading time, and other measures.
After it was discovered in the 1950s that nearsightedness was mostly hereditary, the students were prescribed glasses and returned to regular classes.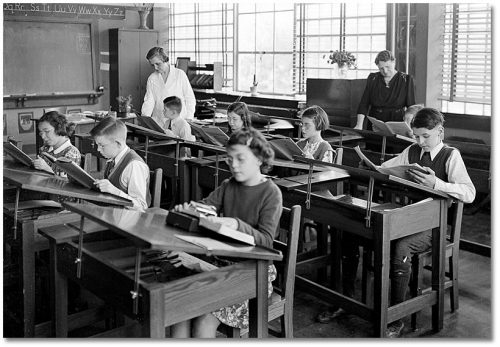 Vocational classes were provided for developmentally delayed students. The aim was to "give them training that will enable them to be self-supporting and respectable citizens, and to prevent their becoming charges upon the state through dependency or delinquency."
"Orthopedic" classes allowed children with physical disabilities to get educated while also receiving their medication, treatment, or physiotherapy.
The children in the class below learned to manage their diabetes by eating a healthy diet, using insulin, and testing their own blood sugar. The class was taught by a doctor or nurse, quite likely provided by the Department of Public Health.