An Infectious Idea: Toronto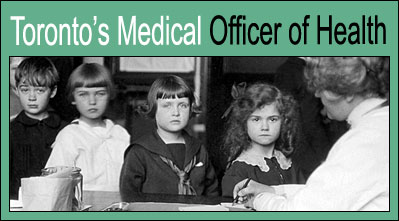 When Dr. William Canniff was appointed as the first medical officer of health in 1883, he had no staff. He had temporary assistance from six policemen on loan from the Police Department, but this situation was unworkable. In 1886, the department added four permanent inspectors to its roster.
Medical Officer of Health Dr. Norman Allen wrote in 1891 that he had been able "to appoint a staff of specially trained men to the posts formerly occupied by those possessing no special qualifications for their work." Within its first ten years, the Department of Public Health had achieved greater legitimacy through the acquisition of trained professional staff.
Early Medical Officers of Health Dr. Canniff and Dr. Charles Sheard focused on cleaning up the city environment and its water supply. Dr. Charles Hastings spent his early years as medical officer of health combating disease-causing agents such as flies and unpasteurized milk. Later he developed the department's extensive network of public health nurses, well-baby clinics,and school health examinations. Succeeding medical officers of health have maintained, added to, and modernized the department's programs and its emphasis on preventive health care.
Toronto Medical Officers of Health
Dr. William Canniff (1883-1890)
Dr. A.R. Pyne (acting; 1890-1891)
Dr. Norman Allen (1891-1893)
Dr. Charles Sheard (1893-1910)
Dr. Charles Hastings (1910-1929)
Dr. G.P. Jackson (1929-1951)
Dr. L.A. Pequegnat (1951-1958)
Dr. A.R.J. Boyd (1958-1972)
Dr. G.W.O. Moss (1972-1981)
Dr. Alexander S. Macpherson (1981-1989)
Dr. Perry Kendall (1989-1995)
Dr. David McKeown (1995-1997)
Dr. Sheela Basrur (1998-2004)
Dr. Barbara Yaffe (acting; 2004)
Dr. David McKeown (2004-2016)
Dr. Barbara Yaffe (acting; 2016-present)