Dis/Mantle
Louisa Pipkin was a freedom seeker, who escaped enslavement in the United States and came to Canada where she worked as a laundress in the 1870s for the Austin family, the founders of the Dominion Bank of Canada and the homeowners of Spadina. Dis/Mantle is inspired by the real Mrs. Pipkin and the efforts of Black abolitionists.
Explore Spadina Museum until May 28 for the Dis/Mantle art exhibit.
Art Exhibit on until May 28
Dis/Mantle, an art exhibit inspired by the efforts of Black abolitionists, reimagines Spadina Museum using an Afrofuturism narrative: where Mrs. Pipkin is now the homeowner and the house is a safe haven for those seeking freedom through the Underground Railroad. The group show includes soundscapes, ceramics and visual art from Canadian artists from the Afro-Caribbean diaspora, including an iconic portrait of Louisa Pipkin and a series of new portraits of members of the Black community by lead artist Gordon Shadrach.
About the Lead Artist: Gordon Shadrach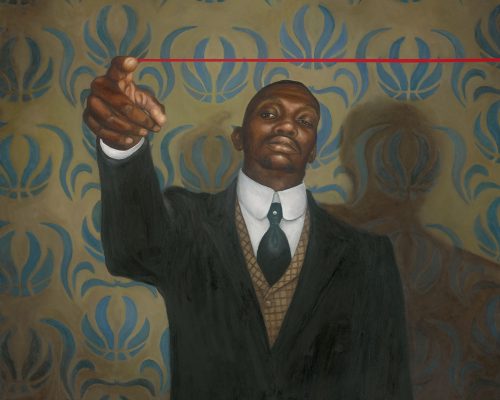 Toronto-based artist Gordon Shadrach was born and raised in Brampton, Ontario, in 1966. Gordon works from photographs and paints in oil and acrylic on wood. He has exhibited in solo and group art shows in Canada and the United States. He received his B. Des. (MAAD) from OCAD University and has a Master of Education degree from Niagara University. He is currently represented through United Contemporary Gallery in Toronto.
Contributing Artists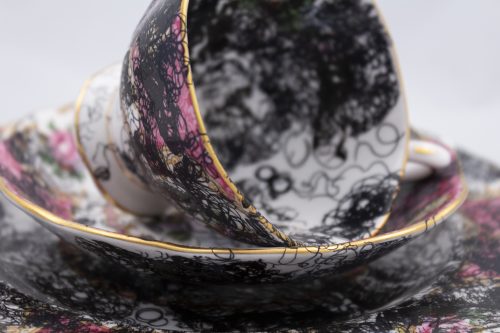 Sharon Norwood is a Canadian artist whose work spans several media to include painting and ceramic. Norwood's work is present in several public collections including the Microsoft Art Collection, Gardiner Museum and the National Museum of Women in the Arts.
Norwood's creative research addresses issues of identity where she uses the curly line as representation of the black body, to explore complex conversations about race, gender and labour. In this installation the dining table becomes a place to unpack the lived experience of Mrs. Pipkin as laundress and passenger on the underground railroad.
"Where She Went We Thrived", 2021 by Christine Nnawuchi. Photograph by Brian Medina Photographer.
Christine Nnawuchi is an award-winning self-taught contemporary artist, working primarily in porcelain. Her practice celebrates the beauty in imperfection, reminiscent of an ancient time. She is inspired by primal ideas, cultures and principles which she fuses with fictional narratives to create objet d'art with their own tales and history. Christine has exhibited at The Artist Project, The Harbourfont Centre and TOAF and has been featured in several publications.
Exploring the fragments of memories and treasures both lost and found. This exhibit looks to examine the objects and cherished pieces that made their way throughout Mrs. Pipkin's life. This collection exists intertwined between artefact and lore and carries an eclectic sensibility that questions the established narrative.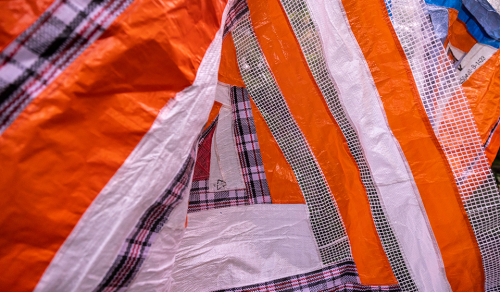 Moraa Stump is a Kenyan and Canadian material artist based in Toronto, having grown up and spent her formative years in Mozambique and Eswatini. Moraa is interested in race, notions of safety and physical space. She primarily works in quilting, using re-purposed materials to create sculptures and installations.
Inspired by the Underground Railroad, the 'flying geese' and 'log cabin' quilt squares indicate to journeying folk that they should follow the geese north to reach a safe house. Prompted by the labour and care of communities that assisted folks on these journeys, here, these quilts offer the visitor shade, and with it, a moment of respite along their own journey.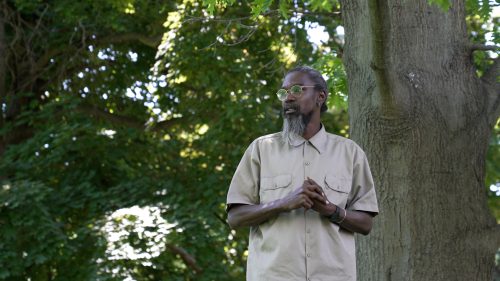 Jabari "Elicser" Elliott is a visual artist based in Toronto. Elliot's most notable works can be described as a highly improvised collage of soft characters and organic shapes, layered and blended through transparencies. His character work is often mediated by past experiences and relationships while also drawing on the likeness of passers-by to complete his community-based murals.
Contributing to Mrs. Pipkin's bloodlines, Elicer will trace her family roots through a depiction of her descendants in the courtyard.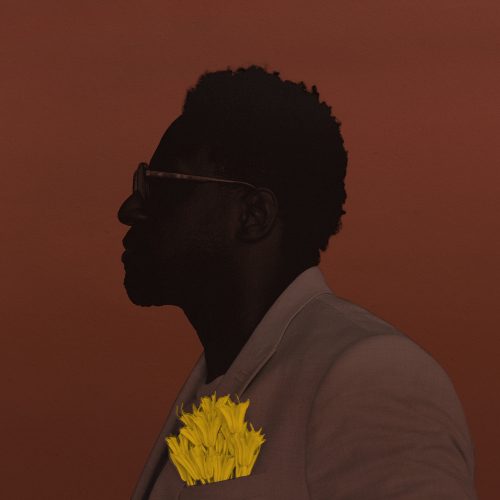 Odario Williams is a storyteller, a hip-hop junkie and a lover of many musical soundscapes. He is embedded in the beat and submerged in the bass. His solo project expresses all of these qualities; tackling the many sides of 'beat' poetry. Odario wears many hats and describes himself as a raconteur, an actor and a DJ. He hosts CBC Music's Afterdark program and recently dropped his solo EP Good Morning Hunter.
Odario will transform Mrs. Pipkin's living room into a warm musical space that is filled with fancy funk and a freedom that flows. Along with his live band, Odario will perform songs from his latest record, Good Morning Hunter. You will also hear new material from his upcoming album, We Are Animals. His band includes DJ Ofield K, Aubrey McGhee (sax), Warren Bray (bass), Biboye Ananuga (drums), and Maiko Munroe (vocals).
Additional artist:
Razaq El Toro was born and raised in Lagos, Nigeria, and currently based in Toronto. He is a DJ and music producer that is pioneering a new sound described as Eko Electronic, a genre that re-imagines Afrobeats and tropical groove.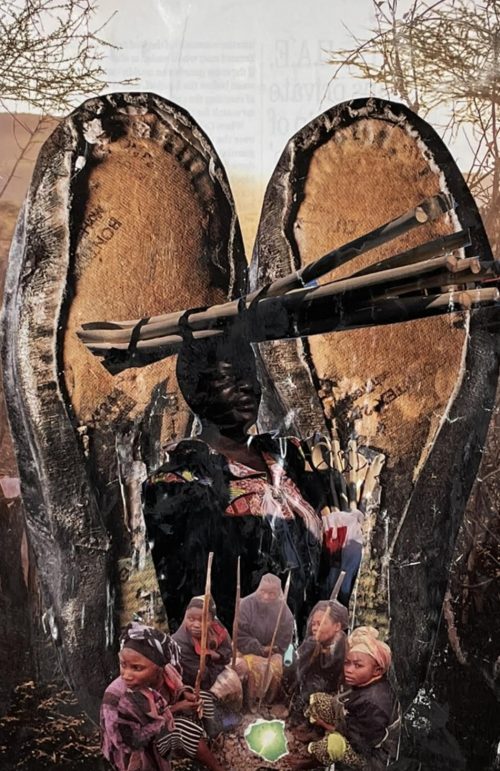 Named a Toronto Cultural Champion, a foremother of Canadian poetry and an Honorary Doctor of Canadian Letters, Lillian Allen is a recipient of numerous awards and citations for both her creative work and arts activism. Engaged in what she terms 'social labour' through the art, Lillian's poetry explores the intersections of dub, sound and rebel poetics. She is a two-time Canadian Juno award winner for her albums "Revolutionary Tea Party" and "Conditions Critical". Her latest book of dub poetry "Make the World New" (selected by Ronald Cummings), published by Wilfrid Laurier University Press 2021 received critical acclaim. A successful cultural strategist and 'mentor to the mentors', Ms. Allen is also a long-time Professor of Creative Writing at OCAD University.
"I am pleased to add a sound-poetic dimension to Gordon's vision that steps us outside the colonial gaze and connects us to a common humanity of resilience, flair and a taste for the extraordinary as we appreciate the legacy of Black freedom seeker Louisa Pipkin (and others like her) through her monumental tasks of toil, survival, strategy, and triumph. Beyond language and poetry, I will create a vocally generated and processed soundscape that will pull listeners into a complex subtext of utterances and sounds and a listening for all that's left unsaid."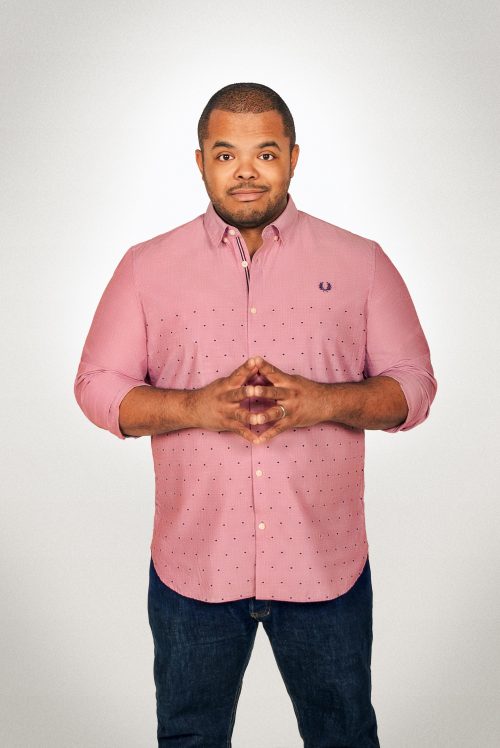 Roger Mooking, a renowned chef, restaurateur, Food Network star, author and award-winning recording artist, is best known as the host of grilling show "Man Fire Food" and judge of "Fire Masters" and "Wall of Chefs". The Trinidadian-born, Canadian-raised chef is influenced by his heritage and interest in global flavours, creating new culinary and artistic experiences as showcased at his restaurant, Twist by Roger Mooking (Toronto Pearson Airport).
Chef Roger Mooking's menu dismantles the colonial narrative, putting the African/Caribbean diaspora front and centre.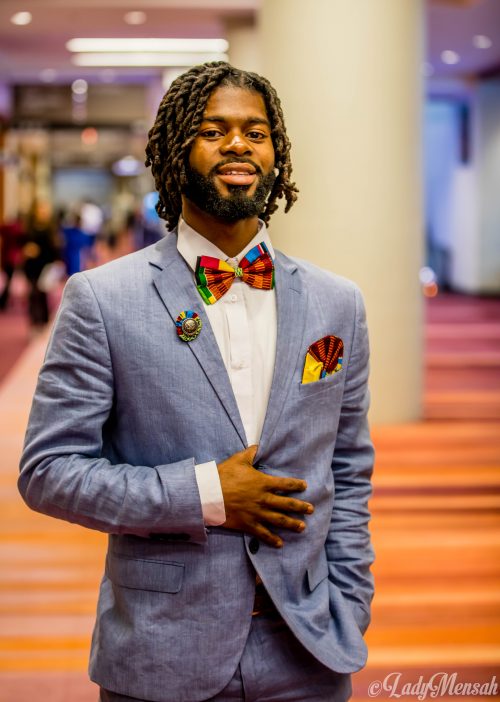 Poet Laureate of Ontario, Randell Adjei is an Author, Inspirational Speaker, Arts Educator and Community Leader who uses the spoken word to empower and transform through Edutainment. He is the founder of one of Toronto's largest and longest running youth led initiatives, Reaching Intelligent Souls Everywhere (R.I.S.E Edutainment).
Randell leads following group of poets through a slam of consciousness raising, debating and conversating about how present society is still a reflection of its past:
Hailing from Toronto, Prince Amoaka uses poetry and music as forms of therapy to express himself. These mediums have become a way for Prince to shed light on current social justice issues around the world and his own community. As an artist Prince pushes himself to be uncomfortable by sharing the most vulnerable pieces of his life hoping to connect everyone through the realization, we are more alike than different.
Faduma Mohamed is a spoken word poet, storyteller and arts educator. She was awarded the JAYU Emerging Artist Award, City of Toronto Young Women in Leadership finalist Pam McConnell Award, voted ByBlacks Canada People's Choice Award for Poet – Spoken Word Artist. Most recently, she graduated from York University's teacher education program. Above all, she believes in the power of dreams.
Affectionately called the 'Godfather of Canadian spoken word' by his peers, Dwayne Morgan is the author of 14 published and nine audio collections of his work. He is also a 2022 winner of the Toronto Arts Foundation Celebration of Cultural Life award, 2016 finalist for the Premier's Award for Excellence in the Arts and a 2013 inductee into the Scarborough Walk of Fame. Morgan has shared his work in 18 countries internationally.
Trevylyn Kennedy is a poet and spoken word artist, writer and community programmer based in Toronto. Trevlyn began her journey on stage at age 16 through theatre and has since brought to life the trials and triumphs of growing up in the inner city, the herstories of Black women that paved the way, immigration, and 'youth-hood'. Her neighbourhood Regent Park fuels her creativity and drive.
Troy Penny is a spoken word poet whose only goal is to inspire and challenge those who listen to his work. His style comes from hip hop culture which is why a few of his pieces have a rhythmic flow to them. Ultimately, Troy just wants his art to create change. The intention of my piece is to address Shadism, Erasure, Black Identity, and police brutality.
Tracey Kayy is a Multidisciplinary Artist, Mental Health Practitioner, Educator, and Equity & Diversity Advocate who uses her creations to heal and empower people through enlightenment. Realities which are often ignored are brought to light by her musical and poetic compositions. She is a radiant light and a powerful force who often leaves people inspired while renewing their minds.
Shahaddah Jack is a bilingual spoken word artist whose writing takes a poetic stance on human rights and social justice. Her poetry speaks to the lived black experience, the intersectionality of womanhood, and the adversity of adolescence. Shahaddah has performed on stages including Hot Docs Ted Rogers Theatre, Tiff Bell Lightbox, Meridian Hall, Toronto Centre for the Arts. Her newly released chapbook "Underrated Royalty" is now available on Amazon.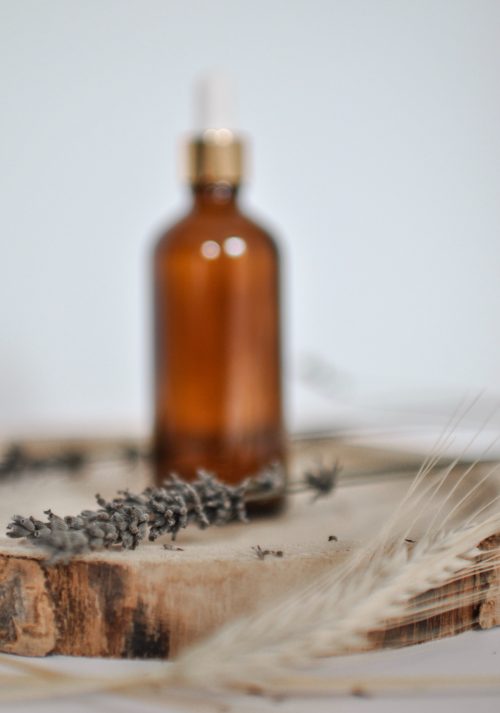 Alessandra De Oliveira was born and raised in Brazil until the age of 7 and has lived in Toronto for most of her life. Her passion for wellness and beauty lead her down the road of creating a space where people are able to work on tending to their body's in a wholistic approach. After a health scare in 2017, Alessandra decided to explore plants as a means of sustainably caring for her body in hope to share the gift of plants and herbs with the people in her community. She is currently operating her wellness spa Laya Spa & Yoga as well as her herbal blends Heal Lab Herbals.
Traditional herbalism and plant medicine has been used for thousands of years to help support families and communities in times of illness and for optimal health. As we live in an overconsuming world, many of these traditions have either been lost or their history forgotten. Alessandra's intention is to display some specific plants that have been used for medicine and educate on the traditions of herbal medicine. Alessandra hopes to transform a room in Spadina Museum and re-create an apothecary, displaying herbs that lie in the lineage of black people and that have been brought over from Africa and Caribbean countries.
An apothecary with herbs, teas, healing plants, natural body products and tinctures distinct to Afro Caribbean culture will be provided as a sanctuary for wellness and self-care.
Community Partner
Media Partner