The TRUTH
Originally created in 2016 and reborn out of 2020, The TRUTH is a mobile and travelling art installation that stands against injustice and erasure, and advocates for self-reflection to honour truths found from within. The monumental three-dimensional graffiti-style sculpture is a statement that pays homage and respect to the fact that we are living on Indigenous lands taken over by Colonial Treaties; Treaties which did not honour the commitments made to Indigenous people nor respect them. The TRUTH is also a statement that Black lives matter in all areas of Canadian society given the generations of anti-Black agendas dating from the 1800s to present day.
The TRUTH stands in solidarity for all those who suffer in silence.
Fort York National Historic Site
After a successful city-wide tour of over 17 communities across the city, the installation is on display at the front entrance of Fort York National Historic Site's Visitor Centre until the spring of 2023. The TRUTH is on display 24/7 and visitors are encouraged to take photos and share their personal truths on social media with #TheTRUTH #Awakenings and tag Toronto History Museums.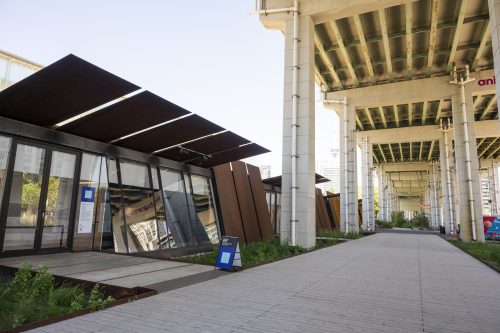 Artist Bios
Toronto-based KWEST is one of Canada's premier graffiti artists, having created over 5,000 freight train paintings across Canada and the southern United States. His present three-dimensional work moves beyond his traditional medium to explore the relationship between graffiti and the urban environment. He has created commissioned works for Coca-Cola, the Vancouver Winter Olympic Games, the University of Toronto, Red Bull Canada and the Ontario Science Centre, and his work has been exhibited at the Art Gallery of Ontario.
Philip Cote, MFA, is an artist, activist, historian, Young Spiritual Elder and Ancestral Knowledge Keeper from Moose Deer Point First Nation: Shawnee, Lakota, Potawatomi, and Ojibway. A graduate of OCAD U, Cote has been exploring new ways to imbue Mural Painting through oral traditions of storytelling and with traditional spiritual perspectives. Philip has worked with numerous renowned artists including Young Jarus, KWEST and Nick Sweetman. Cote's academic practice includes public speaking, land acknowledgements, Indigenous Cosmology and cultural interpretation.
Noah "40" Shebib is a Toronto-based composer, producer and founder of OVO Sounds. He creates atmospheric scores for his personal music label, films and artworks. Noah's distinct emotive style has an immersive cinematic quality that has catapulted artists like Drake and many others into global critical acclaim. Noah is a contributor to local artists' development through mentorship opportunities and is a human rights, health and education advocate.
Tyrone Edwards is a Canadian television broadcaster and entrepreneur, currently the cohost of CTV's entertainment magazine show eTalk. He first became locally prominent in Toronto in the 2000s as a partner in 1LoveTO, a Toronto community and entertainment blog which expanded by 2011 into a clothing line. In 2011 he was hired by MuchMusic as the new host of RapCity and served as an entertainment reporter and host for sister station E! He joined eTalk as a reporter in 2018.
Que Rock is a Nipissing First Nation born multidisciplinary artist. He started life learning his Anishnaabe and Odawa cultural teachings through ceremonies and Anishnaabemowin language. As a Anishnaabe graffiti artist, his work has matured from quick pieces into large street art projects and canvas work. He aspires for his artistic evolution to form a distinct look and feeling in all the artforms with which he works.
---
Community Partner
Media Partner
Donors
The Higher Learning Foundation