The History of Toronto: An 11,000 Year Journey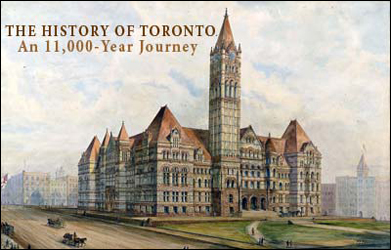 Toronto, on the north shore of Lake Ontario, is the largest of Canada's vibrant urban centres. It is the hub of the nation's commercial, financial, industrial, and cultural life, and is the capital of the Province of Ontario. People have lived here since shortly after the last ice age, although the urban community only dates to 1793 when British colonial officials founded the 'Town of York' on what then was the Upper Canadian frontier. That backwoods village grew to become the 'City of Toronto' in 1834, and through its subsequent evolution and expansion Toronto has emerged as one of the most liveable and multicultural urban places in the world today.
This presentation provides general audiences with a summary of the current scholarly consensus on the main themes in Toronto's past, with an emphasis on the characteristics of life here through time as well as the changes, issues, and influences that affected the shared experiences of its residents.
Credits
Research and text: Carl Benn, PhD, City of Toronto Museums & Heritage Services
Image curation: Catherine Molnar, MA, City of Toronto Museums & Heritage Services
Map design and cartography: Kevin Hebib, City of Toronto Museums & Heritage Services
Museums & Heritage Services would like to thank the many people who shared their expertise and thereby strengthened this history with their insights, especially the following individuals who served as peer reviewers:
Sally Gibson, PhD, City of Toronto Archives
James Lemon, PhD, Department of Geography, University of Toronto
H.V. Nelles, PhD, Department of History, York University
Lillian Petroff, PhD, Multicultural Historical Society of Ontario
Ronald F. Williamson, PhD, Archaeological Services Incorporated
J. David Wood, PhD, School of Social Sciences, Atkinson College, York University.
© City of Toronto, 2006. Images may not be reproduced without permission from the institutions that own them.