CKGW: Canada's Cheerio Station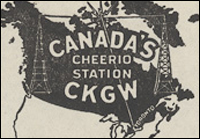 CKGW was a Toronto-based radio station owned and operated by Gooderham and Worts Ltd., a local distillery better known for its whisky. With offices and studios in the King Edward Hotel, and a 5kW transmitter in Bowmanville, Ontario, the station began broadcasting on March 5, 1928.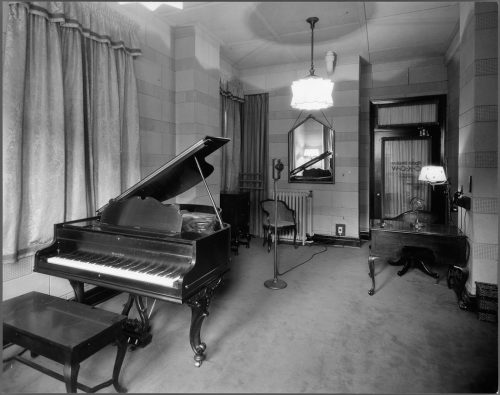 Chairman of the Board of Gooderham and Worts Harry C. Hatch, oversaw the management of the station, with the assistance of Treasurer W.S. Rainer who was responsible for the station's finances.
When CKGW hit the airwaves in 1928, it joined a small but growing group of companies who had realized the potential for self-promotion through radio.
These included the Toronto Star (CFCA), Standard Radio Manufacturing Corp. (CFRB), and Canadian National Railways (various stations). Like most of these companies, CKGW shared its wave length with at least one other station – Toronto's CFRB. As a result its broadcast days were short; according to one source the station was on the air for only six hours every other day.
By 1929, CKGW appears to have acquired the exclusive use of a new channel at 690 kilocycles (434.8 metres), expanding its programming schedule to seven days a week.
Surprisingly, Gooderham and Worts didn't use the station as a platform for advertising its own products. According to Station Manager H.W. Ashcroft, the main purpose of broadcast advertising was not to deliver detailed product messages but to build customer good-will through the sponsorship of first-rate programs.
To this end, CKGW aired quality home-grown content such as Betty's Home Chats and Cooking School, the Toronto Asphalt Roofing Orchestra, and Luigi Romanelli and his Radio Syncopaters as well as popular syndicated programs like the Lew White Organ Recital and Amos 'n Andy.
Report of Cheerio Club Activies by Don H. Copeland
Director of the Children's Cheerio Club
Pages 1, 2 and 3
1930
City of Toronto Archives
Series 1661, File 11, Item 3
According to Ashcroft, CKGW's 5kW transmitter – one of only two in Canada at the time – made it the "most powerful and most modern station in Canada". CKGW's signal not only reached across Canada but also had a particularly wide range in the United States.
Letter from Mr and Mrs Reynolds of Hamilton, Ontario
Pages 1 and 2
May 3, 19301930
City of Toronto Archives
Series 1661, File 11, Item 1
Listeners from as close as Hamilton and as far afield as Montreal; Massillon, Ohio; Pittsburgh; and New York City wrote to express their appreciation for the quality of the station's programs.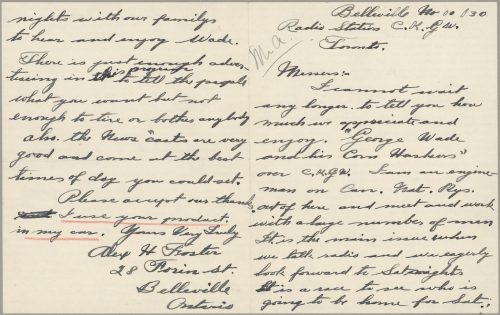 In 1933, the Canadian Radio Broadcasting Commission leased CKGW from Gooderham and Worts. Renamed CRCT (Canadian Radio Commission – Toronto), it was later acquired outright by CRCT's successor, the Canadian Broadcasting Corporation, in 1937. Due to a lengthy legal battle with the CBC over the terms of the 1933 lease, Gooderham and Worts was unable to sell off the station's remaining assets until 1948.
To learn more about Gooderham and Worts' radio station, we invite you to visit the City of Toronto Archives and discover the records of CKGW. You may also want to consider exploring these resources:
The University of Western Ontario Music Library holds the CKGW Radio Orchestra collection of over 2500 titles of mainly published small orchestra music (scores and parts). For more information about the collection and its availability to the public, contact the UWO Music Library at (519) 661-3913.
The Clarington Museum and Archives contains information about the CKGW transmitter in Bowmanville. For more information contact the Clarington Museum and Archives at (905) 623-2734.