Drawings from the Underground: The Subway Art of John DeRinzy
The following images come from a series of fourteen watercolour and charcoal drawings by John DeRinzy, created between 1949 and 1950. They depict the construction of the Yonge Street subway line.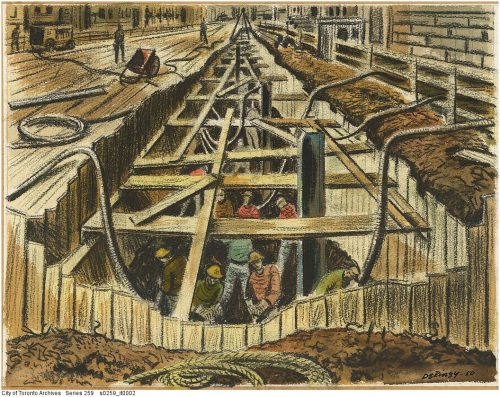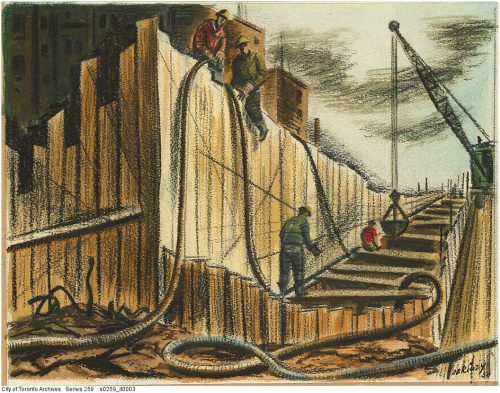 DeRinzy was a commercial artist employed at the Simpson's Department store, with their advertising department. As an artist he believed that Canadian painting dwelt too much on landscape, and did not pay sufficient attention to portraiture. The drawings shown here reflect DeRinzy's concern for the relationship between people and their work environment.
They were first exhibited in 1950 in the lobby of the Towne Cinema at Bloor and Yonge streets. In 1979, DeRinzy provided several pieces for an exhibit commemorating the 25th anniversary of the subway line. He donated the works to the TTC on April 1st 1991, and they are held with the rest of the TTC collection at the City of Toronto Archives.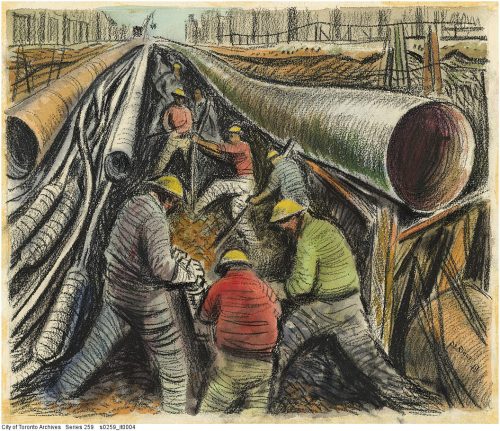 The complete series of subway construction art work by John DeRinzy is available to view in our online catalogue.