Metro Hall Employment Services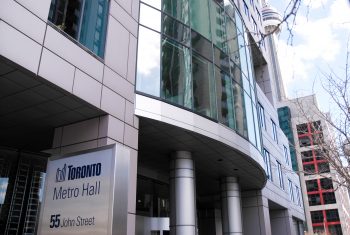 55 John St., Toronto M5V 3C6
Postal Codes Served
Hours of Operation
8:30 a.m. to 5 p.m. Monday, Wednesday, Thursday, Friday
8:30 a.m. to 6 p.m. Tuesday
Metro Hall Employment Services provides drop-in services and resources to help you during your job search.
Help us keep the air we share healthy. Please do not wear or use scented products when visiting our offices.
Address
55 John St., Toronto M5V 3C6
From street level you may enter Metro Hall either through the 214 Wellington St. W. entrance, the 55 John St.entrance, or the King Street entrance.
From the inside of Metro Hall you will find the Employment and Social Services office on the south side of the rotunda, down the stairs.
Visit TTC trip planner to plan your route.