Ice Cone, 11 Feet High, Opposite the Gate Leading Colborne Lodge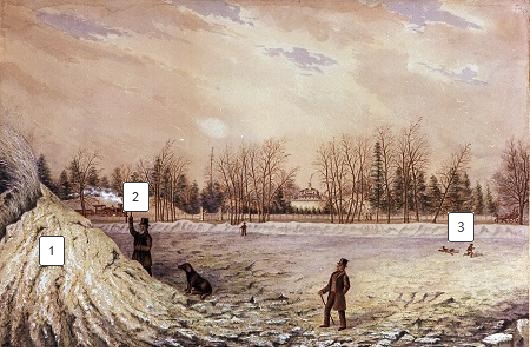 A hummock is a general geological term for a small mound that is raised above the ground. Ice hummocks are be formed when broken ice is forced upwards by pressure, or ice chunks are piled high upon themselves2. Successive freezing and thawing would then have congealed the mass into the eleven foot tall hummocks featured in the painting.
_________________
2 http://www.whoi.edu/arcticedge/arctic_west03/
facts/facts_ice.html November 27, 2013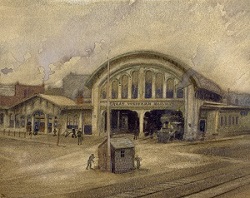 John Howard helped to develop rail infrastructure in Toronto. In 1853 City Council instructed Mr. Howard to work with the engineer from the Northern Railway to survey and locate the Esplanade, extending it westwards to Garrison Creek near Fort York3. The above painting by Frederick Victor Poole shows the GWR's passenger depot at Yonge St. and Esplanade circa 1867
_________________
3 Shirley McManus. The Life of John George Howard. Toronto Historical Board: Toronto, 1975. Pg. 39
The 1857 Plan of the City of Toronto map provides good detail regarding Toronto's railways. It shows where the rail lines entered the city, their sheds and depots, as well as the location of some prominent hotels where passengers might stay including the Rossin House Hotel.
The original map is located at the Toronto Archives: Fonds 2, Serries 88, Item no. 2131. The map was created by Fleming, Ridout & Schreiber and lithographed by J. Ellis.