Recreational and Cultural Toronto
Recreational and cultural opportunities in John Howard's Toronto were typical of provincial societies at the time. Outdoor sports and past-times were popular, church-based lectures and concerts were common, and various societies provided opportunities to explore music, literature, and art, which were enlivened by travelling performers, lecturers, and personalities. Taverns, gambling, and racing consumed people's disposable incomes, while amusements of an even less refined nature attracted interest, such as those centred at the houses of ill-repute, which, according to one 1830s observer, were 'scattered thro' every corner of the town.' Finally, major events in the life of the city – whether special occasions (such as the visit of the Prince of Wales in 1860), or tragedies (such as shipwrecks off Toronto Bay) – captured people's imaginations and brought Torontonians together as a community.
Howard participated in many of these recreational and cultural opportunities. For instance, he helped found the Society of Artists and Amateurs of Toronto in 1834 and the Toronto Society of Arts in 1847, both of which held shows where some of the watercolours that you see here today were exhibited.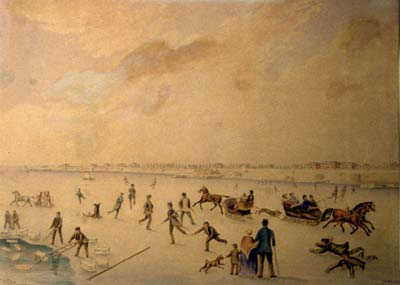 This watercolour shows Toronto Bay between roughly Bathurst and York streets about two decades before the waterfront south of Front Street began to be filled at the beginning of the railway era. The harbour froze from time to time and was a popular venue for skating, sleighing, ice-boating, and other winter sports.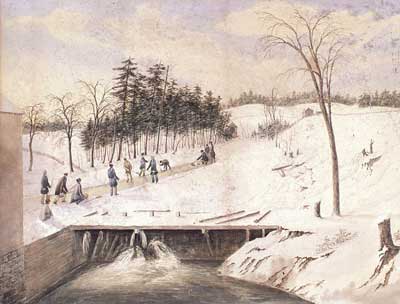 The location of this image is uncertain, but it might be the paper mill at Todmorden Mills. It is difficult to determine the site in part because the landscape around Todmorden has changed radically, but this watercolour is an interesting, early representation of curling in late Georgian Toronto.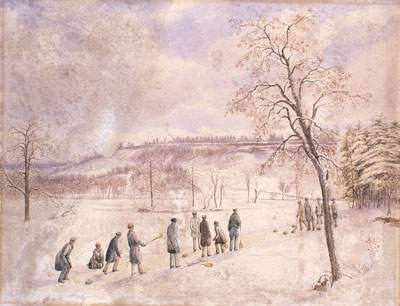 As well as a site for curling, Grenadier Pond was a popular destination for fishing, boating, and skating. John Howard recorded that hundreds of people skated on it some afternoons and evenings. In his time, the water level was about a metre lower than it is today. (This watercolour looks west, from a point towards the southern end of Grenadier Pond.)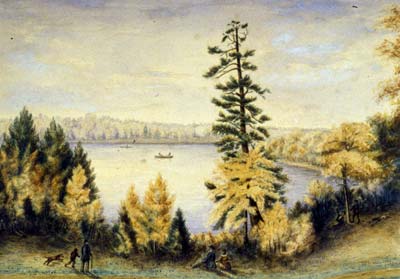 There is a legend that the name of Grenadier Pond commemorates soldiers who fell through the ice while fighting in the 1813 battle of York. The story is utter nonsense. The battle took place in late April when there was no ice, it took place further east than High Park, and all the casualties were documented, none of whom disappeared into the pond. In reality, the name is a Victorian romanticism that arose because soldiers from the Toronto garrison spent time around the pond, both on manoeuvres and during their leisure hours, including officers who fished there as guests of the Howards.
HIGH PARK, 1870s (JH)
City of Toronto Toronto Culture,
Museums and Heritage Services, 1970.222.19G.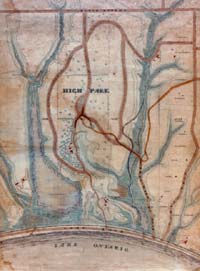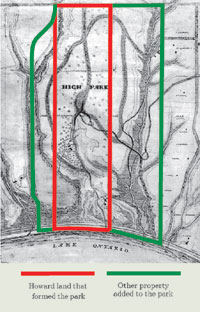 Howard's desire to establish High Park as a public amenity was part of the larger Victorian movement to create parks. Some of the inspiration came from middle-class people who wanted to provide wholesome leisure opportunities to the lower classes in place of the taverns and other such opportunities available to them. Howard insisted that no alcohol be sold in the park and that access be free . The park opened in 1873 and Howard received a lifetime pension in return for turning over his land to the City.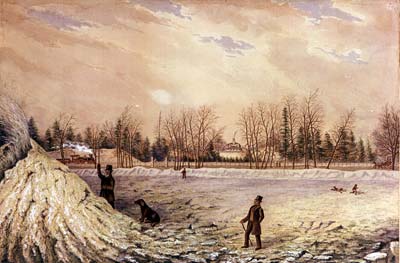 Torontonians of the 19th century enjoyed winter. It was a season with few bugs and contagious diseases compared to the rest of the year, and it offered advantages such as frozen roadways that made travel easier in comparison to the muddy morasses that passed for roads in spring and autumn or the dust-choked trails of summer. It also was a time of reduced labour and greater opportunity to socialize with friends and family.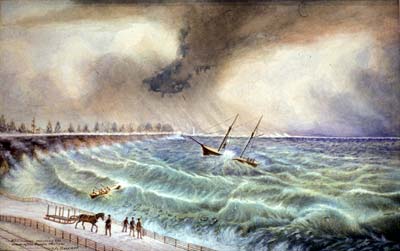 This dramatic image shows a well-known Toronto rower, Thomas Tinning, saving the crew of a wrecked schooner in December 1861. The view looks southeast between Sunnyside and Humber Bay. Howard first painted this picture in 1862 for the citizens of Toronto to present to Tinning to honour his heroism, and then made this copy for his own enjoyment in 1875.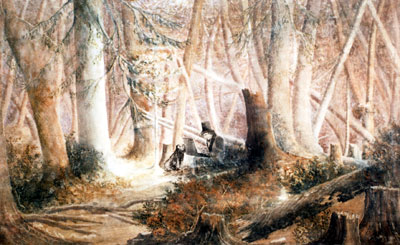 The location of this watercolour is uncertain, although it likely was a low-lying area of today's High Park. Perhaps John Howard meant the picture to be a self-portrait.