Special Committee on Governance Consultations
This phase of the City's Share Your Ideas for Decision Making in Toronto public consultations has concluded. The City has held five public consultation sessions across Toronto and received public input through a public survey available in both electronic and hard copies in multiple languages, including from residents that organized their own public consultations sessions. City staff will be reviewing and the responses of Torontonians and reporting to the findings to Special Committee on Governance in the fall.
To find out more:
Subscribe to the Special Committee on Governance e-newsletter
Go to the City Clerk's Directory of Council and Committee E-Updates page
Scroll part way down the page until you find the heading "Committees Reporting to City Council"
Listed alphabetically, scroll down until you find "Special Committee on Governance". You will find a description of the Special Committee to confirm it is the correct Committee
Select the box beside the Special Committee on Governance's name, so that it has a check mark inside it
Scroll back up to the top of the page. Enter your email address in the field provided beside the "Subscribe" button.
Click "Subscribe" when you have confirmed that your email address is correct.
You will receive a confirmation email shortly afterwards from the City of Toronto confirming that you have been successfully added to the contact list for the Special Committee on Governance's e-newsletter.
Subscribe to the Special Committee on Governance – Public Consultations Information e-newsletter
Scroll down to the bottom of this page
Under "Subscribe for E-updates", enter the email address where you wish to receive updates in the field beside the blue "Subscribe" button
Ensure the grey check box below the email address field has been clicked, so that a check mark appears in the box
Click the "Subscribe" button once you have confirmed the correct email address has been entered
You will receive a confirmation email shortly afterwards from the City of Toronto confirming that you have been successfully added to the contact list for the Special Committee on Governance's e-newsletter.
Special Committee on Governance
In December 2018, City Council created a Special Committee on Governance. The Committee will consider the impacts on the City's governance structure and processes arising from the reduction in the size of Council and to make recommendations to City Council on any further changes to its governance structure.
At the Committee's first meeting on February 21, 2019, members asked staff to develop a public consultation plan.
At the Committee's second meeting on April 12, 2019, members endorsed a Work Plan and Engagement Strategy that includes several ways for residents to add their ideas for the Committee's consideration.
You can sign up online to receive meeting and agenda information for the Special Committee.
What is Toronto's Governance System?
The City's governance has many parts including:
Structures such as standing committees, special committees, Community Councils and boards;
Processes such as the schedule of meetings, how reports for Council are developed, and the procedural by-law which has all the rules for how Council and its committees work; and
Roles such as the role of the Mayor, Councillors, the City Clerk, City staff and the public.
The image below describes the steps in City Council's formal decision-making. It starts from an idea or a request, which is presented in a report to a Standing Committee or Community Council, proceeds to City Council for the final decision, and is then implemented by City staff. Council makes decisions by considering information from the public, staff and experts, and voting on recommendations from staff and Councillors. The public can participate in consultations, or by attending, speaking at or writing to a Council Committee or by contacting the Mayor, any Councillor, or staff.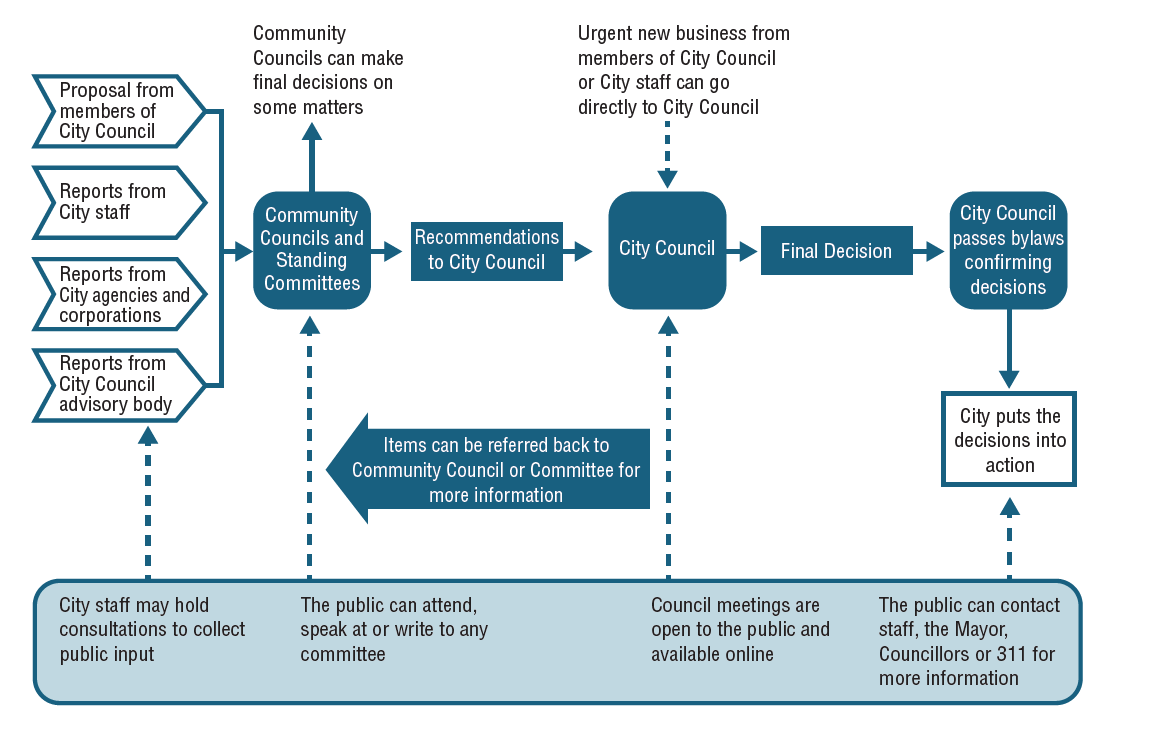 Standing Committees
Standing Committees consider reports from City officials, make recommendations to Council on issues and priorities, and provide opportunities for debate and public participation to inform their decisions.  All meetings are open to the public and residents can speak or submit written comments and contact the Mayor and Councillors at any time.
Council created five Standing Committees (See figure below) that are responsible for specific issues:
Executive Committee – Council priorities, plans, international and intergovernmental relations, governance structures and processes, and the financial integrity of the City;
Economic and Community Development Committee – Strengthening communities, neighbourhoods and the economy;
General Government and Licensing Committee – Administrative operations of the City and the licensing of businesses;
Infrastructure and Environment Committee – Toronto's infrastructure needs and services, parks and forestry and the sustainable use of Toronto's environment; and
Planning and Housing Committee – Planning, property standards, growth and housing development.
Council also has Special Committees (such as the Budget Committee and the Special Committee on Governance) to consider specific matters, and Council Advisory Bodies (such as the Aboriginal Affairs Advisory Committee and Toronto Music Advisory Committee) to address Council priorities.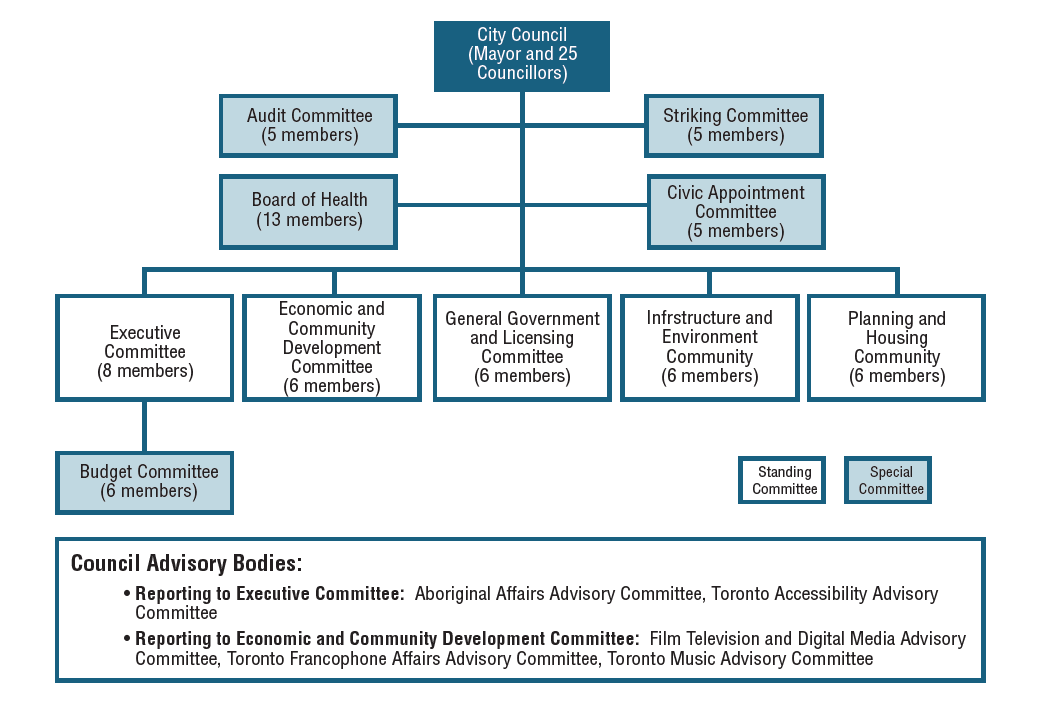 How does the public participate in the City's decision making?
Public Participation
The City engages the public across Toronto throughout the year. The public plays an essential role in the City's decision-making by:
Identifying issues for Council and staff consideration;
Providing input and feedback on services, reports and policies;
Partnering with the City to deliver programs; and
Providing ideas and recommendations to committees, by voting, through local actions and advocacy and by participating in consultations, surveys and advisory bodies.
City-Led Engagement
City staff engage the public in a variety of ways. Some of these opportunities are one-time only, some are ongoing. Examples include:
Public meetings and open houses to discuss new buildings, changes to roads and traffic, public transit expansion, City strategies, and other issues;
Surveys on programs, issues and services;
City-led community networks that bring the public, the City and other agencies together to discuss specific projects or longer-term issues;
Conversations with City staff at community events and through the delivery of services at recreation centres, libraries, etc.;
Appointing residents to City boards and Advisory Bodies to consider issues and make recommendations to Council and Committees;
Volunteers to help with City events, outreach and programming; and
311 Toronto responses to resident questions and feedback.
Community-Led Engagement
Residents, neighbourhoods and community groups also create their own engagement with the City to share their ideas, concerns and suggestions to City staff, their Councillor or other groups. Examples include:
Formal and informal groups and associations such as resident and ratepayer groups, business improvement areas, school-based groups, community-based organizations and faith groups;
Online networks such as neighbourhood social media groups, web forums, and email lists; and
Social and cultural groups such as sports leagues, recreational groups, community garden groups, parks groups, and arts groups.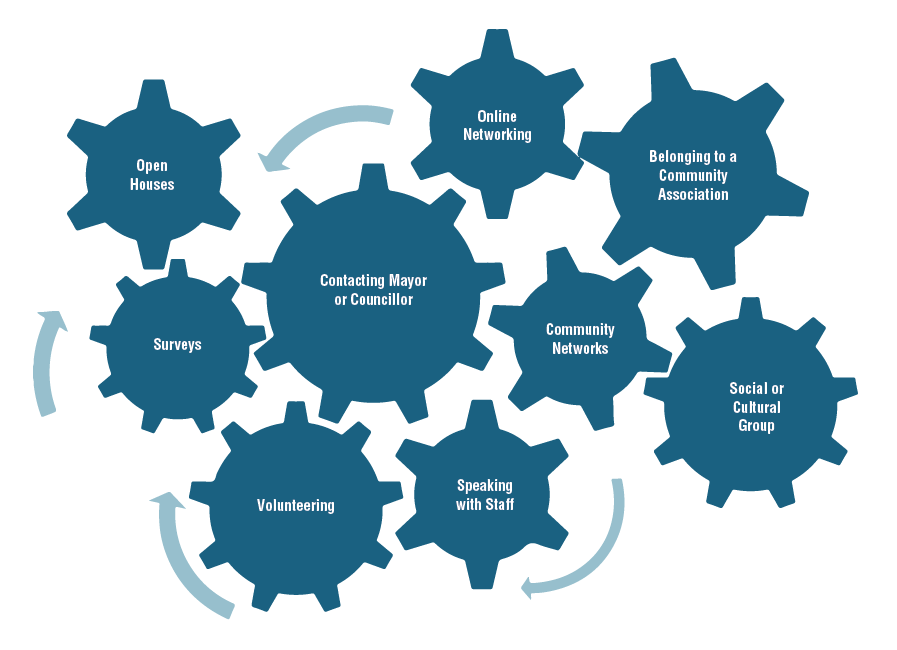 Subscribe for e-Updates
Type (do not copy and paste) your email address into the box below and click "Subscribe" to receive updates on the series of public consultations being undertaken by the City for the Special Committee on Governance. You will receive email instructions to confirm your subscription.