Jimmy's Report Card
Call 416-338-7297 if you're interested in adopting Jimmy.
Type of dog:
German Shepherd
---
Meet Jimmy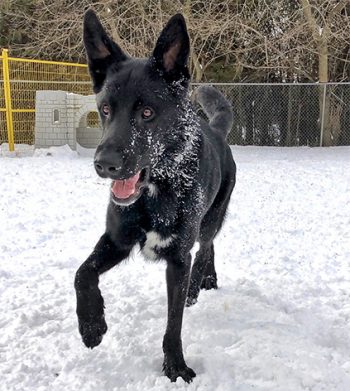 Jimmy came to Toronto Animal Services a few weeks before Christmas, very thin and underweight. We made sure he got healthy meals and once he quickly gained weight, we soon realized how handsome he was and how much energy he had. However, Jimmy would become over excited and mouthy with us when entering and exiting his cage. Although he would calm down after he burnt off some energy, we knew that Jimmy needed to learn some manners and self-control. Jimmy is now spending some time at our Second Chance Dog training program where he is learning basic manners and controlling his tendency to mouth through positive reinforcement training.
When adopted, Jimmy will do best in a home with no other dogs or children. He will enjoy a family with an active lifestyle to keep up with his energy and well as someone that will continue to work with Jimmy through positive training methods.
Jimmy's Progress
WEEK 1:
From his trainers: "Jimmy is doing really well with training. He is a smart dog and learns things very quickly."
He has been working on loose leash walking and gets along with other dogs and people. He is also doing well sitting and staying down and can hold the positions for 10-15 seconds before being released.
Jimmy does get mouthy when overexcited. Jimmy is learning what is appropriate to put his mouth on and how to control himself.
During his run, Jimmy can react when there is something exciting happening outside. He is being taught to relax during his run when dogs are loose outside.
Jimmy is very good with his bath and has been fine with his handlers, however he does guard food, bowls and toys from other dogs. He is working on sharing his things with other dogs.
Although Jimmy likes to mount and needs to be redirected at times, he is very social with other dogs and has done well group playing with over 20 dogs.
We believe Jimmy has made a great start and will continue to work on his reactions to distractions during runs as well as sharing with other dogs.
WEEK 2:
Jimmy continues to work on his mouthing, but on occasion will still mouth if he gets overstimulated. He has also been working on tug, release and self-control.
Jimmy has really improved in how he reacts to distractions during his run. Dogs walk right up to his run and he maintains a sit or a down in his run with random reinforcement. On occasion if no one is working with him he will react if a dog enters, but not as often as before.
Jimmy has been doing better with sharing too, however he continues to guard food and toys from other dogs. Though Jimmy is very social with other dogs and loves to play with them, he still likes to mount and does need to be redirected at times.
Jimmy's trainers continue to work with him on his mouthing and his reaction to distractions during runs.
Final Report
Jimmy's trainers concluded that he is a smart dog and learns things very quickly. His basic obedience is excellent. He has done well in play groups of 20+ dogs and has been eager to work with different trainers. There are times when Jimmy still cherishes his toys and food so he should not be in a home with other dogs.
Jimmy will do best in a home with an experienced owner that is home during the day. He requires a home with no other dogs and no children under 12. Jimmy is very smart so he will require his new owner to continue to work with him and a trainer with positive reinforcing training methods.
Due to Jimmy's anxieties, he may not do well in an apartment or condo style living.
If you think this handsome boy is a dog you would enjoy dedicating your time to and giving a second chance, we would be happy for you to come meet him at 146 The East Mall. All family members living in the home must be present for his meet and greet.