Joker's Report Card
Call 416-338-7297 if you're interested in adopting Joker
Type of dog:
American Bulldog mix
---
Meet Joker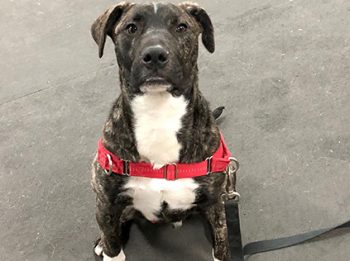 Joker came into the shelter as a stray and was never claimed.
When Joker first arrived he was friendly, but easily excitable and would jump up on you. He was also reactive with other dogs. Joker needed to learn some basic manners so he was sent to our training facility, where they worked on his general obedience and reactions to other dogs.
What Joker needs when you adopt him
Joker is a very smart puppy. He is friendly and social with people and dogs and loves to learn and play. Joker would do fine in a home with another dog. Joker would be okay in a home with teens (13 years or older) as he is quite excitable.
Joker's Progress
Training Goals
To improve leash skills and basic obedience
To improve his reactions with other dogs
Overview of Progress
Joker is continuing to do really well with his basic obedience. He has done well one on one and in group classes.

he is holding a sit and down stay for 10-15 secs until released with "okay"
he is giving eye contact on "watch me" cue with distraction
he is doing well with his loose leash walking
Joker is doing well with greetings with people. He will sit and maintain a sit when working with him. However, when introducing someone new he will get excited and we will have to start the process again. He will need to continue to practice with new strangers.

Joker is doing great with other dogs. He loves to play and socialize with other dogs. He does play very rough with other dogs, but is good.