Key to the City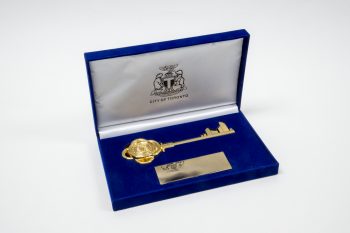 The Key to the City is bestowed upon distinguished citizens and residents as well as honoured guests of the City of Toronto.
In Toronto, the act of giving the Key to the City is symbolic, since the city has no gates to unlock. The presentation of a ceremonial key and certificate honour the outstanding civic contributions of each recipient.
Historically, it has been at the discretion of the Mayor to determine who receives the Key to the City. The Mayor has given the key to people who have changed how Toronto feels about itself and those that have contributed positively to the city and the lives of its residents.
Mayor John Tory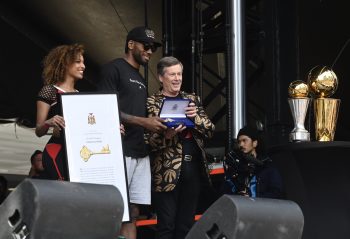 2019
The 2019 NBA Champions Toronto Raptors
Officially presented on June 17, 2019
Citation: This Key to the City is presented to the Toronto Raptors in recognition of the team's 2019 National Basketball Association Championship win. The 2019 team won the first NBA title in franchise history and brought the Larry O'Brien trophy north of the border to Canada for the first time ever.
This season, the Raptors captured the Atlantic Division regular season title for the sixth time, propelling them to an incredible postseason that saw the team win the Eastern Conference Finals and continue on to win the NBA Finals.
This historic playoff run galvanized and united not only Toronto, but all of Canada, bringing together fans from coast to coast to coast. The victory itself and the events surrounding it will inspire Torontonians, especially young people, for years to come. This key is presented with great joy and gratitude.
 2018
2017
2016
Mayor Rob Ford
2013
Doug Holyday – August 20, 2013
George Chuvalo – March 26, 2013
2012
George Cohon – June 21, 2012
Mayor David Miller
2010
His Holiness the 14th Dalai Lama – October 22, 2010
2005
Former Police Chief Julian Fantino – April 14, 2005
Mayor Mel Lastman
2003
Mike Myers – June 25, 2003
Eng. Ferro Rodrigues – July 8, 2003
The people of Prince Edward Island – July 28, 2003
The Rolling Stones – Sir Mick Jagger, Keith Richards, Charlie Watts, Ronnie Wood and Michael Cohl – July 30, 2003
The Anson Carter Family – July 31, 2003
Nickelback – Ryan Vikedal, Ryan Peake, Chad Kroeger and Mike Kroeger – September 19, 2003
Deputy Mayor Case Ootes – September 23, 2003
2002
Tiger Woods – May 27, 2002
Dr. Carlos Cesar – June 8, 2002
Father Tom Rosica – July 31, 2002
Ronnie Hawkins – October 4, 2002
Muhammad Ali – October 20, 2002
Tony Dionisio – November 2, 2002
2001
Boris Spremo – January 22, 2001
King Constantine – May 23, 2001
Sylvester Stallone – May 26, 2001
Sophia Loren – June 5, 2001
Margaret Atwood – October 19, 2001
Joni Mitchell – October 19, 2001
Jackie Chan – November 18, 2001
Blue Rodeo – November 30, 2001
2000
Sharon, Lois & Bram – February 11, 2000
Archbishop Desmond Tutu – February 16, 2000
David Boothby, Chief of Police – February 1, 2029
Neil Young – March 30, 2000
Donald Sutherland – March 30, 2000
His Excellency Constantinos Stephanopoulos, Pres. of the Hellenic Rep. of Greece – June 1, 2000
Pastor Jan Paulsen – June 2, 2000
Pastor Orville Parchment – June 29, 2000
His Divine Holiness Pramukh Swami Maharaj – July 23, 2000
Barenaked Ladies – September 21, 2000
J.K. Rowling – October 22, 2000
1999
Yo-Yo Ma – January 15, 1999
David Gunn – February 11, 1999
Norman Jewison – April 14, 1999
Mickey Mouse – July 21, 1999
Frank Alvarez  – August 29, 1999
Jorge Ferreira – August 29, 1999
Celine Dion – September 17, 1999
Jose Lello – September 23, 1999
Ron Huldai – September 29, 1999
Joe Foti – October 5, 1999
1998
Mickey Rooney – June 5, 1998
Bobby Curtola – July 4, 1998
Sheldon Kennedy – July 8, 1998
Bobby Rahal – July 19, 1998
Ed Mirvish – July 26, 1998
Roberto Leal – August 30, 1998
Charles Adler – August 27, 1998
Nelson Mandela – September 25, 1998
Barbara Ann Scott-King – November 27, 1998
Johnny Lombardi – December 4, 1998