Pam McConnell Award for Young Women in Leadership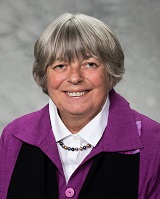 Pam McConnell will be remembered as a tireless advocate for women's rights and social justice in the City of Toronto. She was a member of Toronto City Council from 1994 (then Metro Toronto Council) to 2017 and was the former Chair of the Federation of Canadian Municipalities' Standing Committee on Increasing Women's Participation in Municipal Government. She was the Champion for the City of Toronto's Protégée Program, a mentorship program matching young women with City Councillors intending to increase women's representation in electoral politics.
In remembrance of Pam McConnell, the Protégée Program is pleased to present the Pam McConnell Award for Young Women in Leadership, to recognize the exceptional leadership of young women in the City of Toronto.
Eligibility & Selection Criteria
The Award is open to young women residing in the City of Toronto, between the ages of 16 and 26 upon the application deadline who:
Have demonstrated exceptional leadership skills through a proven track record of volunteer and/or paid work in the community-based sector
Have shown a commitment to social justice work through creating or leading community-based programs or services for vulnerable youth or residents in Toronto
Have inspired other young women through formal or informal mentorship.
Applications are now closed. The award recipient will be invited to an event at City Hall on March 5, 2020. The award recipient will be presented with an award and a cash prize. We strongly encourage the candidates to be available to receive the reward.
Acknowledgements
We would like to extend a very gracious thank you to Heather-Ann for her support and honouring the legacy of her mother, Pam McConnell.
A special thank you to Councillor Kristyn Wong-Tam as a champion of the Award and Protégée Program for young women.
Thank you to the Selection Committee which was comprised of members from the Toronto Youth Cabinet and City staff.
2019 Winners
We are honoured to acknowledge and congratulate the 2019 winners:
Alyssa Luttenberger
Alyssa is of mixed heritage, Chickasha Nation and Austrian. She is Turtle Clan and her spirit name, Lakna' Hatalposhik (Yellow Butterfly), speaks to her role as a bringer of change, listener and mediator.
Alyssa is currently the Mino Maadziwin Program Coordinator at the Native Canadian Centre of Toronto and is a strong advocate for the reclamation of Indigenous traditions, governance and cultures, in particular for urban Indigenous youth. She also advocates for the amplification of youth voices and supports youth-led initiatives that provide Indigenous youth the space to make decisions about their own holistic wellness.
Alyssa currently sits as a member of the Toronto Indigenous Health Advisory Circle's Youth Council and the Toronto Urban Health Fund's Indigenous Advisory Circle.
Previously, she provided support through roles such as Child and Youth Resiliency Expert for the Toronto Urban Health Fund, as well as Community Council Member and Board of Directors' Youth Representative for the Toronto Birth Centre.
Ishita Aggarwal
Ishita completed an Honors Bachelor of Science at the University of Toronto and is currently a Master of Public Health Candidate at Western University.
She has a keen interest in health and human rights, gender equality, and social sustainability, and has served as Access and Equity Student Blogger at UofT Student Life Blog, and is a Founding Member of Women in Science and Engineering National Conference, and a Research Associate at International Women's Rights Project.
In April 2016, Ishita founded MOM'S THE WORD, a sexual and maternal health community organization, which provides aid to thousands of homeless and low-income pregnant women.
For her work, Ishita has been named a Top 30 Under 30 Sustainability Leader, Top 25 Canadian Immigrant, Queen's Young Leader, Young Sustainable Impact Innovation Program Delegate, Johnson and Johnson One Young World Scholar, Atlantic Dialogues Emerging Leader, and L'Oréal Paris Woman of Worth, among others.
We would like to acknowledge our shortlisted candidates, who received a certificate for their outstanding work and achievements in 2019:
Maryam Hassan
Uche Umolu
Souleik Kheyre
Nasma Ahmed
Anisa Mohamed