Pam McConnell Award for Young Women in Leadership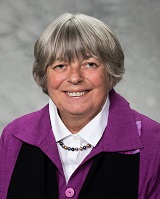 Pam McConnell will be remembered as a tireless advocate for women's rights and social justice in the City of Toronto. She was a member of Toronto City Council from 1994 (then Metro Toronto Council) to 2017 and was the former Chair of the Federation of Canadian Municipalities' Standing Committee on Increasing Women's Participation in Municipal Government. She was the Champion for the City of Toronto's Protégée Program, a mentorship program matching young women with City Councillors intending to increase women's representation in electoral politics.
In remembrance of Pam McConnell, the Protégée Program is pleased to present the Pam McConnell Award for Young Women in Leadership, to recognize the exceptional leadership of young women in the City of Toronto.
Eligibility & Selection Criteria
The Award is open to young women residing in the City of Toronto, between the ages of 16 and 29 upon the application deadline (February 8, 2019), who:
Have demonstrated exceptional leadership skills through a proven track record of volunteer and/or paid work in the community-based sector
Have shown a commitment to social justice work through creating or leading community-based programs or services for vulnerable youth or residents in Toronto
Have inspired other young women through formal or informal mentorship.
Deadline to apply: February 8, 2019
Acknowledgements
We would like to extend a very gracious thank you to Heather-Ann for her support and honouring the legacy of her mother, Pam McConnell.
A special thank you to Councillor Kristyn Wong-Tam as a champion of the Award and Protégé Program for young women.
Thanks to the Selection committee; members of Toronto Youth Cabinet, Human Rights, Equity & Diversity and representatives from the Toronto Public Service Women's Network and City staff.
Award Ceremony & Networking Event
Friday, March 8 at Toronto City Hall
Join Mayor John Tory, Heather Ann McConnell and Councillor Kristyn Wong-Tam on International Women's Day to announce and celebrate the 2019 award winners. Please register in advance for this free event.
2018 Winners
We are honoured to acknowledge and congratulate last year's winners:
Talisha Ramsaroop
The first recipient is herself a past Protégée and an outstanding leader in the Jane and Finch community and Toronto. She has been involved in many impactful community initiatives, including: much needed programs for youth, including "Cultivating Herstory," focused on body image, sexism and well-being; "Breathe Easy, Go Deep," focused on bereavement for youth," and; the Lotus Project, focused on creating a space for Indo-Caribbean women to share their stories, and build their capacity.  She recently worked with Social Planning Toronto, providing advocacy training and delivery of city budget deputations. In the words of one of her nominees: "[She] creates authentic connections with youth, motivating and inspiring anyone she comes into contact with to be the change they want to see, to think and act differently, and to imagine different futures for themselves… Her aspiration is to one day be the mayor of Toronto.  Awards such as these, will aid her ability to turn her dreams into fruition."
Yusra Khogali
As a leader with the Black Lives Matter movement, she has organized conferences, rallies, educational programs, press conferences, gatherings and healing circles.  A current graduate student at the University of Toronto, she is constantly stopped on campus by students who tell her how much her work and advocacy means to them…  In addition to her work as an activist, she is a trained and accomplished artist, having recently completed an artist's residency with acclaimed artist D'bi Young at the Watah School.  From one of her letters of support by d'bi.young, founding Artistic Director of Watah: "This award is one way we can all say to her, that we are deeply grateful for the example she continues to embody, by teaching us what living with purpose looks like."
We would like to acknowledge our shortlisted candidates, who received a certificate for their outstanding work and achievements in 2018:
Apefa Adjivon
Christiana Agustin
Eki Okungbowa
Hamdi Jimale
Jena Alma Singh Herbert
Nana Frimpong
Riley Peterson
Trevlyn Kennedy
Yasmin Rajabi