Bolt's Report Card
Call 416-338-7297 if you're interested in adopting Bolt.
Type of dog:
American Bulldog mix
---
Meet Bolt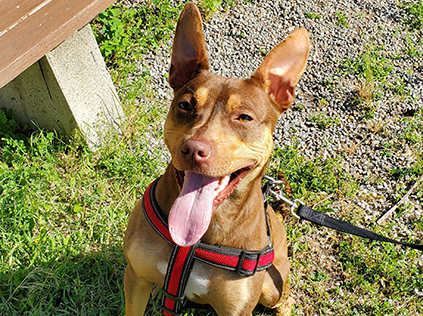 Bolt arrived at Toronto Animal Services as a stray back in April 2019. She has been full of energy since day one. She is always on the go and would prefer to never be in her kennel at the shelter. Every time staff attempted to bring her to her bed she would bolt out of the cage (hence where she got the name Bolt)! Bolt needed a way to exhaust her energy and we felt that time with trainers and other dogs would help her gain knowledge in general obedience along with burning off all that energy.
What Bolt needs when you adopt her
We want Bolt to find a forever home that is prepared to provide her the adequate exercise needed to continue her positive reinforcement training. She needs constant stimulation and her behaviour will decline if her energy requirements are not met. She will need to go to a home with no children. Bolt needs an owner that is confident in exposing her to other dogs in a controlled environment. She is a fun, happy, dog that loves interacting with people.
Bolt's Progress
From her trainers: "Bolt has very high energy and requires an intensive play session before she can settle into working. This has greatly reduced her jumping and mouthing in sessions. She is still very excited and jumpy when coming out of her run. She will sit on command and this helps her to regroup and settle."
"Bolt has been out to play with various groups of dogs in controlled settings and is a boisterous enthusiastic girl whose play style is not for all dogs. Her play sessions are kept to 30 min to 1 hr sessions as she can get over excited"
"Once Bolt has settled into working on her basics she is attentive and a willing partner. As stated, she requires some good energy draining activity prior to working to ensure success. She has a solid sit, down and stay. She struggles with attention when there are other distractions around. Her loose leash walking has improved. She has good toy exchange and improving with self-control (leave it)."
Note: Bolt's terms of adoption will require proof of a positive reinforcement trainer to continue working with her along with a detailed training plan and experienced dog owners.