Roger's Report Card
Roger is ready to be adopted. See him at the West Shelter at 146 The East Mall.
Type of dog:
Bull Mastiff/Great Dane Mix
---
Meet Roger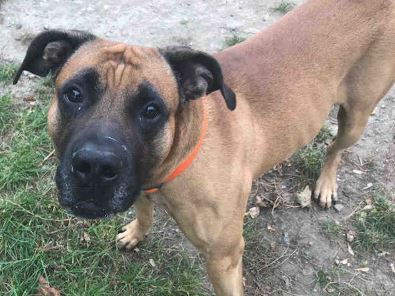 A couple of months ago, this boisterous puppy Roger was lucky enough to find his way into Toronto Animal Services and into the hearts of the staff that were caring for him.  Roger was very nervous when he first arrived. Sudden movements and new things would have him hiding behind his handler. As he became more comfortable, we realized that did not have a lot of control, and with his size, this was a problem we wanted to help him fix. We decided Roger needed to spend some time with trainers, to learn some manners and self-control with positive reinforcement training.
What Roger needs when you adopt him:
Roger will require an experienced dog family that is willing to continue his positive reinforcement training. Roger is very eager to please when working so he will enjoy a home with an active lifestyle that is going to give him lots of love. He will do best in a home with no other dogs and no young children.
Roger's progress:
From his trainers: "Roger has done very well with his training. He is a smart boy and gets very excited during training." He loves playing and socializing with all of the staff and loves everyone he meets. He has been working on loose leash walking, attention/focus, sits and down stays, leave it and controlled entries. He learns new behaviours quickly. Roger does like to play and socialize with other dogs, however, he can be forward. He is okay when dogs tell him off but has a hard time removing himself from highly stimulating situations.
Roger loves attention and loves to lean in for pets. We have been working on controlled on leash greetings and he has done very well. We have also been working on calling him away from play when he gets too pushy and overstimulated. We continue to keep his interactions short and sweet with other dogs and he has done well. He prefers calm, more relaxed dogs. Since his time with his trainers, he has become much more relaxed, settled and easier to manage.