Photo Laureate
Michele Pearson Clarke – Toronto's Second Photo Laureate
Toronto's Photo Laureate is the first position of its kind in Canada. It honours a photographer recognized for exceptional photography and whose work focuses on subjects relevant to Torontonians. The Photo Laureate champions photography and visual arts in the city, and uses his/her perspective to create a dialogue on contemporary issues.
Clarke will receive an annual honorarium of $10,000 for a three-year appointment. She is expected to commit a portion of her working time to duties as Toronto's ambassador of visual and photographic culture at events that promote those arts. She will also develop a legacy project in collaboration with City staff, unique to the individual Photo Laureate.
Featured widely at exhibitions in Canada and the U.S., Michele Pearson Clarke works primarily in photography, film, video and installation. Using archival, performative and process-oriented strategies, she explores the personal and political by considering experiences related to longing and loss.
Based in Toronto, Clarke holds an MSW from the University of Toronto, and received her MFA from Ryerson University where she was awarded both the Ryerson University Board of Governors Leadership Award and Medal, and the Ryerson Gold Medal for the Faculty of Communication + Design. From 2016-2017, Clarke was artist-in-residence at Toronto's Gallery 44. She is currently a lecturer in the Documentary Media Studies program at Ryerson University, and she is a finalist for the Toronto Friends of the Visual Arts 2019.
In recommending Clarke's appointment the selection panel, assembled from Toronto's photography and visual arts community, cited her many artistic accolades, the opportunity to advance important community dialogues through work, and their confidence that she would excel as an ambassador for the visual arts. More information on Clarke and her work is available online.
Toronto's First Photo Laureate, Geoffrey James 2016-2019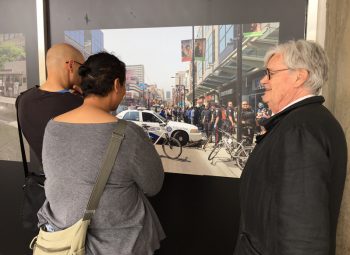 Internationally admired Toronto-based photographer Geoffrey James was selected as Toronto's first Photo Laureate in March 2016.
"Photography is a powerful way to tell Toronto's story — to show our city's diversity, talent and beauty," said Mayor John Tory. "The quality and range of Geoffrey James' work makes him an ideal Photo Laureate and I look forward to his inspiring work in this role."
James has exhibited extensively in Canada, the United States and Europe, and in 2012 he received the Governor General's Award for Visual and Media Arts. He is the author, or subject of, more than a dozen books and monographs, and he writes about photography. His more recent works focus on urban and suburban landscapes, and his 2007 book Toronto was nominated for a Toronto Book Award.
James is a Fellow of the Graham Foundation for Advanced Studies in the Fine Arts, Chicago, and the John Simon Guggenheim Foundation, New York. He is a recipient of the Gershon Iskowitz Prize, among many other accolades and awards. His work is also featured on a 2015 Canada Post stamp. The portrait, of artist Alex Colville, was taken while he was writing a profile of the iconic Canadian painter for Time Canada.
During his term as Photo Laureate James initiated two innovative exhibitions for Doors Open Toronto using the ground floor windows of City Hall as display surfaces featuring his photographs of Yonge Dundas Square (2017) and to celebrate the 100th anniversary of the Prince Edward Viaduct (2018) with images by Toronto's first official photographer Arthur Goss (1881-1940). James spoke at a number of events including the opening of Enduring Wilderness at the John B. Aird Gallery, at a McLuhan Salon and at the Toronto Camera Club. James also unveiled a legacy book project, United Marble, in collaboration with Toronto's fifth Poet Laureate, Anne Michaels.