Poet Laureate
Toronto's Literary Ambassador
An advocate for poetry, language and the arts, Toronto's Poet Laureate attends events across the city to promote and attract people to the literary world. The position honours a Toronto poet whose work displays excellence and who has written on themes relevant to Torontonians. The Poet Laureate's mandate also includes the creation of a legacy project that will be unique to the individual.
Anne Michaels Named Toronto's Fifth Poet Laureate
Internationally acclaimed poet and novelist Anne Michaels is Toronto's fifth Poet Laureate. Born in Toronto, Michaels is the author of five acclaimed poetry collections: The Weight of Oranges (1986), which won the Commonwealth Prize for the Americas; Miner's Pond (1991), which received the Canadian Authors Association Award and was shortlisted for the Governor General's Award and the Trillium Award; Skin Divers (1999) and Poems (2000). Michaels was shortlisted for the Griffin Poetry Prize in 2014 for her most recent poetry collection, Correspondences.
Fugitive Pieces (1996), Michaels' internationally best-selling first novel, was the winner of the Toronto Book Award, the Guardian Fiction Award and the Orange Prize for Fiction, among many other Canadian and international awards. Fugitive Pieces was also adapted into an internationally released feature film. Her second novel, The Winter Vault (2009), was a finalist for the Scotiabank Giller Prize, the Trillium Book Award and the Commonwealth Writers' Prize. Her books have been translated into more than 40 languages.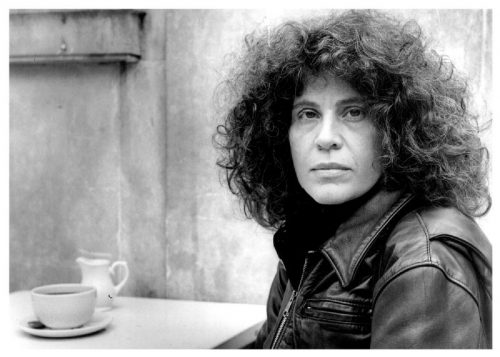 There is No City that Does Not Dream
By: Anne Michaels
There is no city that does not dream
from its foundations. The lost lake
crumbling in the hands of the brickmakers,
the floor of the ravine where light lies broken
with the memory of rivers. All the winters
stored in that geologic
garden. Dinosaurs sleep in the subway
at Bloor and Shaw, a bed of bones
under the rumbling track. The storm
that lit the city with the voltage
of spring, when we were eighteen
on the clean earth. The ferry ride in the rain,
wind wet with wedding music and everything that
sings in the carbon of stone and bone
like a page of love, wind-lost from a hand, unread.
McClelland & Stewart,1999
Previous Poets Laureate


"George Elliott Clarke will enrich the Poet Laureate position with his many talents and accomplishments," said Councillor Michael Thompson (Ward 37 Scarborough Centre), upon the poet's appointment.
Indeed, Dr. Clarke pursued his post with vigor; he was tireless in creating events like the East End Poetry Festival and Beat Cafe on Nathan Phillips Square, and he worked with the City and partners like the Toronto Public Library, the AGO, Toronto Arts Services, Parks, Forestry & Recreation, East End Arts, Queen's Park, Toronto Museums, and others.
Born in Windsor, Nova Scotia in 1960, Dr. Clarke is a seventh-generation Canadian of African-American and Mi'kmaq Amerindian heritage. He earned a B.A. Honours in English from the University of Waterloo (1984), an M.A. in English from Dalhousie University (1989) and a Ph.D. in English from Queen's University (1993). Dr. Clarke now lives in Toronto and began teaching Canadian and African diasporic literature in 1999 at University of Toronto, where he is currently the E.J. Pratt Professor of Canadian Literature. In 2014, Clarke traveled back and forth to Harvard University where he was the Visiting Associate Professor of Canadian Studies.
Among Dr. Clarke's many honours are the Governor-General's Award for Poetry (2001), the National Magazine Gold Medal for Poetry (2001), the Dr. Martin Luther King Jr. Achievement Award (2004), the Pierre Elliott Trudeau Fellowship Prize (2005-08), the Dartmouth Book Award for Fiction (2006), the Eric Hoffer Book Award for Poetry (2009), appointment to the Order of Nova Scotia (2006), appointment to the Order of Canada at the rank of Officer (2008), and eight honorary doctorates.
Dr. Clarke has been instrumental in promoting the work of writers of African descent; in 2002 he published, Odysseys Home: Mapping African-Canadian Literature followed by a second volume, Directions Home: Approaches to African-Canadian Literature. More information.
"I look forward to the stimulating challenge of imagining words of beauty and emotion that might possibly mirror and echo the multicultural mosaic that is Toronto the Great," said Dr. Clarke. "The post of Poet Laureate is a magical, public offering, and I am humbled to follow in the brilliant wake of Dionne Brand, Pier Giorgio di Cicco, and Dennis Lee."
Among Dr. Clarke's legacy projects are two Heritage Toronto plaques, one celebrating "people's poet" Raymond Souster (Willard Gardens Parkette, below) and the other celebrating the brief union of poets Gwendolyn MacEwen and Milton Acorn on Ward's Island (Lakeshore and Second Street). Dr. Clarke also wrote a poem to be inscribed in concrete in a refurbished Ramsden Park (Yonge Street at Crescent Road), due to be completed in late 2016. The Poet Laureate also teamed with the Toronto Public Library to create an interactive poetry map of the city uniting lines of verse with the places they reference.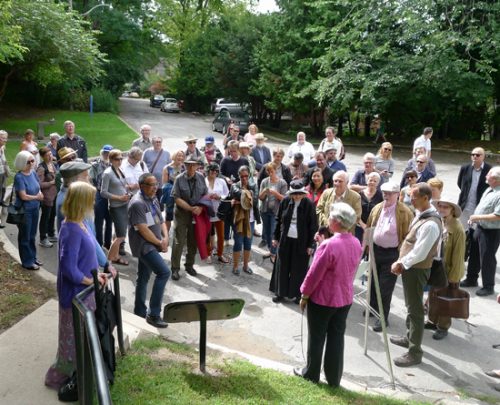 Dr. Clarke was nominated by a selection committee that included: Joanna Poblocka (Executive Director, League of Canadian Poets), Lillian Necakov-Avalos (Branch Head, Toronto Public Library), Andrew McAlorum (General Editor, Canadian Poetry Online), Marc Glassman (Director, This Is Not A Reading Series) and Toronto's most recent Poet Laureate, Dionne Brand. The selection committee relied on its expertise and consultation with the community to select a candidate.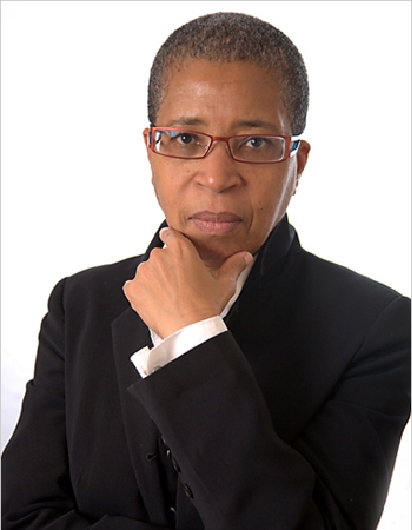 Former Mayor David Miller said of her appointment, "I am thrilled to see one of Toronto's most distinguished writers serve in this important role. Ms Brand's impressive body of work covers a range of issues and topics on community and cultural diversity. Her passion to tell Toronto stories to the world should serve as an inspiration to all Torontonians."
Ms Brand has published 10 volumes of poetry including No Language is Neutral, short listed for the Governor General's Award; Land To Light On winner of the Governor General's Award and the Trillium Book Award, thirsty, winner of the Pat Lowther Award and a finalist for the Trillium Book Award and the Griffin Poetry Prize and more recently Inventory, a finalist for the Governor General's Award. Her novel-length narrative poem Ossuaries won the 2011 Griffin Poetry Prize, Canada's richest poetry prize ($65,000) and the world's largest prize for a single poetry collection in English.
Dionne Brand's poetry has been translated into Italian and French and is published in Canada, the U.S., U.K., Italy and Germany. Ms Brand is also a novelist who claimed the Toronto Book Award for What We All Long For in 2006. Also in 2006 she was awarded the Harbourfront Festival Prize, an award honouring individuals who have made a substantial contribution to the world of books and writing.
Ms Brand said of her appointment as Poet Laureate, "It is an honour. I have a great passion for this city, in its multiplicity it is constantly rich and surprising. I've written this about it in thirsty – that wild waiting at traffic lights off the end of the world, where nothing is simple, nothing, in the city there is no simple love or simple fidelity, the heart is slippery".
Ms Brand's work is internationally known and taught. The great American poet Adrienne Rich called her "a cultural critic of uncompromising courage, an artist in language and ideas, an intellectual conscience for her country." The Italian theorist Franca Bernabei has said of her work "Brand's poetic production reveals a remarkable variety of formal-stylistic strategies and semantic richness as well as the ongoing pursuit of a voice and a language that embody her political, affective, and aesthetic engagement with the human condition." Ms Brand has written passionately about Toronto and Canada in her works throughout her career. The city and its citizens are the focus in the poems of thirsty, while the experience of new Canadians is a central theme within the poems of Land To Light On and No Language is Neutral. A Brand poem is enshrined in concrete and brass at Bloor West and Dufferin streets.

Born in 1953, Ms. Brand moved to Canada from Trinidad when she was 17 to attend the University of Toronto, where she earned a Bachelor's degree in Philosophy and English and a Masters degree in the Philosophy of Education. She is currently a Professor of English in the School of English and Theatre Studies at the University of Guelph. She has contributed to seventeen anthologies, written dozens of essays and articles, and made four documentary films for the National Film Board.
During her term as Toronto's Poet Laureate Ms Brand dedicated herself to promoting poetry in the public realm with a website and with temporary and permanent poetry displays in branches of the Toronto Public Library.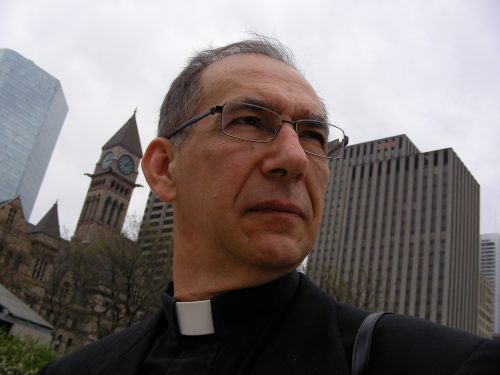 Pier Giorgio Di Cicco has authored 20 works since 1976 and was a seminal figure in Canadian Multiculturalism with his edition of the first anthology of Italian-Canadian writers and through his collaborative work with the Multiculturalism Directorate, the Canada Council and the Ontario Arts Council. He was born in Arezzo, Italy, raised in Montreal, Baltimore and Toronto and did post-graduate work at the University of Toronto. In 1984 he removed himself from the world of letters and became an Augustinian Brother, and was subsequently ordained to the Roman Catholic Priesthood. He returned to the world of literature and education in 2000 with four successive volumes of verse, including "The Dark Time of Angels" which was nominated for the Trillium Award in 2004. In 2004 he was the Emilio Goggio Visiting Professor in Italian Studies at the University of Toronto and appointed by the City of Toronto as its second Poet Laureate.
Di Cicco has extended the role of Poet Laureate beyond the area of arts advocacy and into the realm of "civic aesthetic", a term coined to define the building of a city by citizenship, civic ethic and urban psychology. His monographs and essays have pioneered a study of civility proactive to the design of a city and foundational to the vision of the "urban global". With his "creative manifesto" (delivered before an assembly of national and municipal arts planners and professionals in December 2004) he set a tone for urban self-imaging based on a creative ethic that permeates all sectors of city enterprise. He has championed the abolition of art as "destination point" and the notion of culture as civic ambience and engine of urban prosperity. This philosophy, disseminated electronically, through media and policy networks has found popularity in forums ranging from The Prime Minister's Advisory Committee on Cities and Communities, The Creative Cities Project of the Ontario and Toronto governments, to Waterfront Toronto (formerly The Waterfront Revitalization Corporation) and international conferences on urban sustainability. In 2005 he was appointed official "Curator" for the City of Toronto's Humanitas project, a global showcase where Toronto will host its heritage, vision and strategy for global citizenship.
Di Cicco's urban philosophy has influenced municipal policy in Canada, the U.S. and United Kingdom and has moved the role of the poet laureate into the forum of global engagement in issues that address the urban aesthetic and its relationship to livable and sustainable cities. Di Cicco's legacy included the publication of Municipal Mind: Manifestos for the Creative City (2007).
Dennis Lee (left) and Pier Giorgio Di Cicco. Pier Giorgio was appointed Toronto's newest Poet Laureate in September 2004.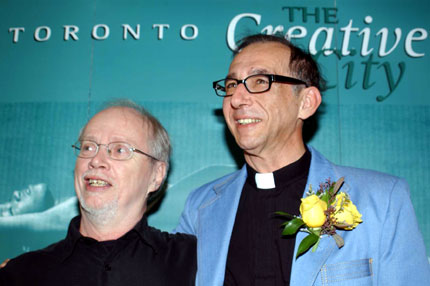 "I am honoured to have the opportunity to follow in the footsteps of my esteemed colleague and fellow poet Mr. Dennis Lee," says Pier Giorgio Di Cicco. "It will be with pride and passion that I carry forward the mandate of the Poet Laureate position for the City of Toronto and its residents."
Dennis Lee is the author of numerous award-winning books of poetry for adults and children. Some of his most beloved titles include Alligator Pie (1974), Garbage Delight (1977) and Jelly Belly (1983).
During his three-year tenure as Toronto's Poet Laureate, Lee continued to bring sheer delight to kids and published two children's books, Bubblegum Delicious (2000), and The Cat and the Wizard (2001), in addition to a new volume of adult poetry, Un (2003). His latest poetry collection entitled So Cool features poems for early teen readers, was released in September 2004.
Lee created the Cultural Legacy Program as his legacy project. The program weaves the names of Toronto's artists and thinkers into the fabric of the city by naming streets, squares, parks and other public places after well-known figures.
Lee also worked with philanthropist Scott Griffin in 2001 to push forward a life-sized bronze statue of poet Al Purdy in Queen's Park (photo below). Lee said of the poet, who died in 2000, "Al Purdy is one of the titans; if we have a national poet in English Canada, he's it. The Purdy statue is a tremendous way to celebrate his place in our lives."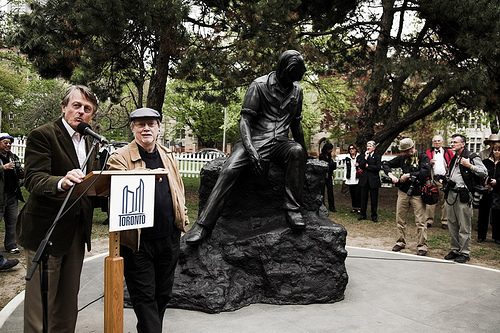 A legacy in the making: Cultural Legacy Program
The renaming of the Toronto-Dominion Courtyard to Oscar Peterson Place was the first site to be designated as part of Dennis Lee's Cultural Legacy Program. For many years, this square has become synonymous with excellent outdoor concerts and is the perfect location to commemorate Canadian jazz legend Oscar Peterson.
A celebration was held to honour Mr. Peterson on June 22, 2004. Mayor David Miller also proclaimed the day as Oscar Peterson Day in Toronto.
Mayor Miller stated, "For six decades, Oscar Peterson has entertained the world with his mastery and passion for the piano and promoted the recognition of our multicultural heritage. He has been an asset to our city by being a musical ambassador."