Bicycle Parking
The City of Toronto's comprehensive bicycle parking programs are intended to provide public bicycle parking facilities at locations that are regularly frequented by cyclists.
Bicycle lockers provide secure bicycle parking by improving protection from theft, vandalism and inclement weather. The lockers are designed to hold one bicycle each, as well as gear such as panniers, locks, lights and more.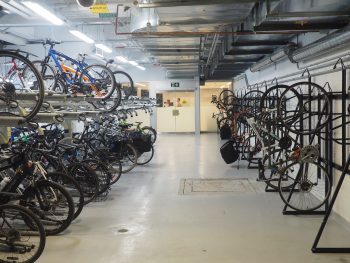 Bicycle stations are secure indoor parking facilities for bikes. With 24 hour video surveillance, they provide safe, long-term parking for your bicycle, protecting against theft, vandalism and bad weather. Only people who register to use a bicycle station can access the facilities.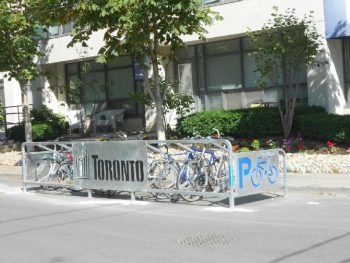 Bike corrals are seasonal on-street bicycle parking that use car parking spaces in the curb lane to park bicycles without further congesting the sidewalk.  Typically, 24 hour on-street car parking spots are used, parking up to 14 bikes where one motorist would normally park.
Bike corrals are installed where demand for bicycle parking exceeds the limited space on the sidewalk or the boulevard behind it.  Usually corrals are installed near the intersection to be relevant to as many destinations as possible for the user. A further advantage of using the roadway is its high-profile location, where bicycles are in full public view and near busy retail and employment destinations.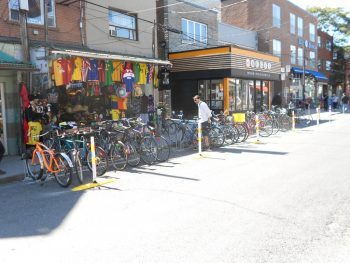 Corrals are typically removed before plowing season (starting December 1), and re-installed in the springtime. Currently there are two designs: vertically staggered bike racks (that prevent pedal and handlebar tangles when full) with flex-posts on the road-side, and a newer 'parking stall' design that is enclosed on three sides. Bolting racks to the street allows more flexibility in size. The self-contained parking stall is 5.5 metres long, the space of a single car parking stall.
View a google map of our bicycle corral locations.
The City installs bike rings on  sidewalks and boulevards which have a minimum width of 2.6 metres. Toronto's bicycle parking post and ring design presents a simple and cost efficient solution to providing safe bike parking on narrow and often confined sidewalks. Each post and ring has capacity to fit two bikes side by side. 
Post and rings are typically located in the street furniture zone (the area that typically has planters, bus shelters, and benches on the sidewalk) along arterial streets with a demand for bicycle parking.
Learn more about the history of the post and ring in Toronto.
Request a bike ring
Once a request is received, Transportation Services performs site inspections to determine if the suggested location is suitable. All new locations suggested by the public will be considered; however, the City reserves the right to vet all submissions. Stands which are approved are installed free of charge.
Due to a high volume of bike ring requests, the City does not currently report back to members of the public on the feasibility of requests.
Please direct bike ring requests to streetfurniture@toronto.ca.
Bike rings are not supplied by the City for installation on private property.
In June 2016, Toronto City Council approved the Cycling Network Plan to connect, grow and renew cycling routes over ten years. The Plan outlines the parallel investment between private and public providers of bicycle parking, and a commitment to develop a Bicycle Parking Strategy.
The Strategy is employing a user-centric approach to remove barriers to cycling. When convenient and secure, bicycle parking helps make it easy for people to choose cycling. The purpose of the Bicycle Parking Strategy is to:
develop a shared vision for bicycle parking and security among providers and users
spread and clarify responsibility for the provision of bicycle parking
increase knowledge of priority areas for investment
plan the City's efforts in building and managing its bicycle parking assets
The provision of bicycle parking is a shared responsibility of many public agencies and private land owners. Recognizing that, the City is working with private and public providers of bicycle parking to develop the strategy.
The City is responsible for providing long-term secure parking through the public bike locker and bicycle station programs, and short-term parking through post and rings, and other higher capacity bike racks in the public right of way.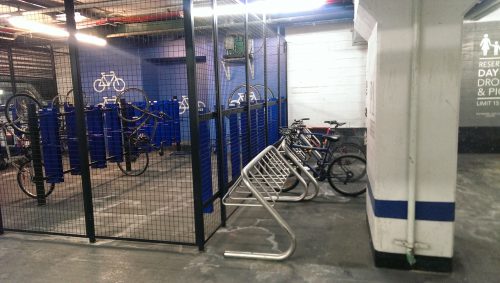 Private providers of bicycle parking are responsible for providing long-term secure parking on private property (including residential and office buildings) and short-term bicycle racks located on private property.
Regardless of who provides it, bicycle parking is a fundamental need at both ends of bicycle trips, and all cycling destinations along the way. Demand is increasing for bicycle parking as people cycle more, so a multi-faceted and proactive approach is needed.
The development of the Bicycle Parking Strategy is expected to be complete by 2019 and will be implemented alongside the Cycling Network Plan, to 2025.
The City has produced a set of Guidelines for the Design and Management of Bicycle Parking Facilities. These guidelines will provide planners, developers, and property managers with information to support the design, construction, and management of high quality bicycle parking facilities.